Whether you are looking to save up for a family holiday or for further studies, Takaful Brunei Keluarga (TBK) has made it possible to save and grow your wealth to achieve your short-term financial goals.
TBK recently launched its fourth series of the much-anticipated Takaful Nur Savings | One-Off Contribution promotion that provides customers with an indicative rate of 1.8% profit return per annum over a three-year tenor.
The promotion which ends until November 1, combines savings, protection and investment growth opportunity to meet customer's financial goals and aspirations.
The plan provides short-term protection benefits with savings element, providing $5,000 in the event of death or Total Permanent Disablement and is a Shariah-approved financial component which is eligible for any individuals between the age of 18 to 62 years old.
Moreover, the Takaful Nur Savings | One-Off Contribution promotion is limited to one certificate per customer with a minimum savings of $2,000 to a maximum savings of up to $100,000.
The promotion can benefit anyone from young executives, individuals with families to those simply looking to supplement their retirement funds.
For first-time customers, TBK's experienced team will assist customers who are new to TBK's Protection & Savings products.
It's simple participation steps and product details will be explained thoroughly, promising both a financially beneficial and educational outcome in the customers financial planning
Speaking on the product, Deputy General Manager of TBK Hj Mohammad Maszaiwardy Hj Masri shared that the institution has seen an encouraging and growing success in the Takaful Nur Savings products over the years.
He added that the previous Takaful Nur Savings | One-Off Contribution promotions have provided a great opportunity for customers to invest and grow their short-term savings while covered under Takaful protection.
Hj Mohammad Maszaiwardy said that as part of TBK's continued commitment in improving and creating products and services that meet the needs of its customers, the one-time payment promotion serves as an advantageous saving system to set aside large sums for savings and growth through assured returns at the end of its maturity period.
"Aside from having takaful protection, it allows customers to grow their wealth through the indicative 1.8% profit return per annum. Whereas compared to other protection and savings products, customers may have to wait much longer for their takaful certificate to mature," he added.
"We see a growing increase in saving culture. Mainly due to increased efforts of ​Brunei Darussalam Central Bank (BDCB) and financial institutions in educating the public through financial literacy activities and sharing of information. Especially through schools/education institutions and talks to both the public and private sector," he continued.
For more information, interested customers can approach TBK at Dar Takaful IBB Utama, Unit 1, Level 1, Jln Pemancha Bandar Seri Begawan or set appointments with TBK representatives via TBK Call Centre at 2231100 or Whatsapp at 7371100.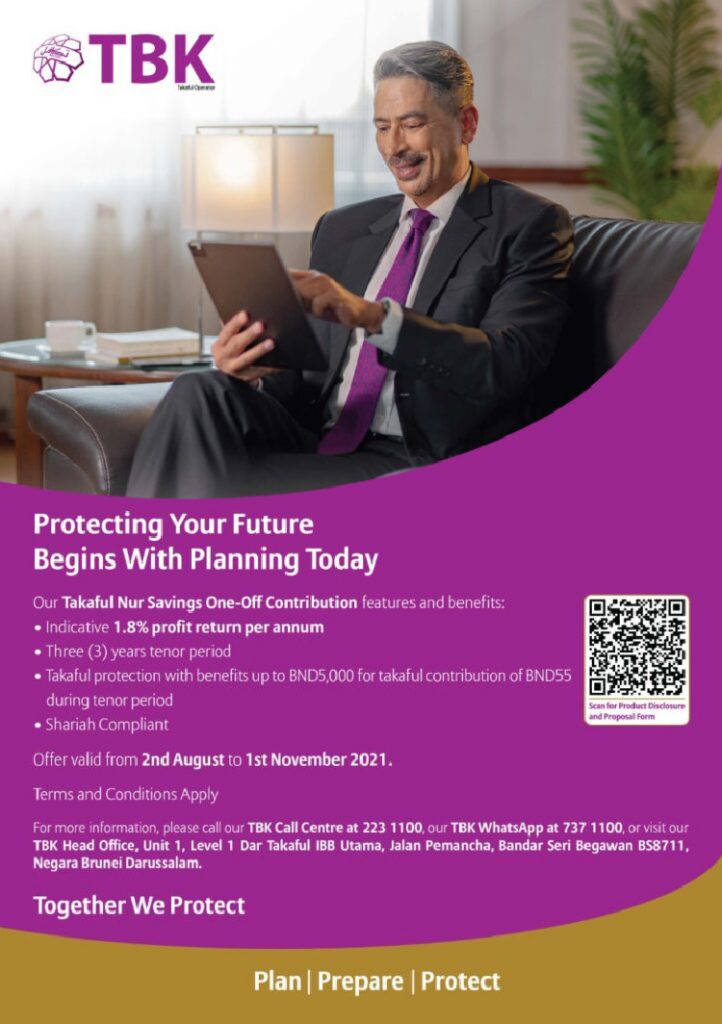 THE BRUNEIAN | BANDAR SERI BEGAWAN