Progresif announced the top four winners of their Top Up and Win Campaign with the grand prize of $3,000 going to the 20-year-old student, Yasmin Zawanah Hj Suhaili.
In an interview with The Bruneian, the creative media student from Cosmopolitan College of Commerce and Technology expressed her disbelief on being named the grand prize winner.
"I was not aware of the lucky draw, it was when I got the call to attend the prize presentation today that I knew of it," she said, adding that she was thankful for the opportunity and intends to treat her family with her winnings as soon as possible.
The four lucky winners were presented with their prizes at the Progresif Headquarters in Gadong by Progresif's Chief Commercial Digital Officer, Adi Iskandar Hj Basri.
Meanwhile, the other three winners; Sulaiman Salim, Hj Daud Hj Mumin and Siti Eirasuliyah Mohd Ali brought home cash prizes of $1,000, $700 and $500 respectively.
Additionally, some 26 winners also won $30 Top Up consolation prizes.
Progresif's Top Up and Win Campaign, which saw overwhelming participation from across the sultanate is a promotional campaign to thank and reward Progresif customers with great prizes.
To be eligible, customers need only to top up a minimum amount of $10 or new customers can stand a chance in the draw by purchasing a starter pack or switch from their existing provider.
Their chances can double by subscribing to Progresif One Mobile Plan.
"This won't be the last, in the months to come, there will be more exciting products and promotions up for grabs," said Progresif Head of Products and Segments Abby Chu.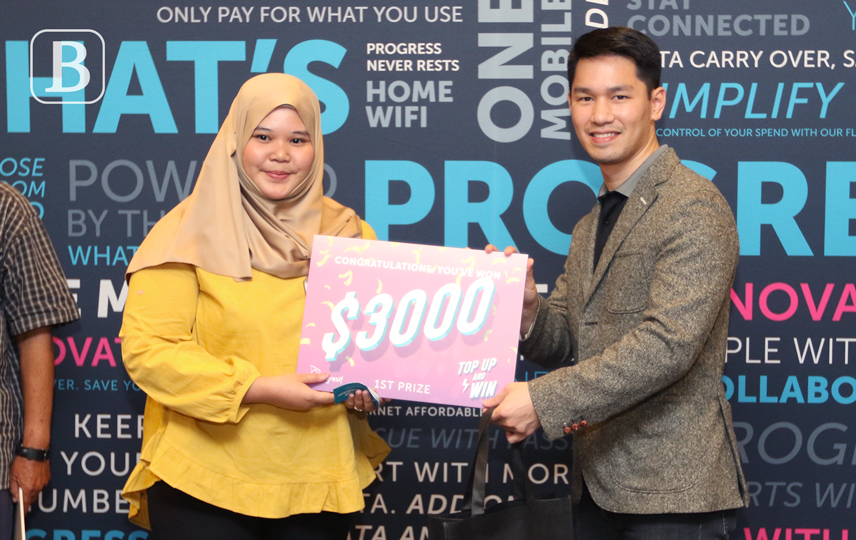 THE BRUNEIAN | BANDAR SERI BEGAWAN