Dynamik Technologies and Progresif recently collected $36,906 from their"Goals for Education" initiative which monies are used to buy 48 tablets forstudents in need.
The devices which were given to Ministry of Education will help to facilitate students' online learning from home since the closure of schools due to the pandemic second wave.
The campaign which is a collaboration between Dynamik Technologies and Progresif received a collective contribution from members of the public and 13 corporate sponsors since July 2020.
It is also part of the companies' whole of nation approach that aims to support online learning initiatives and students in need of ICT devices nationwide.
In her welcoming remarks, Chief Executive Officer of Dynamik Technologies Haslina Taib shared that the company believes in empowering the youths through technology as they are the nation's future.
"We hope all of us as a community can continue to support creating equal access to digital tools and help those who are facing challenges in online learning. Even once we have moved past the COVID-19 pandemic, these students will have continued access to the world, digitally," she said.
On her part, Chief Executive Officer of Progresif Hajah Nurul Haniah said that following the resurgence of active COVID-19 cases in Brunei, the community must work together to support the initiative.
"No matter how big or little the contribution is, it will go a long way to ensure the nation's youth are able to broaden their education," she said.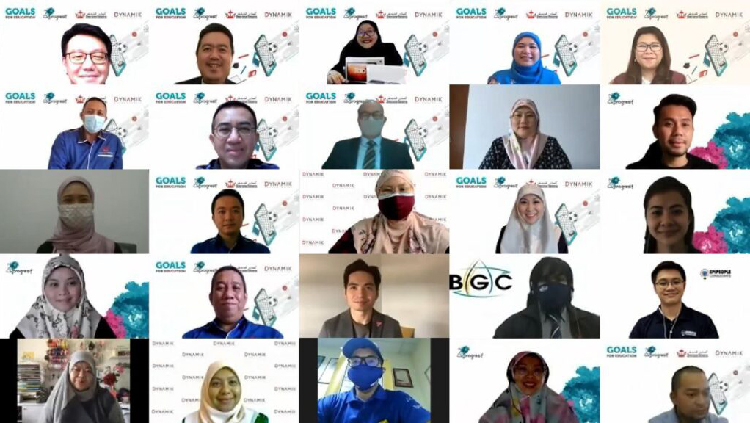 Goals for Education will continue to actively raise funds for more ICT devices, said the companies in a statement.
"With the second wave of COVID-19 in Brunei Darussalam, there are still more students in need who require access to ICT devices to carry out online learning," they added.
The Goals for Education first kicked off with the 555 and 1Co Challenges, both of which were social media challenges, encouraging members of the public and companies, to record themselves scoring five goals, tagging five peers, and donating via BIBD Online or Progresif Pay in order to raise awareness and funds for the campaign.
Dynamik and Progresif encourage everyone to support 'Goals For Education' to enable the outreach of education for our students nationwide.
More information can be found on their designated Instagram account @goalsforeducationbn where the latest progress and amount of donation raised will be shared.
In attendance during the virtual handover ceremony were Permanent Secretary (Higher Education) Dr Haji Azman Ahmad; Permanent Secretary (Core Education) Dr Shamsiah Zuraini Kanchanawati Haji Tajuddin; Deputy Permanent Secretary (Higher Education) Dr Chin Wei Keh; and Deputy Permanent Secretary (Core Education) Aliuddin Haji Abdul Rahman as well as management, and representatives from Dynamik Technologies and Progresif.
This article was first published on 4 September 2021 in our Weekly E-Paper issue 157
THE BRUNEIAN | BANDAR SERI BEGAWAN