Universiti Teknologi Brunei (UTB) recently signed a Memorandum of Understanding (MoU) with the Mitsubishi Corporation (MC) to provide financial support in the form of scholarship to selected five undergraduate students who are currently studying at UTB.
In her remarks at the virtual event, Vice-Chancellor of UTB Professor Dr Hajah Zohrah expressed her appreciation to Mitsubishi Corporation for selecting UTB as the recipient of the Mitsubishi International Scholarships Program.
She mentioned that this scholarship collaboration is another great example on how university and industry can collaborate for mutual benefits, Mitsubishi contributes to the development of talented workforce and the University benefits from students who are motivated to be the best they can be.
"They are students with good academic standing and will benefit from the generous support from Mitsubishi Corporation. The contribution will provide the students with some financial relief, and therefore, be able to sincerely apply better efforts on their studies. Our commitment to the students is in giving quality education and develop 3600+ students who are creative, innovative as well as having global awareness and intellectual courage," she said.
The professor further said that the university hopes to promote synergy between UTB and stakeholders through collaborative creation and integrated partnerships as well as provision on modes of engagement and mutual partnerships.
For his part, Country Representative of Mitsubishi Corporation, Brunei Liaison Office Tadashi Hara said that the International Scholarship is to foster human resources for the development of home country and the global society in the future.
"This could be considered as a part of our support that will contribute to Brunei Vision 2035. For Mitsubishi Corporation, this International Scholarship is one of our ways in empowering the next generation through the students that have potentials, outstanding capabilities as well as skills that they could use up to gain a better future and develop their home country, Brunei Darussalam," he said.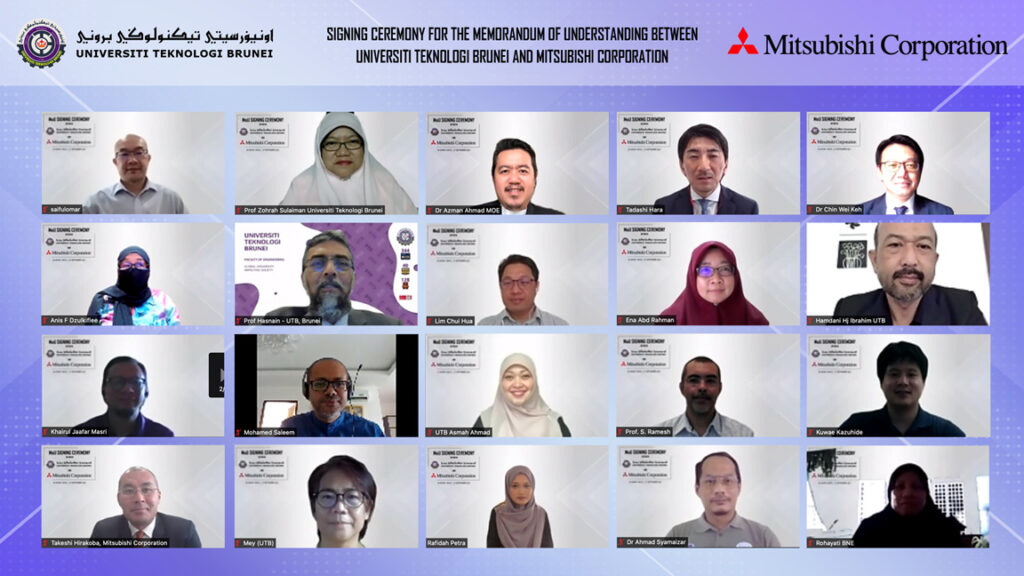 Under the MoU, Mitsubishi Corporation will fund scholarships to the selected five most deserving full-time undergraduate students at the university.
The scholarship with the total amount of $10,000 will be shared among the students and awarded as a tuition fee that covers one year of the 2021/2022 academic session.
The recipients consisting of first year to final year students were selected based on criteria mutually agreed by both parties which include students' financial background, academic performance and extracurricular activities.
The scholarship is also hoped to enhance the learning effectiveness of the recipients.
Present virtually as the guest of honour was Permanent Secretary (Higher Education) at the Ministry of Education Dr Haji Azman Ahmad.
Also present were Deputy Permanent Secretary (Higher Education) Dr Chin Wei Keh, representative from the Embassy of Japan and officers from MOE, UTB, and MC.
Signing the MoU on behalf of UTB was Professor Dr Hajah Zohrah Hj Sulaiman; and representing Mitsubishi Corporation was International CSR Team Leader, Corporate Sustainability & CSR Department Noriko Iizuka.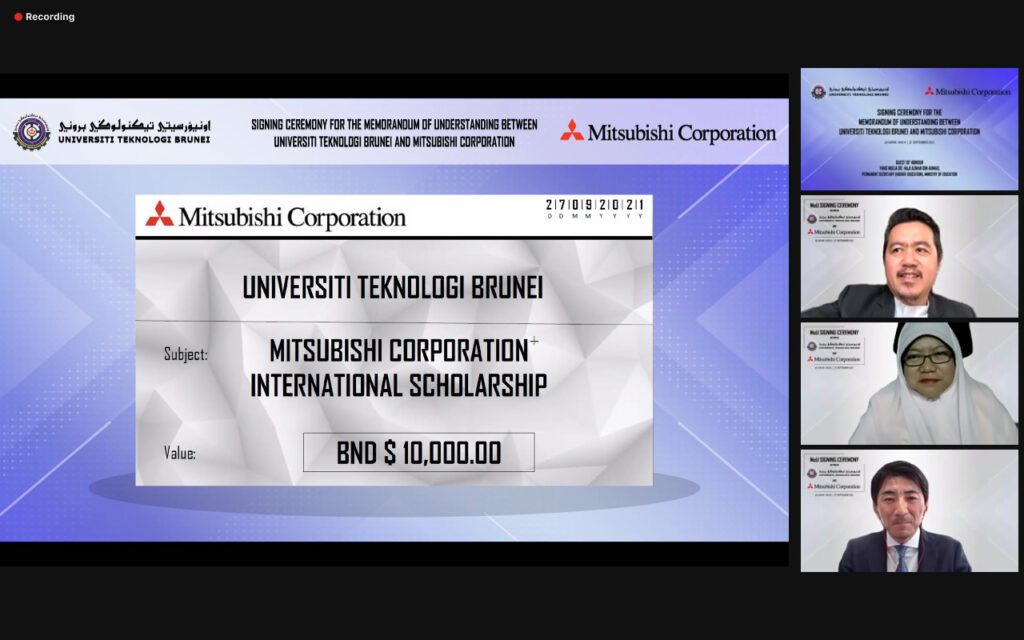 This article was first published on 1 October 2021 in our Weekly E-Paper issue 161
THE BRUNEIAN | BANDAR SERI BEGAWAN