Bank Islam Brunei Darussalam (BIBD) recently announced a target commitment of B$2 billion towards sustainability funding by 2030, as part of the Group's Sustainability Framework (SF).
Minister at the Prime Minister's Office and Minister of Finance and Economy II and Chairman of BIBD YB Dato Seri Setia Dr Haji Mohd Amin Liew Abdullah, made the announcement at the ASEAN Business and Investment Summit 2021.
"Sustainability, which is also rooted in the Maqasid Shariah, is a key underlying value that will determine and shape our future. With the global movement and increasing awareness on transitioning to a sustainable economy, BIBD strives to be a catalyst of change by being a responsible business that actively works to make the world a better and greener place," said the minister.
According to the minister, through this target commitment, and the Bank's Sustainability Framework, BIBD seeks to take the lead on business practices and activities in the domestic market by promoting stewardship among Brunei corporates, supported by digitalisation, sustainability funding, community education and social inclusion by BIBD.
"Brunei Darussalam is also a signatory to the UN 2030 Agenda, therefore BIBD, as the largest financial institution in Brunei, hopes to play a pivotal role in supporting the nation's sustainability drive, in line with our role as a Partner in Progress," he said.
"In Shaa Allah, by embedding sustainability into our business, we can become a sustainable financial institution for the future that will empower the nation in its recovery from COVID-19 and beyond," he added.
BIBD's Sustainability Framework marks the Bank's clear focus and strategic decision to support a wider commitment to sustainability, supporting not only the government but also the private sector.
The Framework will be integrated into BIBD's overall business strategy through three pillars, namely Environmental Protection, Responsible Entrepreneurship and Inclusive Social Impact.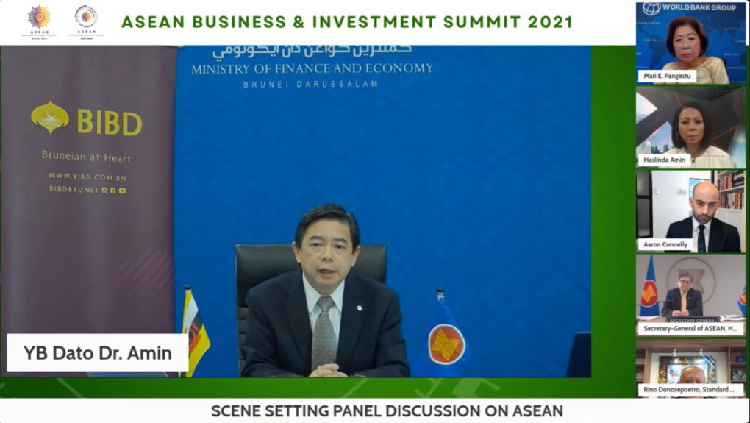 On his part, BIBD's Managing Director and CEO, Mubashar Khokhar said that as a Partner in Progress for Brunei, BIBD has always actively supported the Government of His Majesty the Sultan and Yang Di-Pertuan of Brunei Darussalam to achieve the country's national aspiration of developing a dynamic and sustainable economy.
"Our Sustainability Framework is strongly aligned between the Maqasid Shariah — our fundamental principles and values that shape us as an Islamic financial institution — and a wider set of sustainability principles; the 17 United Nations Sustainable Development Goals (UN SDGs). Supporting these principles is also deeply intertwined with our 'Bruneian At Heart' DNA that aims to preserve the well-being of our people and society," he continued.
BIBD will continue to enhance and promote their approach through awareness, dialogues and joint actions with relevant stakeholders.
Meanwhile, Deputy Managing Director Hjh Noraini Hj Sulaiman at a virtual press briefing said that the bank is working with key stakeholders, including with Pejabat Wawasan Brunei from the Prime Minister's Office on the United Nations Sustainable Development Goals (SDGs); with the Brunei Climate Change Secretariat on climate change; and NGO partners in CFBs to educate, promote awareness, engagement and value as part of a Whole of Nation approach.
While BIBD has always supported sustainability and the UN SDGs through its CSR initiatives, as evidenced by programmes such as BIBD ALAF, Community for Brunei, BIBD SEED and BIBD Connects, the Bank is now actively seeking to embed these principles into its business practices.
BIBD Asset Management recently became the first financial institution in Brunei to become a signatory to the United Nations Principles of Responsible Investing (UN PRI), marking the first of many steps that the BIBD Group will be taking on its journey towards a more sustainable future for the nation and beyond.
According to the Managing Director of BIBD Securities Hi Muhammad Yazid Dato Paduka Haji Mahadi during a press conference a total of USD $3 trillion is needed to finance the sustainability gap in ASEAN Green Investment Needs from 2016 to 2030.
Signing the UN PRI allows BIBD AM to publicly demonstrate its commitment to socially responsible investing and positions the bank at the heart of a global community that seeks to build a more sustainable financial system.
He further added that the financial institution has plans to introduce more investment solutions that are centred around sustainability, and this milestone would further help strengthen the bank's efforts to move forward.
THE BRUNEIAN | BANDAR SERI BEGAWAN