Candles are now becoming a must, especially while working from home as it surrounds the home office with calm and relaxing scents to keep your mind at bay.
A Bruneian and Malaysian brand Borneo Candle Studio offers these luxury as they produce high quality and eco-friendly soy wax candles that have been perfected with scents to fit one's taste.
These homemade candles are unique as they have a touch of nature in each of their scents – specially curated for people to enjoy calmness and at ease in everything that they do or feel.
The business aims at consumers who appreciate quality home fragrances and value self-care and also cares for the environment whilst having a preference for a minimalist design.
The story of Borneo Candle Studio
Originating from Brunei and Sarawak, Jack Tiong and Melody Yong first opened their candle studio in November 2019.
The two have always had a fascination for candles and have bought many different kinds from mass market to luxury candles before they came across soy candles at a weekend market. Not long after, their interest on the candles sparked.
The two have always had a fascination for candles and have bought many different kinds from mass market to luxury candles before they came across soy candles at a weekend market. Not long after, their interest on the candles sparked.
The pair made thorough research about the candles especially on the ingredients and health effects.
"Upon learning more, we also realised finding high-quality toxic-free candles with an accessible price locally seems almost impossible at that time especially in Brunei," said 32 year old Tiong.
They ventured out into making their own candle business with one simple goal in their mind; to bring high quality scented candles that are accessible in the local market made with the finest clean ingredients that are ethically sourced around the world whilst also being eco-friendly with their products, process and packaging.
The name "Borneo Candle Studio" represents the co-founders' place of origin with Jack a Bruneian while Melody a Sarawakian – both residing on the island of Borneo.
The studio currently consists of four team members with Melody managing the business for the Malaysian market including making and packing the candles meanwhile, Jack is in charge of Brunei customers.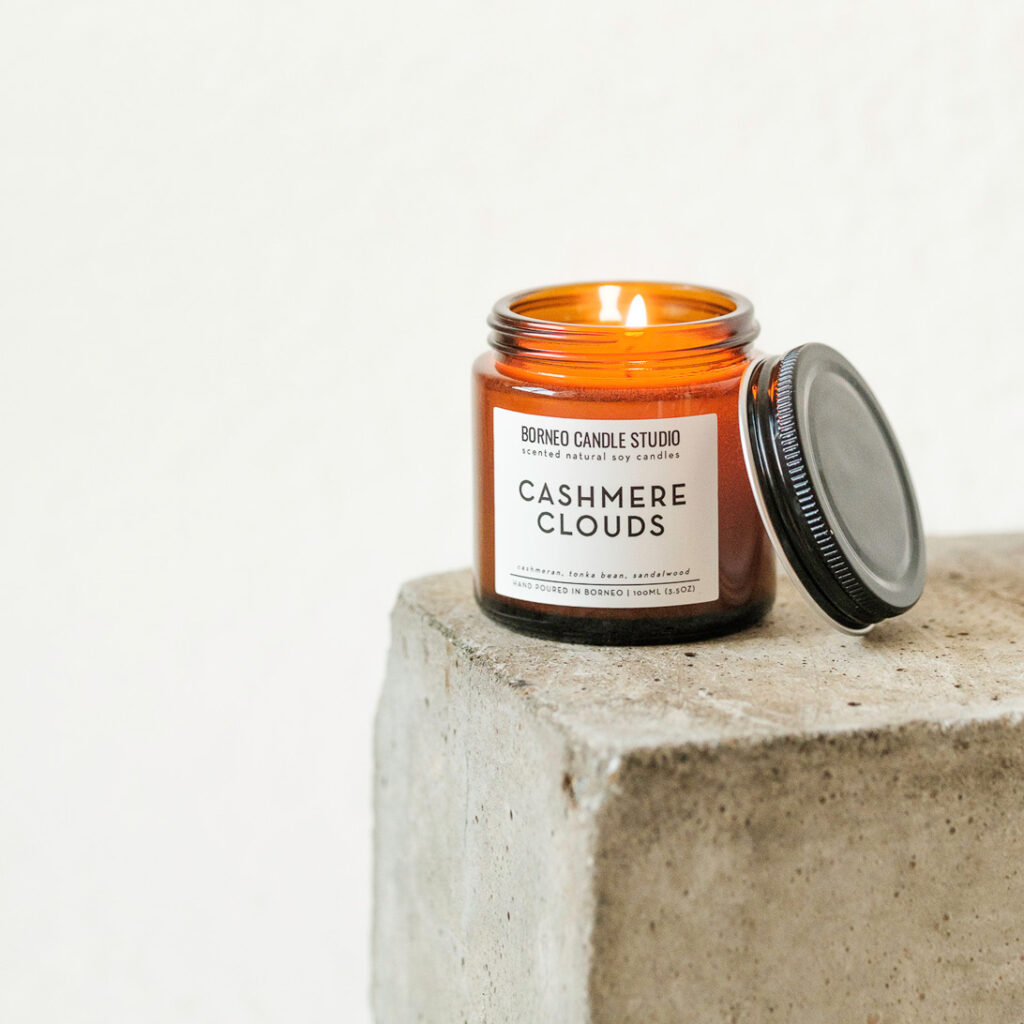 Supplies and Scents
The online store is very selective with their raw materials as they strive to create high-quality products that are sustainable and of high quality.
The candles are made of 100 per cent soy wax with a blend of fine fragrances and essential oils with cotton wicks and they acquired their professional-grade premium ingredients from suppliers around the world.
The inspiration for the scents of the candles are all-nature, the different moods people experienced and seek in their daily lives.
With this, Borneo Candle Studio aims to create unique memorable scents that are not available anywhere else.
"We choose to work with soy wax in our products for the reason that it is 100% plant-based, renewable and sustainable," said the entrepreneur.
Back in Malaysia, Melody and her team would hand pour the candles and package them themselves as every single step in the process is handmade from start to finish in small batches. 
This makes the production of the candles highly meticulous and time-consuming but to the team, each process is very crucial as they want the best quality for their customers so these candles can bring them joy and lighten up their days.
The items are mostly sold via their website while some can be found through their stockists that are available in Brunei, Miri, Kuching and Kota Kinabalu.
Challenges and future plans of the studio
Initially, the business started out very small and they spent about a year venturing outsourcing for the right ingredients, countless testings as well as trials in their own studio before launching the brand.
"The capital costs are not that much in the range of $10,000 however, the time and effort are much more compared to the dollars," said Jack.
During the startup of the business, they did run into some challenges but it has helped them to grow and even in the present day, they do have some challenges.
Both Jack and Melody came from different educational programmes than what they are doing now, which are pharmacy and engineering.
When they started this business, they had to learn everything from scratch; from photography, marketing, branding and to customer service, among others.
Being optimistic when facing challenges is key for the entrepreneurs as things do not always go as planned.
"We believe we got to where we are now by being consistent in the quality of our products and good customer service," they said, adding that they are planning to expand their production house to Brunei as well.
The pair believes that to venture out in a business is to know what their passion is and think of the solution to the problem in the existing market.
"Another thing is to not replicate the success of others but try to create your own unique path. Be bold, have fresh ideas and don't be afraid to explore new fields even if it is unrelated to your degree," they concluded.
For more information, visit their website bn.borneocandlestudio.com and their Instagram @borneocandlestudio.  
This article was first published on 30 October 2021 in our Weekly E-Paper issue 165
THE BRUNEIAN | BANDAR SERI BEGAWAN