For many people, the time and effort it takes to wash, dry and fold your clothes is time-consuming and tiresome but now, Grab Dobi offers contactless direct-to-door cleaning services to customers for convenience.
Established in 2019, Grab Dobi offers a quick and easy laundry solution convenient for busy consumers, and those looking for a contactless laundry solution during the ongoing pandemic.
The business was founded by Pg Seri Nur Aidah Pg Jadid and her beloved grandmother Yang Amat Mulia Pg Anak Hajah Besar Ibni Al-Marhum Yang Teramat Mulia Seri Paduka Duli Pengiran-Digadong Sahibol Mal Pengiran Anak Khamis Al-Haj with the aim to provide a simpler and convenient solution for customers to do their household chores such as laundry.
According to the Chief Executive Officer of Grab Dobi Sahrulnizam Hj Ismail, Grab Dobi was inspired by the UK's on-demand laundry and dry cleaning service, LaundrApp for its grab and drop off concept.
"We launched a similar concept that is suitable with our local market and named it as 'Grab Dobi'," he said.
The service will pick up your clothing, wash, iron and deliver them back to your doorstep neat and folded giving customers an added peace of mind.
What's more exciting, customers can choose the date of their pickup and delivery.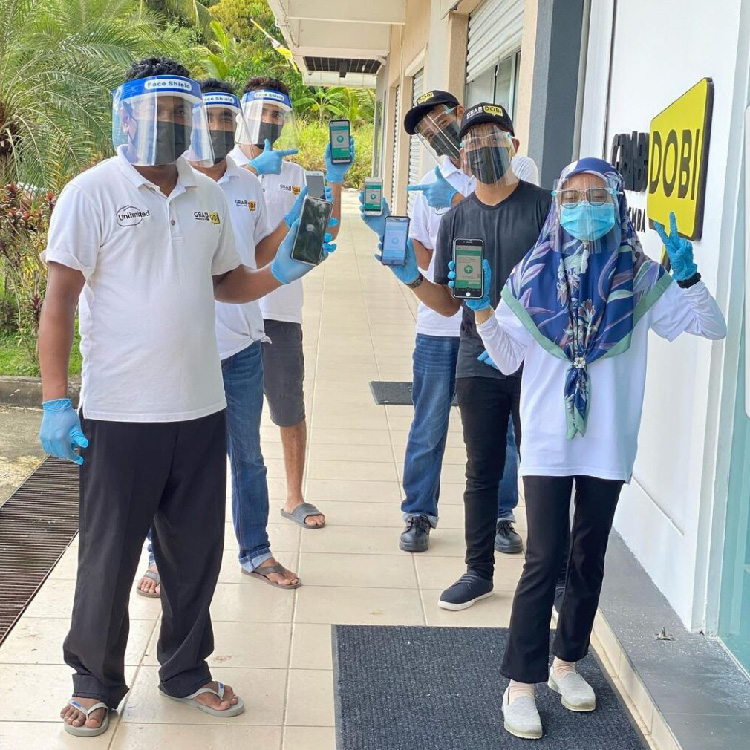 Moreover, Grab Dobi also provides monthly subscription plans or one-time packages.
The company also incorporates eco-friendly practices into the cleaning process by utilizing the latest green technologies and non-toxic cleaners.
Since opening Grab Dobi, the company shared that the community support for the business has been positive.
Sahrulnizam also shared that the demand for the service has increased over the last year as individuals are looking to save time and money doing laundry.
Grab Dobi: More than just laundry
Now entering its second year of operation, Grab Dobi is diversifying its clientele and expanding its services.
What began as a simple laundry service, has expanded into a wide range of cleaning services from mattresses to shoes.
Grab Dobi's wide range of services also include car wash services.
Customers can keep their vehicle clean, inside and out with Grab Dobi's car cleaning services where they also offer door-to-door delivery services and packages.
Beyond adding new services, Grab Dobi also opened a new branch.
Following a successful opening of its first branch in Rimba, the local business is now expanding its reach into the Jerudong area with its second outlet which includes a car washing area.
Sahrulnizam, however, shared that with growth, comes challenges.
Sustaining a business like Grab Dobi can be quite challenging especially when it comes to revenue and shortage of manpower.
However, for the company, the challenges was learning curve for the business and contributed to the expansion of its services.
Like many other local businesses across the country, when the pandemic hit, the business slowed down.
"We had less than 60 per cent engagement during the second pandemic," he shared.
Recognising the growth of people using home-delivery services such as food and grocery during the pandemic, they decided to offer a new strategy by introducing free pick-up and delivery which increased their sales up to 70 per cent.
When asked about future plans for the Grab Dobi, Sahrulnizam said that they are eyeing on expanding its presence in Brunei through the opening of more branches in the future and diversifying its services.
"Within five years, we are targeting on expanding our branches to all four districts with plans to open more 15 branches to diversify to other genres whilst establishing a prestigious local brand," he concluded.
Grab Dobi is constantly looking for ways to improve its services and continually targets opportunities to enhance its existing service capabilities, as well as expand its presence into new markets.
This article was first published on 06 November 2021 in our Weekly E-Paper issue 166
THE BRUNEIAN | BANDAR SERI BEGAWAN