A dash of classic with rich flavours topped with exquisite look, the delicate sweet treats from online business Batik by Night Owl are the ideal definition.
The brand name "Night Owl" was the result of nighttime bakes by business owner Iman Aqilah when she craved for batik cake and decided to make some with a twist.
During those late-night bakes, the 27 year old had an idea came to her where she decided to add cheese to her cake and called it "Atas Batik". This creation is now one of the best selling batik flavours.
Hence, batik cake became a speciality of Night Owl – comes in assorted flavours, from the original series to the cheese series as they are known to be different.
Their best-selling flavour would be the Ube which is a homemade Ube Halaya which the owner makes from scratch.
The cakes are made with fresh ingredients and high-quality products to ensure that they are always at their best state.
Aside from batik cakes, Night Owl also has other desserts such as mini cheesecakes that are popular for their aesthetics and creamy and cheesy taste along with celebration cakes decorated with fresh flowers.
Birth of the business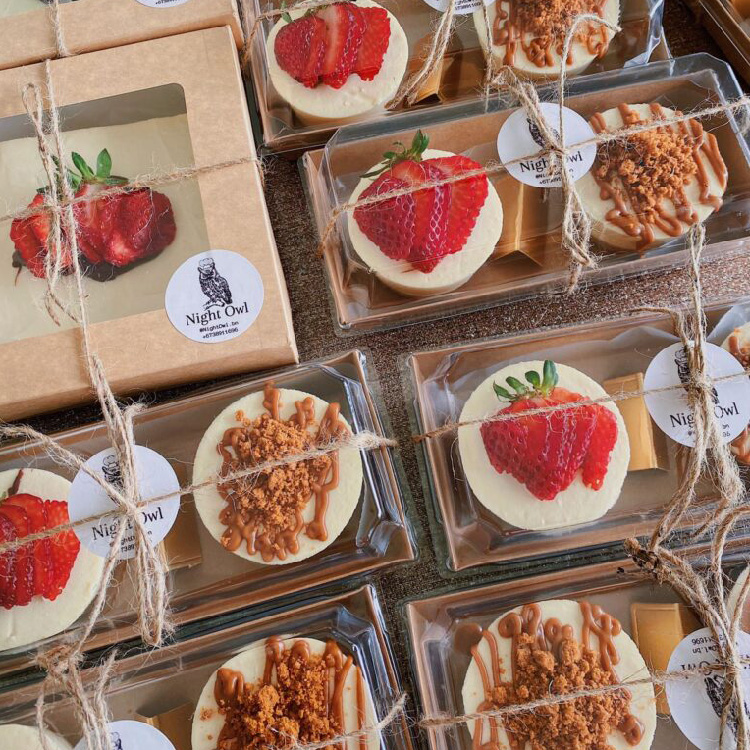 The online business started in April 2021 but has gained attractions eversince, thanks for the quality and taste of the cakes.
During the pandemic, sales have been increasing for the business as most people are staying at home and they would order in.
"My husband told me that it's worth selling and so I decided to give it a try. I run this business alone so I was not expecting a lot of customers at first as kek batik can easily be bought anywhere. But to my surprise, my kek batik recipe managed to capture a lot of returning customers," said Iman Afiqah.
With the positive number of customers she secured within a brief period, Iman is delighted that people enjoy her cakes, motivating her to bake more desserts and create new recipes.
"Kek batik has a special place in my heart and my plan is to be able to capture the hearts of Bruneian kek batik lovers with Night Owl's modern twist flavours," said the entrepreneur who is also a part-time student.
One thing for sure, she added, she is content to be able to capture the attention of people with her desserts despite being a small home business.
"Running a business is not easy especially when you're just starting but keep in mind that it is supposed to be hard. You'll face different challenges, but you must not quit. It is a chance for you to be able to explore the things you might not know what you're capable of. Start small and trust the process," said the entrepreneur.
Have a look and taste at the beautiful delights via their Instagram @nightowl.bn.
This article was first published on 06 November 2021 in our Weekly E-Paper issue 166
THE BRUNEIAN | BANDAR SERI BEGAWAN