Dressed from head to toe in personal protective equipment (PPE) while carrying a disinfectant spray gun, employees of local cleaning company Bersih Solutions have been working tirelessly around the clock to keep the country safe and clean.
The idea behind the cleaning company was when three local entrepreneurs Mohd Khairul Hazwan Hj Munir, Mohd Khairul Hazmi Hj Munir and Ahmad Fitri Ahmadbi saw how the country changed drastically when the first wave of the pandemic hit.
They started looking for ways on how to tackle the further spread of the COVID-19 infections in Brunei.
With the goal to create more job opportunities and to provide an innovative and accessible approach to the cleaning segment, the brand Bersih Solutions came to life in May 2020.
From wiping down frequently touched surfaces to disinfecting shophouses, the local company caters to a wide variety of clientele ranging from homeowners to commercial-buildings, solely focusing on satisfying their customers by providing them with comprehensive cleaning products and services.
The company's fundamental values from day one have been to concentrate on providing solutions to the growing demand for cleaning products and services.
"We not only offer disinfection cleaning services but we also provide one-time basic, general and deep cleaning services, outdoor cleaning, janitorial services, domestic helper services and more," said Human Resources Manager Mohammad Khairul Hazmi Hj Munir.
According to him, during the first month of their establishment, the company only had 10 clients but has since garnered traction as more homeowners and businesses are seeking solutions to defend against the outbreak.
Since the pandemic started, the company has experienced an increase in demand of customers seeking their disinfection services.
"Alhamdulillah, we currently have 4000 customers that have taken our services," he said, adding that most of the requests are for their disinfection cleaning package and janitorial cleaning package.
The entrepreneurs also added that the company's ultimate goal is to be able to help the country's economic growth by creating more job opportunities as well as providing career development within the company.
Khairul added that they have tenfold their employees since the start of the business to keep up with the demands.
Currently with 50 employees which include management staff and cleaning staff, Bersih Solution is looking to increase its workforce to meet the growing demand.
"We also started off with 10 job openings in the first month, now since we have expanded our cleaning services, the company has grown and created about a 100 new cleaning jobs a month," Khairul shared.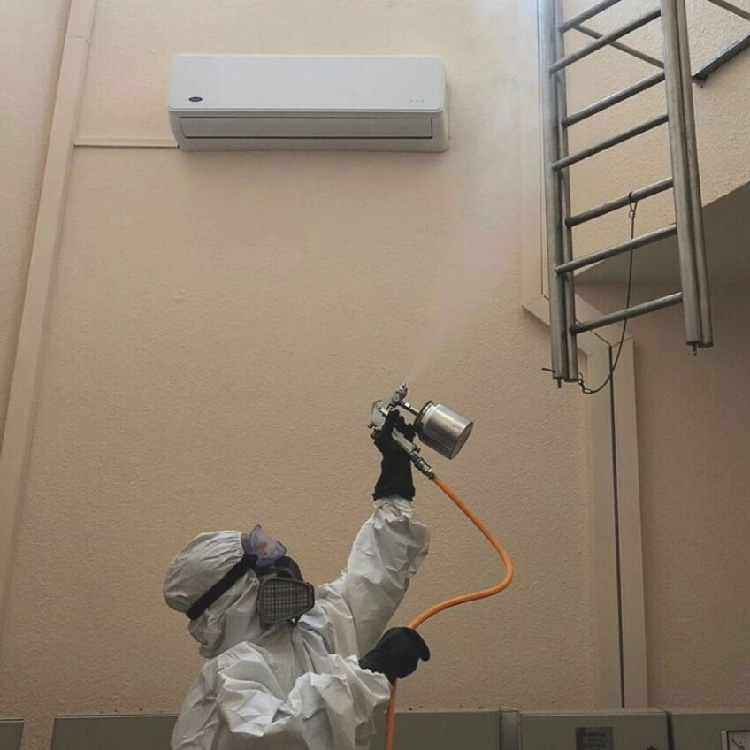 According to Khairul, the cleaning business did not come without its challenges. As the demand for cleaning services increased, competition grew and their business started seeing new companies offering similar services.
The entrepreneurs also shared that the second pandemic was also a challenge for the company.
"Since the movement control, some of our cleaning services have experienced a decline in demand such as our contract cleaning services for offices and schools," said Khairul.
"However, what we have learned from the first COVID-19 outbreak is that it is always important to always be prepared. So we have made preparations in terms of equipment, logistics, our manpower as well as improving our services," he added.
The cleaning company is also faced with challenges as they try to do their jobs during the outbreak.
At Bersih Solutions, employees are needed to follow standard operating procedures and wear full PPEs, on top of mandatory daily scanning of temperature and BruHealth code, said Khairul.
He also shared that as of 14 October, their employees are 100 per cent vaccinated.
"We also undergo regular swab tests and set up alternate teams of personnel who are deployed at different work schedules and alternate sites," he said.
As for future plans, diversification is on the cards, as the company is looking to continue to promote the importance of cleanliness and to expand its services.
"We are planning to open new services in addition to cleaning services, such as pest control and waste management in the future and also planning on supplying local cleaning chemical products that can be both used domestically and abroad," said the entrepreneur.
"With this, Bersih Solutions hopes to be able to enhance the company's ability to help the country's economic growth and achieve the National Vision 2035 in the future by creating more job opportunities for local youths," he added.
This article was first published on 06 November 2021 in our Weekly E-Paper issue 166
THE BRUNEIAN | BANDAR SERI BEGAWAN