His Majesty Sultan Haji Hassanal Bolkiah Mu'izzaddin Waddaulah ibni Al-Marhum Sultan Haji Omar 'Ali Saifuddien Sa'adul Khairi Waddien, Sultan and Yang Di-Pertuan of Brunei Darussalam, on Friday joined the 28th Asia-Pacific Economic Cooperation (APEC) Economic Leaders' Meeting, which was held virtually from Baitul Mesyuarah, Istana Nurul Iman.
The APEC Meeting which was chaired by Her Excellency The Right Honourable Jacinda Ardern, Prime Minister of New Zealand as Chairman of APEC for 2021, among other things, focused on recovering from COVID-19 to build prosperity for all citizens and future generations.
At the Meeting, His Majesty the Sultan and Yang Di-Pertuan of Brunei Darussalam in his titah noted that the global economy remains fragile and more needs to be done for a more sustainable recovery.
Noting that APEC agreed on a common vision last year to be achieved by 2040, Brunei Darussalam welcomes the Aotearoa Plan of Action to guide APEC's future work.
In this regard, His Majesty shared three points. Firstly, APEC needs to revitalise trade and enhance economic activities.
Efforts should focus on keeping markets open, strengthening global value chains and ensure free, open, and transparent multilateral trading system, anchored by the World Trade Organization.
It is necessary to continue to create a conducive environment for businesses, especially micro, small and medium enterprises (MSMEs), to recover and grow.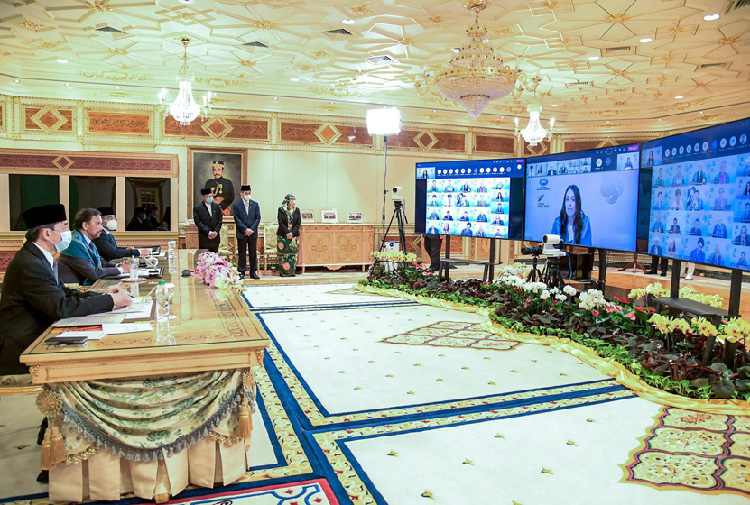 Brunei Darussalam also recognises the importance of technology as a tool for creating new economic opportunities.
On this note, APEC cooperation must harness the power of technology and digitalisation to transform industries, promote innovation, and enhance infrastructures.
Secondly, APEC must ensure the health and socio-economic wellbeing of its people, especially those severely affected by the pandemic.
APEC should therefore advocate policies that ensure their access to quality education; essential public healthcare services; and adequate social assistance.
His Majesty stated that reforms are also necessary to create quality jobs, inclusive labour markets, and a future-ready workforce.
In this regard, APEC's initiatives can support these efforts in enhancing these areas and pave the way for a new era of human development.
Lastly, it is important to pursue a green and sustainable growth agenda. Brunei Darussalam recognises that there is no one size fits all approach, given economies' different levels of development.
As an incubator of ideas, APEC can value add to the climate actions agenda and there are opportunities to share best practices and policy actions that will support the transition to a lower emissions future.
His Majesty commended New Zealand for successfully driving recovery efforts in the Asia Pacific region and acknowledged that under New Zealand's leadership, APEC has showcased collective actions in addressing the impacts of COVID-19.
In concluding the titah, His Majesty also extended his best wishes to the Prime Minister of Thailand, as incoming APEC Chair, in working to ensure an inclusive, sustainable, and prosperous future for the Asia Pacific region.
Earlier in the Meeting, the Chair of APEC 2021, in her Opening Remarks noted that APEC economies have experienced unique managements of the COVID-19 pandemic towards accelerating economic recovery; keeping businesses afloat as well as ensuring employment for the people; and securing an equitable response.
Her Excellency The Right Honourable also called upon the strengthening of youth engagement in the APEC region in ensuring a cooperative and digital future for all.
At the Meeting, the leaders observed a presentation by Kristalina Georgieva, Managing Director of the International Monetary Fund (IMF), highlighting increased risks to recovery from the pandemic including the divergence in APEC economies fortunes, taking into consideration the differing levels of vaccinations and fiscal space among economies; as well as the rise in inflationary pressures; and the need for economies to be more digitalise and inclusive.
Leaders also called for APEC's continued support towards a rules-based and open multilateral trading system in delivering inclusive and sustainable recovery for the region, including through the timely entry into force of the Comprehensive and Progressive Agreement for Trans-Pacific Partnership (CPTPP).
In support of accelerated economic recovery, leaders also welcomed trade facilitation leveraging digital technologies and innovation, as well as increased mobility of goods and people.
Aside from that, APEC also needs to consider the balance between economic growth and social development when addressing climate change issues, to ensure that benefits are shared by all.
The Prime Minister of New Zealand in her closing remarks, urged for APEC to work harder towards achieving universal access to vaccines as well as to overcome barriers in getting maximum vaccine coverage.
APEC could do more to support a safe cross-border movement, as well as improving opportunities and social outcomes for its people. Given the uneven impacts of COVID-19, APEC should align recovery with the long-term goal of achieving sustainable and inclusive economies.
At the end of the Meeting, the APEC Economic Leaders' Declaration was adopted and the Aotearoa Plan of Action was endorsed.
This article was first published on 13 November 2021 in our Weekly E-Paper issue 167 | More stories here
THE BRUNEIAN | BANDAR SERI BEGAWAN