Brunei will begin the Transition Phase of its National COVID-19 Recovery Framework on 19 November, as soon as the country achieves the target of 70 per cent fully vaccinated population.
Minister at the Prime Minister's Office and Second Minister of Finance and Economy YB Dato Dr Hj Mohd Amin Liew in a press briefing today announced several restrictions to be eased during the period, accommodating only for fully vaccinated individuals, such as;
• Opening of government offices for fully vaccinated employees, with working hours set from 8am to 2pm, Antigen Rapid Test to be taken every two weeks;
• Mosques, surau and prayer halls to receive fully vaccinated congregants only with capacity determined suitable numbers;
• Mass gathering in public places including commercial premises, sports facilities, indoor playground, salons and barbershops, markets, tamus, places of worship, are allowed to operate with 50 per cent capacity or not more than 200 pax or whichever is lower;
The respective managements are also required to ensure that their employees are fully vaccinated, as follows:
a. Updating the list of workers in the BruHealth application and ensuring that their workers have completed their vaccinations;
b. Premises are required to register their respective QR codes in the BruHealth application and their respective capacities – premises are not allowed to accept customers beyond 50% of their capacity;
c. The owners of premises must ensure that all individuals who enter their premises scan their BruHealth application upon entering (including all staff/personnel/volunteers);
d. The owners of premises are to ensure that only individuals with green and yellow BruHealth codes are allowed to enter;
e. The owners of premises need to ensure that all workers/staff/volunteers that are eligible to be vaccinated have been fully vaccinated;
f. The use of facemasks (except when eating or drinking), physical distancing of at least 1.5 metres, self-health monitoring and occasional ART testing, as well as ensuring that premises have adequate ventilation.
• Gathering at private residences are limited to 10 – 30 people, depending on house size;
• Higher education institutions, technical and vocational schools, driving schools are allowed to open and perform the ART every two weeks;
• Mandatory vaccination requirement extended to teaching force, non-teaching staff and guardians at schools and daycare centres.
• Individuals who are medically exempted from receiving vaccinations are not permitted to enter the premises.
• The mandatory vaccination requirement is extended to the teaching workforce, non-teaching school staff, staff and guardians at schools and children's daycare centres, trainers and so on. However, those with health conditions such as allergies will be exempted from this requirement, that is, based on the health certification provided.
• Meanwhile, planning and preparations for the reopening of schools are still underway, considering that fact the National Vaccination Programme is still being carried out for individuals aged from 12 to 17 years and children below 12 years of age have yet to be vaccinated.
• Procedures for the reopening of schools, and that children's daycare centres and other learning institutions will be announced later, that is, as soon as the COVID-19 Steering Committee has completed its review of the plans; and
• Every business premise that is allowed to open during the Transition Phase is required to abide by all guidelines and SOPs that have been introduced.
• Unvaccinated individuals who are medically exempted are not allowed to enter the aforementioned premises;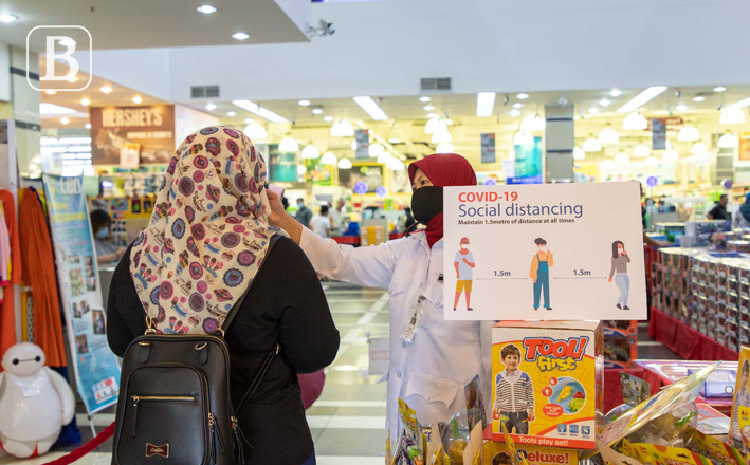 Interim period prior transition phase
The government has extended "Operasi Pulih" movement restrictions for another four days, starting Monday, 15 November until Thursday, 18 November.
This extension of the directive is an interim period to prepare Brunei entering its Transition Phase on Friday, 19 November.
Once entering the phase, the existing "Operasi Pulih" will be referred as "Operasi Peralihan" with movement restrictions to continue until Tuesday, 30 November.
The "Operasi Peralihan" stay-at-home directive will be shortened from 10pm to 4am.
"This takes account the prospect that the reopening of premises during the Transition Phase would help spur the country's economy and improve the well-being of all, while at the same time ensuring the COVID-19 situation continues to be stable," said Second Minister of Finance YB Dato Dr Hj Mohd Amin Liew.
As a safety precaution, the plan for the reopening of premises also warrants the need to ensure that all SOPs continue to be in place, such as physical distancing, venue capacity limits, the wearing of facemasks, maintaining cleanliness, and BruHealth mobile application use.
Meanwhile, the use of ART prior to entering premises is encouraged. Aside from these, the Government will continue to formulate contingency plans in case of any unwanted eventualities in the future.
With this announcement, it is hoped that sufficient time will be accorded to stakeholders to make logistical preparations prior to the start of the pre-specified de-escalations, particularly in the interest of ensuring adherence to SOPs and guidelines that have been agreed by the COVID-19 Steering Committee.
"Let us work hand in hand to support the Government's objective in making the National COVID-19 Recovery Framework the right pathway for bringing the country from pandemic to endemic states. National recovery is a shared responsibility, wherein the public plays a critical role in ensuring the success of any Government strategies," added Minister at the Prime Minister's Office and Second Minister of Finance and Economy.
Individuals who can receive the second dose are advised to do so as soon as possible to help the country quickly reach the target of 70 per cent of the population who have completed two doses of the vaccination.
The minister added: "As a subsequent preparation for the implementation of the Endemic Phase, that is, when the COVID-19 full vaccination target reaches 80 per cent, the Steering Committee is currently looking into the proposal to impose a fee for the ART test for individuals that have not completed their vaccinations but who intend to enter government or business premises in the country."
This article was first published on 13 November 2021 in our Weekly E-Paper issue 167
THE BRUNEIAN | BANDAR SERI BEGAWAN