Forty-five new cases were reported on Friday, announced the minister of health, leading the total number of COVID-19 cases in Brunei Darussalam to 14,444.
Yang Berhormat Dato Seri Setia Dr Hj Md Isham Hj Jaafar also revealed that 68 individuals have recovered from the infection, surpassing the latest number of daily cases.
With this new development, the total number of recovered cases in the country has increased to 13,925.
Meanwhile, two clusters have been closed following no new detected cases in the cluster for 28 days which are the 2230 Cluster and HHY Construction staff house Cluster.
With this, the total number of active clusters in Brunei stands at 159.
It was also reported that there are 36 additional new cases to 9 existing active clusters and they are those who are currently being quarantined and were found to be in contact with several confirmed cases.
Nine cases are still under investigation to determine the source of the infection, said the minister.
Currently, there are 421 active cases in the country. Among these cases, five are in critical condition, where all of them require the assistance of artificial ventilation.
In the past 24 hours, a total of 3,472 s samples have been tested for the SARS-CoV-2 virus which brings the total number of laboratory tests conducted from January 2020 to 578,775.
COVID-19 vaccination status
In regards to the country's COVID-19 vaccination status, to date, the total number of COVID-19 vaccinations in the country is at 397,298 doses.
Currently, 92.4 per cent of the nation's population has received at least one dose of the COVID-19 vaccine.
Meanwhile, 74.1 per cent of the population, or 318,681 individuals already completed their second doses.
Operasi Pulih violations
Meanwhile, 11 violations have been detected nationwide and issued with compound fines during operations carried out by multi-enforcement agencies on Monday night from 8pm until 4am.
The health minister also shared that, out of the 11 violations, 6 were out-of-house restrictions.
The Transition Phase
Moreover, the health minister reminded the public to practice COVID-19 preventive and control measures as we did when we were in the previous Preparation Phase and Containment Phase.
• Continue to wear a face mask especially when entering premises or if in a crowded public place.
• Practice physical distancing at all times and maintain personal hygiene by regularly washing hands with soap and water or by using hand sanitiser.
• Employers who want to know the COVID-19 status of employees do not need to instruct employees to undergo an RT-PCR-SARS-CoV-2 swab test before they return to work tomorrow. Employers or company managers can obtain the Antigen Rapid Test (ART) kits that are available in the local market for use at their respective premises.
• Continue the support and cooperation provided so that we will achieve the next target of 80% of the population completing the COVID-19 vaccination.
"The Transition Phase only allows those who have completed two doses of COVID-19 vaccine to enter any premises. However, anyone who does not have that information in their BruHealth app, can show the vaccination book as proof," said the minister.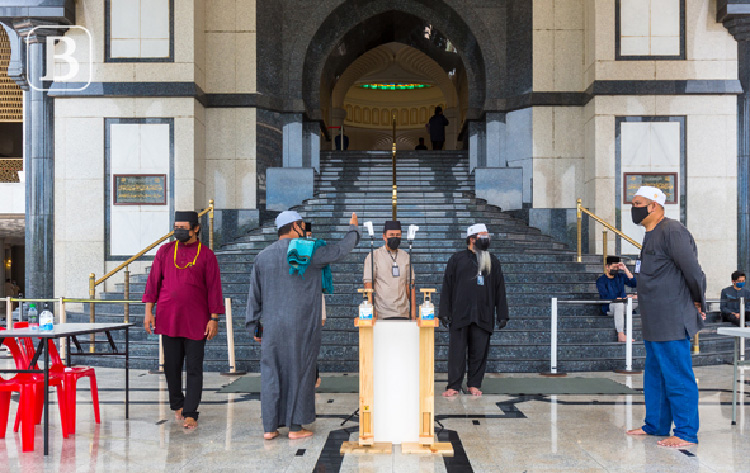 "This includes vaccination books or certificates from abroad for those who have completed vaccination overseas," he concluded.
For further information and latest updates, please visit the official website of the Ministry of Health at www.moh.gov.bnor by contacting the Health Advice Line 148 or email to askhal@moh.gov.bnthrough the BruHealth App.
THE BRUNEIAN | BANDAR SERI BEGAWAN