Shell LiveWIRE Brunei and Universiti Teknologi Brunei (UTB) recently signed a Memorandum of Understanding (MoU) to strengthen, promote, and develop research cooperation in all fields between the two parties on the basis of equality and mutual benefit.
The signing ceremony was held virtually and witnessed by both senior representatives from Shell LiveWIRE Brunei and UTB via video conference.
Present as the Guest of Honour at the event was Vice-Chancellor of UTB Professor Dr Dayang Hajah Zohrah Hj Sulaiman.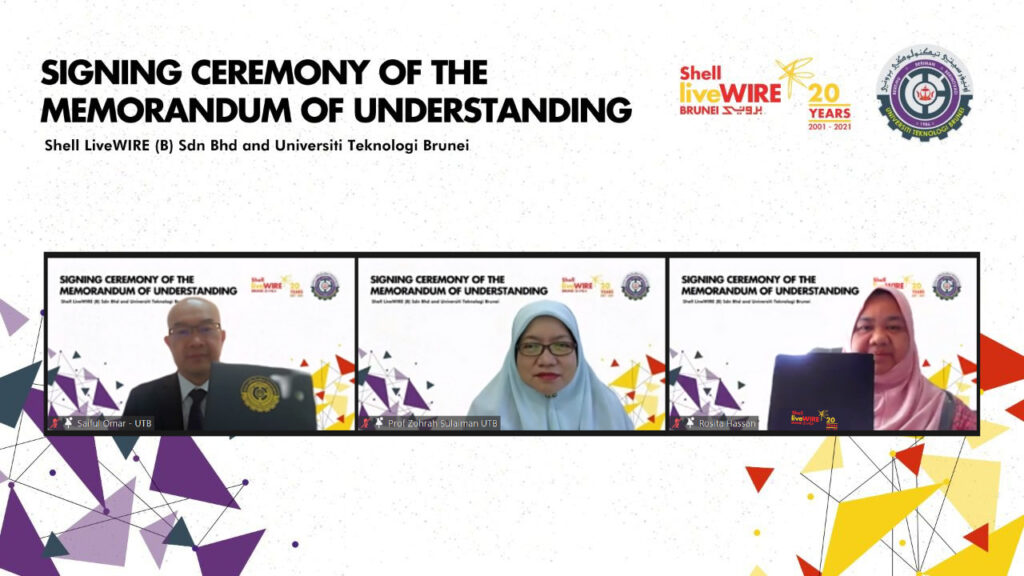 Signing on behalf of UTB was Assistant Vice-Chancellor (Industry & Services) Dr Mohamad Saiful Hj Omar and representing Shell LiveWIRE Brunei was In-Country Value Manager of Brunei Shell Petroleum (BSP) and Chairperson of Shell LiveWIRE Brunei Dayang Rosita Haji Hassan.
The signing was witnessed by Director of Enterprise office at UTB Professor Dr. Kamariah Ismail and Programme Director of Shell LiveWIRE Brunei Hj Abdul Yusrin DSLJ Hj Mohd Salleh.
Prior to the signing, the event began with welcoming remarks by the witness signatories of the MoU.
In his remarks, Hj Abdul Yusrin mentioned that Shell LiveWIRE Brunei looks forward to providing the classic offering of coaching, mentoring and entrepreneurship programmes and to also offering an avenue or platform to provide opportunities for students' innovative ideas to be showcased with access to subject matter experts for advice and developments into prospective technopreneurships.
"It is highly hoped that the MOU serves as a platform for everyone to the best practices and opportunities that are available as well as an opportunity to reinvigorate networking and expand the horizon further," he added.
Meanwhile, Professor Dr. Kamariah stated that UTB welcomes collaboration in areas of common interests to strengthen the Quadraplex Helix to attract resources, knowledge, and technology foresight to maintain UTB as a competitive institution and source of industrial innovation.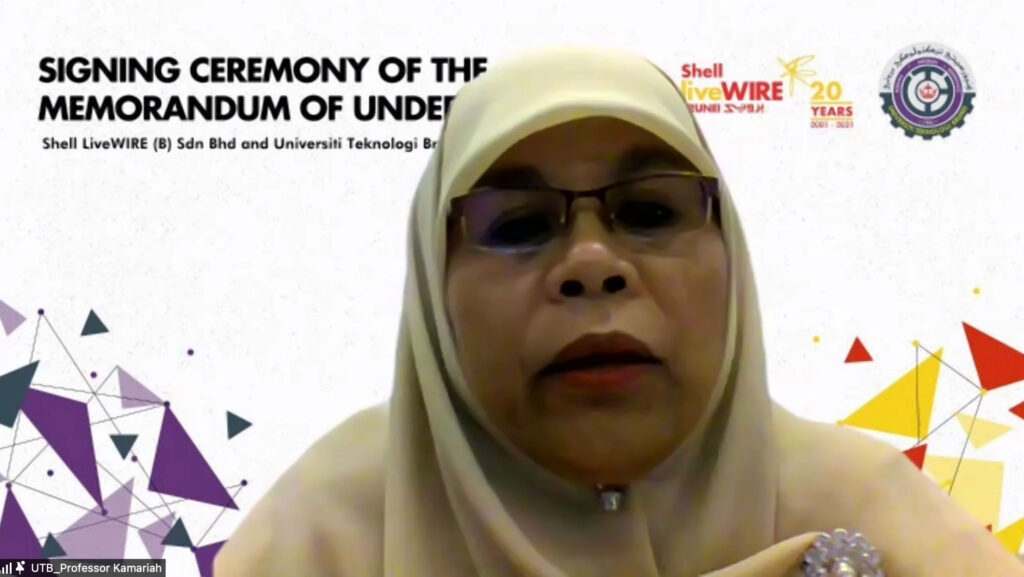 "We believe that such partnerships will bring about commercialiable quality research output through strategic grants that will help build a dynamic ecosystem with tangible results for the nation," she said.
She is also delighted that Shell LiveWIRE has collaborated with UTB to run training, seminars, and hackathons, and initiated a few commercialisation activities among the students.
The newly signed MoU serves as a general framework to encourage cooperation and collaborations in various areas of mutual interest between UTB and Shell LiveWIRE.
Both parties are particularly interested in providing entrepreneurship skills training and workshops and organising mini hackathons for undergraduates, postgraduates, and research students at the university in the areas of Science, Technology, Engineering, and Mathematics (STEM).
This article was first published on 11 December 2021 in our Weekly E-Paper issue 171 | More stories here
THE BRUNEIAN | BANDAR SERI BEGAWAN