Consumer electronics and household furnishing retailer Intracorp and Swedish brand Electrolux unveiled its Electrolux Corner at the Intracorp Megastore Showroom in Gadong, further expanding the brand's presence in the country.
During the launch of the corner, Intracorp's Marketing Manager Lolita Carmen Bito-on shared that the more than a century-old European company is one of the quality brands that Intracorp has been keen to offer into the Bruneian market giving what consumers deserve the best products from Europe to Southeast Asia.
She further said that the Electrolux corner will feature a wide range of Electrolux products that allow the public to take a closer look and at the same time, get to know the features available for each product.
Electrolux delivered its values to the market with "Shape Living for the Better" global mission to serve consumers with European quality products with continuous development for user values and sustainability to the world environment.
Through Intracorp, quality products are introduced to consumers at reasonable pricing and backed with strong service support.
Among the highlighted Electrolux products include the Ultimate Care 900 washer series, multi-door fridge and other cooking products and home appliances that represent the brand strategy in reinventing taste, care and well-being experiences.
Not only that, but the Swedish brand has a range of popular smart air purifiers that lets you breathe easy and stay healthy, ranging from Pure A9 to its Flow series.
Electrolux Air Purifier: Pure A9
Clean air in the household should be an utmost priority, especially when we spend the majority of our time indoors.
Sleek, modern minimalistic design, the Electrolux Pure A9 Air Purifiers come with 360 filters and 5 stages purification solution to reduce up to 99.99% of bacteria and deactivate viruses at the nano level.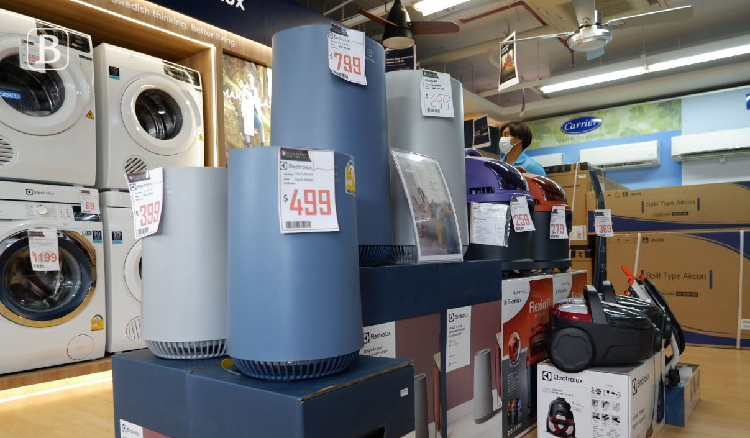 Moreover, the unique PureSense system continuously measures indoor and outdoor air quality levels and automatically adjusts the air purification.
*Electrolux Air Purifier: Well Series*
The Electrolux Air Purifier Well series is compact and lightweight enough to take with you on the go.
Featuring a powerful and durable 5-stage filtration system consisting of a pre-filter, antibacterial coating, fine particle filter, removes unwanted odor and is enhanced by an ionizer that deactivates bacteria and viruses.
Electrolux Air Purifier: Flow Series
Keep your house feeling — and smelling fresh with Electrolux Air Purifier Flow Series.
Designed specifically for middle-sized living spaces, the compact and intuitive Flow series features a four-step filtration system that captures micro-dust, odours, and harmful airborne substances.
Integrated HEPA 13 filter removes up to 99.99% of bacteria¹ for even cleaner and healthier fresh air at home.
In addition, apart from bringing quality products at affordable prices to consumers, Intracorp is also a major supplier of various international electrical brands such as Samsung, BEKO, Philips, Kitchenaid and most recently, Electrolux.
Moreover, Intracorp will also be offering promotional sale offers for the Electrolux brand along with other brands.
For more information and updates, the public can contact Intracorp Megastore Branch at 233793 or follow their Instagram @intracorpbn and Facebook page, Intracorp Sdn Bhd.
Intracorp, Electrolux donates Electrolux Products worth BND 5,000
Electrolux recently donated more than BND5,000 worth of products to Raja Isteri Pengiran Anak Saleha (RIPAS) Hospital to contribute to the nation's fight against the global pandemic.
The Swedish brand strives to be at the forefront of sustainability in society through its solutions and operations and always aspires to contribute to the social development in the countries in which it operates through social, cultural, environmental and sporting projects, products and services.
"With the support of our brand partner Electrolux, we hope that this donation will help to create a cleaner atmosphere inside with Electrolux Flow A4 air purifier with 4 stage filter for rooms up to 53m2, the 4-step filtration removes micro-dust and bacteria. Spiral outlet circulates filtered air. Sensors measure air quality and adjust fan speeds," Lolita shared.
This article was first published on 25 December 2021 in our Weekly E-Paper issue 173 | More stories here
THE BRUNEIAN | BANDAR SERI BEGAWAN