The Royal Brunei Malay Reserve Regiment (RBMRR) RBAF Military Cadets and Kris Karmila Kreations recently collaborated in the ninth installment of the company's charity project, "Jiwaku Ikhlas".
This year's charity project involved a channel of assistance for more than 20 families and individuals in four districts including house fire victims in Kampong Burong Pinggai Ayer, low-income families, persons with different abilities, single mothers and orphans.
"Alhamdulillah, today's donation items are in the forms of furniture, clothing and footwear, daily necessities, and facemasks. ASMDB has graciously helped this project with manpower, transportation and distribution, among others. A total of 300 food packs will be distributed to the frontliners of the workforce involved as well as underprivileged families," said founder of Kris Karmila Kreations, Hjh Karmila Hj Sapar.
The handover ceremony was held at the ASMDB Camp, Rimba, Gadong and witnessed by Her Excellency Homeira Rigi Zirouki, Ambassador Extraordinary and Plenipotentiary of the Republic of Iran.
Donated items include furniture, clothing, footwear, daily sustenance items, and facemasks.
The contributions were made by the The Embassy of Islamic Republic of Iran in Brunei Darussalam, Kris Karmila Kreations Co., Krispy Krunchiez, Firoz Jaya Silk House Sdn Bhd, CJMM Company Furniture, Superwater Marketing Sdn Bhd, Suzy Said Company, Berry Wan Companies, Dapur Qisk Company, Project Printhub, RBMRR and the general public.
As of today, Madam Hajah Karmila Haji Sapar indicated that the charity project has successfully assisted more than 1,000 families and individuals, local and foreign, in all four districts.
The next tenth edition will take place by the end of January 2022 with 'Back to School' concept.
Members of the public are encouraged to participate with the contribution where Interested individuals can contact 7171488 for further arrangements.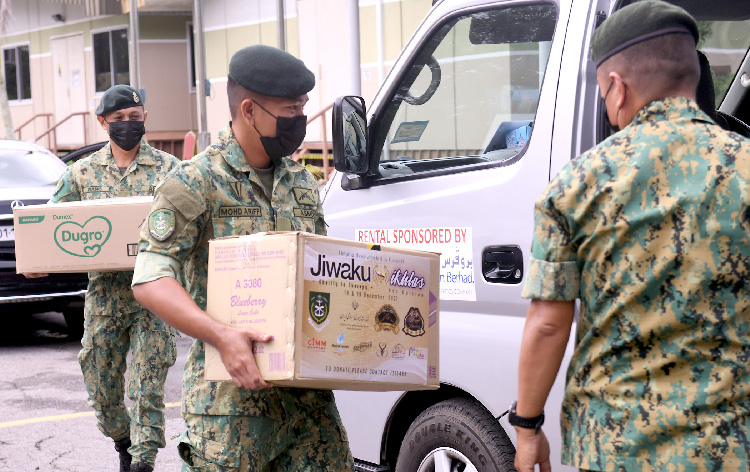 THE BRUNEIAN | BANDAR SERI BEGAWAN