Olive oil, feta cheese and tomatoes are a few ingredients essential to the menu of Zorba's Cafe, a restaurant that aims to celebrate authentic Greek food and the tantalising flavours of the Mediterranean.
Between all the hustle and bustle of Kiulap, the newly-opened eatery is located at Regent Square. It is easy to spot by the bright blue exterior that juxtaposes with the grey monochrome buildings around it.
As soon as you enter Zorba's, you are transported to the classic white-and-blue atmosphere that resembles the prominent attractions in Greece, namely the Santorini islands.
The moment you walk through the doors, you're immediately greeted by soft traditional Greek music, along with a painting of a quaint village by the coast.
Restaurant manager of Zorba's Cafe, Mirru Shah said that the inside is decorated this way to show the feel of being in Greece.
"Think Santorini… Strong, bold contrasts of white and blue to reflect the sun and the sea — then think of its back streets – shaded passageways and sandstone paths that lead you to a cool, casual reprieve," he explained.
"The inspiration behind "Zorba" is transmitting our passion for food and making people discover new things; to find common ground in unexpected places. In the time of COVID, we want to give people a taste for adventure while we're still at home," added Mirru.
The inside space comfortably accommodates up to 30 customers, featuring cosy seating areas that are perfect for gatherings with family and friends or a romantic evening.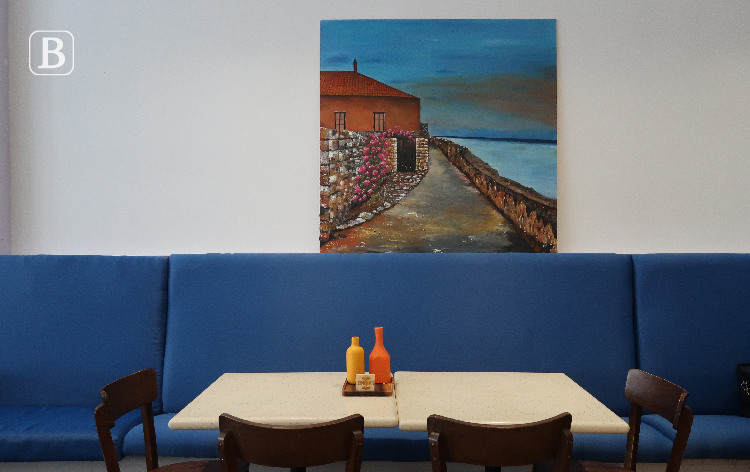 Mirru manages the day-to-day operations of the restaurant, which is open for takeaway and dine-in.
According to the 23-year-old, the name "Zorba" of the eatery comes from a character from the novel, "Zorba the Greek" by Nikos Kazantzakis.
"Zorba is a boisterous, strong, proud, and larger-than-life character. In the book, he teaches a young man about Greek life — in ways that cannot be found in books or academia. That's Zorba, and the spirit we embody here at our restaurant," he explained.
Whether you already love Greek food or are a first-timer at Zorba's, customers are invited to a sensory and soulful experience that blends ancient Greek recipes with a modern and comforting twist.
"We wanted to bring an authentic dining experience to Brunei that people can think of as the home of Greek food, and a springboard into other Mediterranean cuisines. We also believe that Greek food provides a really healthy balance; we are not a vegetarian restaurant but most of our dishes consist of vegetables," he added.
According to the Head Chef of Zorba's, Yannis Phanariotis Yannis, Greek cuisine is known to those who have travelled or lived abroad, but it is not so known among Bruneians. This is something he hopes will change.
For the chef, Greek cuisine is distinguished by its use of fresh herbs and olive oil. He picked up most of his food inspiration from his family and the food he ate during his childhood in Europe.
Yannis, who is half Greek, half English, grew up between the borders of Greece and Turkey. Passionate about bringing the Old World flavours of Greece to Brunei, He shared that the dishes at the restaurant closely mimic the food he ate growing up in his hometown.
Before settling in Brunei, the 42-year-old also owned a Greek-Mediterranean seafront restaurant on the Costa del Sol in Spain.
Moving abroad, he maintained his passion for Mediterranean cooking and brought his love of olive oil and herbs to every dish at Zorba.
Greek food is brilliant for those looking for a healthier and healthier option. While there is an emphasis on meat, there is an equal amount of attention paid to delicious vegetable dishes. The menu covers a broad range of Greek cuisine from gyros to classic salad.
The highlighted dish of Zorba's is undoubtedly their Souvlaki dishes. The tantalizing meat is flavoured with an unexpected hint of cinnamon resulting in a unique, earthy strong flavour. It is no wonder it is a favourite among customers.
Their signature dish, the comforting and fulfilling Greek lasagna, the Pastitsio is also popular among customers.
Not only that, but most of their dishes and gyros contain tzatziki, a signature Greek dipping sauce made with yoghurt, cucumber and garlic – the most authentic Mediterranean flavour.
On the sweeter side, the restaurant also includes a variety of desserts that will tempt your taste buds such as Yanni's signature Baklava, a classic honey-soaked layer of goodness.
When asked about his favourite dish on the menu, Yannis said Moussaka. It's a real Greek classic and the Moussaka at Zorba's is based on my grandmother's recipe," he shared.
"But when I think about sharing food with both friends and family, I think about a roast leg of lamb as the centrepiece of the table. It's one of the main dishes on our Festive Menu, and we look forward to seeing how people react to its unique Mediterranean flavours," he continued.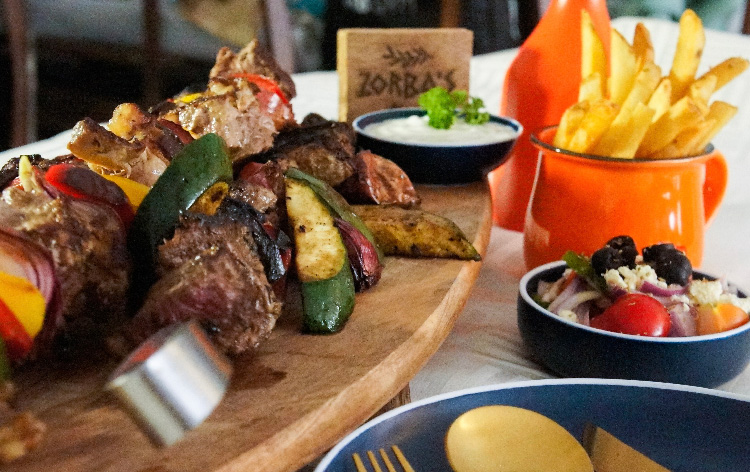 Since opening its doors in late October, Zorba's has made its mark on the growing food scene in Kiulap. The restaurant has received positive feedback from customers.
However, according to Mirru there were many challenges when opening the restaurant. Like with most businesses, COVID-19 has impacted Zorba's. The restaurant was supposed to open earlier in August but has since been postponed to October.
"One of the riskier decisions was to open a restaurant during a partial lockdown, albeit a soft opening, and it has brought some obstacles. Finding staff and managing loads of orders with a small team has been an adjustment, but we're getting more into the workflow together," he shared.
Another challenge they had was finding suppliers and the right ingredients. "Making hummus when there's a chickpea shortage is no easy feat," he said.
"The restaurant is still only a month old, so the overall challenge at the moment is finding our feet and to keep going over the bumps in the road, and to get better as we go along. We're learning and adapting every day," he added.
For the restaurant's future plans, Mirru shared that they want to focus on growing the business and also on expanding their menu. The restaurant is also planning on introducing more seafood dishes into the menu.
"Our Octopus salad is our menu's first seafood option, and really brings out the coastal, Mediterranean flavours associated with Greek islands and holidays," he shared.
"We believe in emphasising that food can be healthy and hearty, in particular Greek food, and introducing that to the Bruneian public. Since Greek cuisine is relatively new, we're doing so incrementally, but we've got plans to bring more to the table – literally," he said.
"The bigger picture? We hope to have everyone in Brunei experience our cuisine for the first time and enjoy our healthy and hearty food, and to become a household name," he concluded.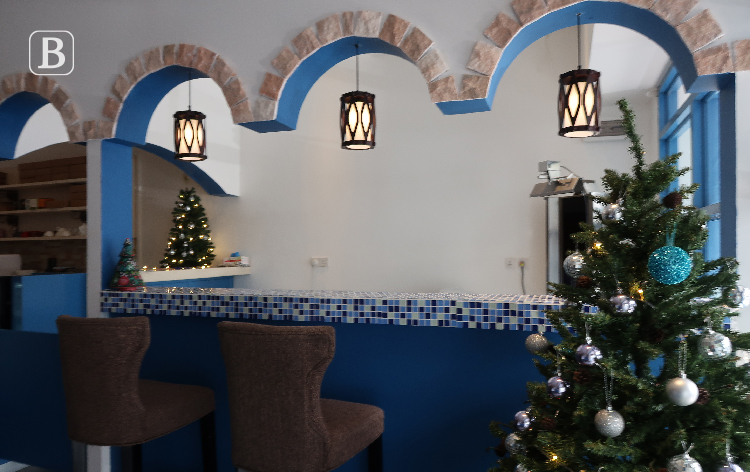 This article was first published on 01 January 2022 in our Weekly E-Paper issue 174 | More stories here
THE BRUNEIAN | BANDAR SERI BEGAWAN