Roar! The popular Taiwanese franchise Tiger Sugar has now arrived in Brunei.
The newest player to the country's growing boba tea scene has opened its doors at the Regent Square, Kiulap with a variety of its signature drink series.
Tiger Sugar has been operating since 2017 and according to Tan, the franchise has more than 40 locations worldwide.
Although the boba tea market in the sultanate is already saturated with many boba tea brands, Tan sees encouraging growth in the food and beverage market in Brunei
"Boba Tea market is very saturated and there are a lot of different choices in Brunei but I think if you have the right product, people will keep coming back to you and with Tiger Sugar, it is all about quality," said Master Franchise for Tiger Sugar Brunei, Tan Chu Eu.
He further said that the decision to introduce Tiger Sugar in the country was aimed to offer Bruneians a different experience and more choices of premium boba tea brands.
Tan shared that the three group friends turned business partners have tried different Boba tea brands before opening up Tiger Sugar.
During their trip to Taiwan and Hong Kong, they came across the franchise and were impressed by the quality of drinks and menu.
"We felt that Tiger Sugar was unique from other boba tea outlets, especially their sugar. The syrup is made from four types of Taiwanese brown sugar that gives the drink a delicious fragrant smell" added Tan.
According to Tan, the franchise is famous for its boba, which is brewed, boiled and stirred continuously for hours. The boba is also cooked in brown sugar, giving them a soft, chewy texture and long-lasting caramelised taste.
Tiger Sugar also differentiates itself by its 'boba', the drinks are served with larger-sized boba, mini pearls, or a combination of both.
"We are focused on providing quality beverages, which is why we would only keep the boba for 6 hours," he said.
Tiger Sugar began its soft opening today while Tan initially wanted to get things up and running last year in September, but the second wave of COVID-19 outbreak has put those plans on hold.
"When COVID-19 started, it delayed most of our operations – from the shipping of ingredients and also bringing in the trainers," he explained.
What's inside
As you walk in, customers will be greeted by a huge vibrant tiger on the wall, which is the mascot for the Taiwanese franchise and its trademark cool tone-colored walls, giving a relaxed and cozy vibe.
With its tagline 'Brave as a Tiger,' the interior boasts its daring signature black and brown colour and tiger decorations. Not to mention, the adorable stuffed tigers around for an instagrammable moment.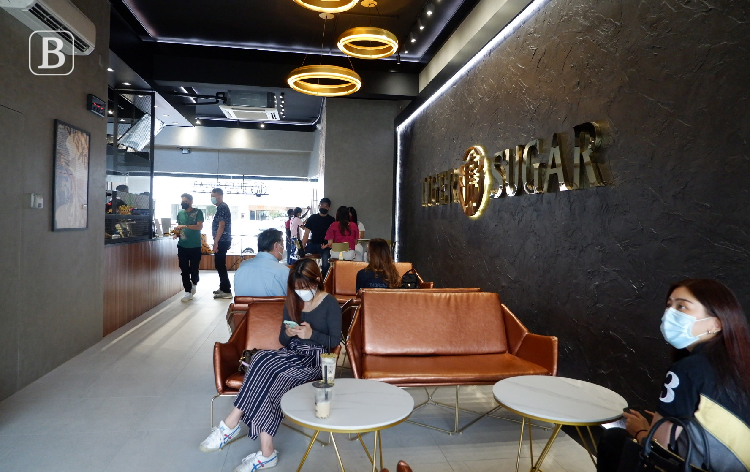 Moreover, the seating is comfortable with cushioned sofas and dining chairs that fit up to 30 people.
Apart from the view, the eatery is the perfect spot to hang out with friends or to bring your laptop to work, with its comfortable seating and quiet space.
According to Tan, the decision to have the new store at Regent Square, Kiulap is also owing to its strategic location near a populated and highly dynamic residential and business area.
What's on the menu
Tiger Sugar is known for its brown sugar boba milk drink and it's signature "tiger stripes" drizzled along the sides of its beverages.
The Taiwanese franchise is introducing five of its crowd-pleasing series to the menu including the Black Sugar Boba Series, Black Sugar Coffee Series, Black Sugar Tea Latte Series, Tiger Cheese Mousse and the tea series.
The star of the show is none other than their original black sugar boba tea with fresh cream mousse – an Instagrammable concoction that is made with bold black tea, brown sugar pearls, milk cream, and fragrant brown sugar.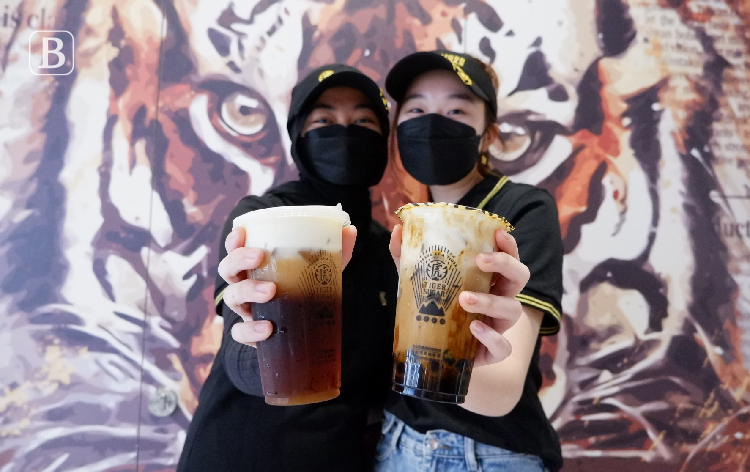 When you take a sip of the signature drink, you will be able to taste a wave of sugary delight indulged with that sweet, rich, cheesy goodness.
Another fan-favourite is the Black Tea Latte with cream mousse. The deep taste of the full-bodied aromatic black tea combined with fresh milk gives off a fragrant yet creamy surprise.
Aside from that, Tiger Sugar will also be extending its seasonal menu in the future.
In addition, when asked about future plans for the franchise, Ng said that they are eyeing expanding the brand in the country by opening more branches in the future.
"We are eyeing on expanding our presence in the country by opening three more branches. Hopefully, step by step, if it all goes well, we will open up more branches by the end of 2022," concluded Tan.
This article was first published on 22 January 2022 in our Weekly E-Paper issue 177 | More stories here
THE BRUNEIAN | BANDAR SERI BEGAWAN