Making cakes bite-sized, fun and kid-friendly using chocolates, Popbakes makes desserts pleasing to the eyes and melts in the mouth with their cake desserts.
Popbakes is run by Azlina K where she spends her days baking cakes as a hobby as well as a means of income to keep herself busy.
The home-based business specialises in making cake pops, cakesickles, chocolate-covered oreos, chocolate geohearts and chocolate cocoa bombs which all have the same base of ingredient, chocolate.
Azlina started this business in 2020 when she was still new to baking and as time passed, she learned new skills and orders kept coming in for her bakes.
"As I keep making treats and promoting them on Instagram, the followers grew and orders kept coming and now it grew into a small business, but still I'm treating everything as a hobby because every order is different and I need to be creative in making each one," said the owner.
Currently, Popbakes offers chocolate-based treats such as cake pops, cakesicles, chocolate cocoa bombs and more but with time management, cake pops are on hold as it is a time-consuming process.
When Popbakes first started, there were not that many people or bakers who were making cakesickles or cake pop and until today, according to the entrepreneur, she could still count them by fingers but what makes the baker different from the rest is the time and skills she put into each product.
"I suppose the uniqueness comes from techniques and creativity: how much a person is willing to learn to improve, do research, improve techniques, try new ingredients all formulate to the trait of the baker," said Azlina.
For the 35-year-old, she is very specific to details and she wants to give the best possible quality to her customers and be proud of seeing the satisfaction on their faces when their requests are fulfilled the way that they envision it.
Most of the customers that Popbakes encounters are mostly moms with young kids or individuals who planning to have a celebration and they accept any customisations except for cartoon characters as the baker does not draw on chocolate well yet.
The price range for these mini desserts are depending on the designs and complexity of the requests and they usually range from $2 to $6.
At the moment, Popbakes is only being run by the entrepreneur on her own so there are some struggles that she faces and she has to limit taking in orders daily and during peak events such as Christmas, Chinese New Year and Valentines, among others.
For the long-term plan, there are none yet for the entrepreneur as she is looking into the baking trends around the world and if there is something new, she would try to do her take on the desserts.
Striving to make the best out of her business, Azlina is taking one step at a time in pushing forward her business and learning from her experience.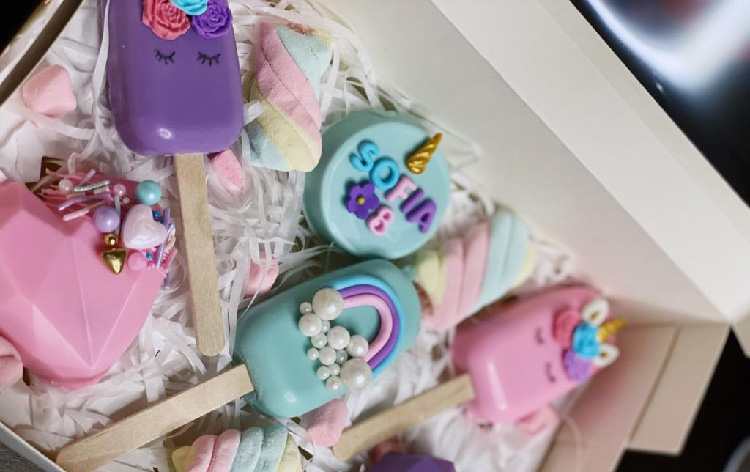 "With what I did with Popbakes, it's very difficult to start but keep going and be consistent with your will. You will get there eventually. The key is to not give up because there will always be challenges along the way," said the entrepreneur.
The owner learned the tips and tricks of owning a business on her own and with time, the online dessert shop is growing as she overcomes the challenges that come her way whilst developing and learning new skills.
Find out more about the baking treats that Popbakes has to offer and get a taste of their chocolate-based desserts by heading over to their Instagram @popbakes.bn.
This article was first published on 29 January 2022 in our Weekly E-Paper issue 178 | More stories here
THE BRUNEIAN | BANDAR SERI BEGAWAN