Putting a twist in local's favourite dish ayam penyet, Nyet Jaa! offers a unique take on the dish with their creativity at affordable prices for everyone to enjoy.
The local home-based business which is owned by Muhammad Muizzuddin offers various options of ayam penyet, giving a mix and match of flavours with other dishes.
"We try to stay with the traditional ayam penyet but at the same time making it tastes more unique and perfect when blended with our own creation of recipe's," said the youth entrepreneur.
The idea of Nyet Jaa! came from the 20-year-old as he is fond of hunting and trying unique food from both local and foreign cultures.
During the pre-pandemic days, the entrepreneur and his friends often travelled to places and tried food in and outside of Brunei.
He often finds himself finding the differences in taste and thinking of ways to elevate them or create a fusion.
"I love to see the differences from what other businesses had made and recreate it and of course to produce better taste and not just by the looks of the product but also reaching consumer expectations. As the main goal is to reach consumer satisfaction," said Muiz.
Currently, Nyet Jaa! has several choices of Ayam Penyet such as rhw Signature Ayam Penyet, Salted Egg Ayam Penyet, Buttermilk Ayam Penyet and BBQ Ayam Penyet, among others, which come with rice or noodle.
Scouting menus locally, the youth found that there were not many options for Ayam Penyet compared to countries outside of Brunei which have plenty of food style ventures.
The business started in June 2021 with a stall in Sengkurong as their first location and now they have branched out to Lambak where they also accept dine-ins.
"We often play with the food and restaurants names prior to opening of the business and I thought why not I named it as 'Nyetjaa' which is the short-form of 'Ayam Penyet Saja' (just ayam penyet). For example when people ask where to eat, the reply would be "Nyetjaa!"," said the business founder.
What's unique about this business is its affordable price range which is their main goal; to meet customer's satisfaction not only by taste, but also the pricing.
"Our intention is to provide tasteful foods at a very low and affordable price for customers. But changes might happen when inflation hits the market but we will try our best to cope with changes and to provide the lowest price possible," said the 20-year-old.
The price range of the Ayam Penyet is from $2 to $4.00 depending on dish options.
For now, their only goal is to improve on their customer service and products.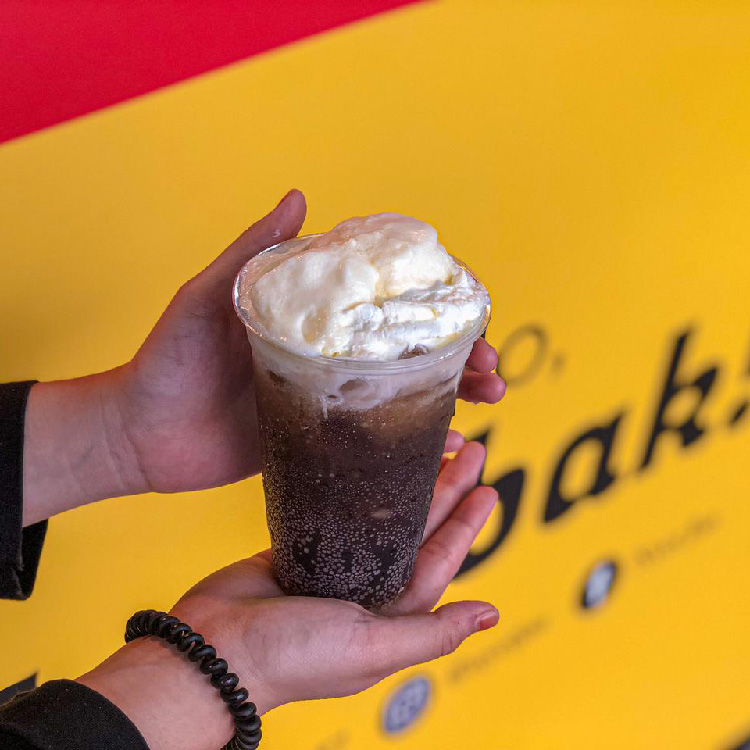 The business has no plans to introduce new menu as they are still in midst of trial and error process.
However, they are eyeing to provide free delivery services to customers with terms and conditions and currently still in a planning stage.
Moreover, the founder has always been keen on creating his own business as it is his hobby and since he was a kid, he loved helping his family running a business, especially his mother.
"I have been doing business with my mother. With more than 10 years of experience in business now, I'm still at a minor stage. There are still plenty of aspects that I need to learn about business on how to consistently and effectively run business properly," said the youth.
The youth is learning and improving on his skills with the experience he gained for the business everyday and he is currently studying and doing business.
Muiz dreams to run multiple businesses and the reason why he created the food business is to engage with more people while learning the ways to grow a business.
Head on over to the nearest Nyetja store  to have a taste of their different take on Ayam Penyet or find out more by going to their Instagram @nyetjaa.
This article was first published on 29 January 2022 in our Weekly E-Paper issue 178 | More stories here
THE BRUNEIAN | BANDAR SERI BEGAWAN