Whether you are looking for a spicy challenge or something mild, homegrown business Chicken Dude is serving golden fried chicken tenders with your desired level of heat.
Chicken Dude was founded in 2021, an idea that was hatched by Abdul Hijran I'zzuddin Hj Mardin when he first bought an electric fryer.
Within less than a year, the business has now grown from a home-based to its own physical restaurant.
Hijran started off Chicken Dude by researching the best ingredients and began mixing different types of batters.
The 22-year old founder would spend most of his days in the kitchen trying out different cooking methods to ensure the chicken tenders were perfectly golden on the outside and juicy on the inside.
"At first I tried some typical recipes online. I have to admit, it went terribly, I even thought about giving up and just selling the electric fryer back. But I kept trying, I got feedback and modified the recipe a lot and it ended up with something we are proud of," he shared.
"When we first started, we only had one type of chicken tenders, it was spicy by default. That was when one of our customers gave us valuable feedback saying that it was too spicy for their parents back at home," said the youthpreneur.
"We really looked into it and made the decision to offer the tenders in multiple heat levels. The multiple heat levels actually helped make it more popular and now more people get to enjoy our tenders just the way they want it to be," he shared.
Now, Chicken Dude serves crispy tenders up to three levels of spiciness -original, mild and hot. The menu also comes in three flavours of dips to choose from namely, cheese, ranch and their signature classic.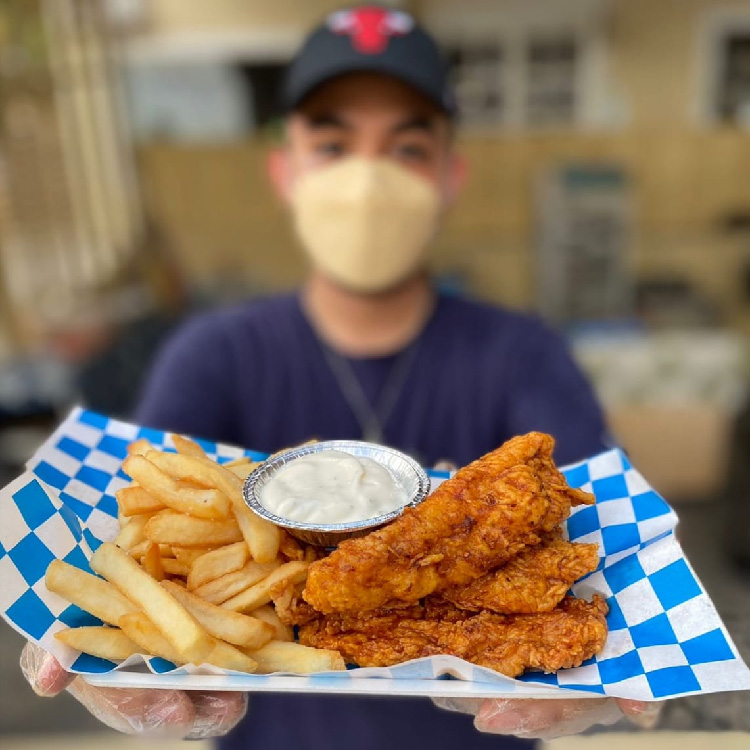 What came first, Chicken Dude or the egg batter?
Hijran, who has a degree in Business Management, shared that he had always been interested in entrepreneurship and studying articles about how to operate a business.

He began his first entrepreneurial journey with Rokit Vintage BN, an online thrift store.
However, it was during his days helping out his brother at the family's burger stall that he would always wonder whether he could open his own eatery.
"Just last year, my brother opened up a burger stall, called The Spot Burger BN and I helped run the stall and even manage one whole stall when he opened up several branches," he continued.
After working for his brother's business, Hijran decided to open his own business, having always dreamt of owning his own eatery.
"I sincerely believe all the experiences I've learned working at my brother's burger stall has helped me set up Chicken Dude to what it is now," said Hijran.
The idea of frying up Chicken Dude started when inspired by an article he read online.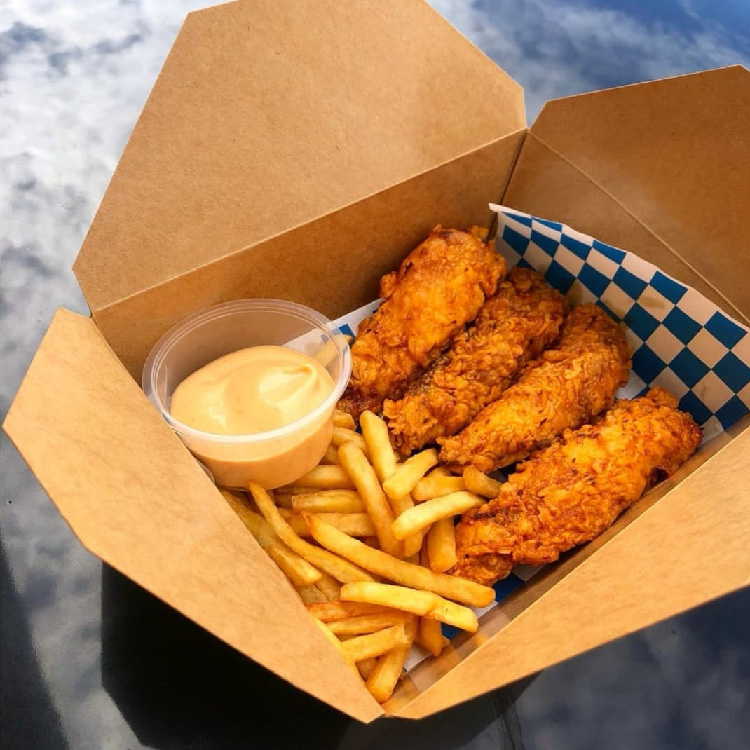 "I always wanted to get into F&B and wanted to offer something that would excite people. That is when I started looking into US street foods and found this amazing story of these two guys. They were selling spicy chicken tenders from a stall and they blew up tremendously. They have now expanded into franchising and I got inspired to do the same," he said.
Constant innovation and improvement have been Chicken Dude's recipe for success. The home-based business expanded to special orders from his family and friends, and before he knew it, he was fulfilling numerous orders from strangers.
"It was a huge hit, especially to the younger crowd. I think it is because of the striking brand image online," he said.
The young businessman also shared that every business presents its own challenges; something that he is still learning.
"The F&B market in Brunei is quickly becoming saturated and it is becoming difficult to stand out while offering good products and managing the business," he said.
Although new to the food and beverage business, the young founder has grown with the business over the months, learning and trying out new things along the way.
Hijran also shared that his background and experience in business has helped the 22-years old to grow Chicken Dude.
"To survive in this business we need to have a good awareness of the climate and to keep up with the pace," he said, adding that branding and the presentation of the business on social media is important.
The vibrant blue and yellow aesthetic manages to attract a growing number of followers onto their social media page @thechickendude.bn
"We have put a lot of effort into our Instagram page to give our brand a memorable identity. Nowadays, people are starting to be really good with their online marketing so we need to put even more work into it.
According to the 22-year-old, Chicken Dude was a love letter to the nostalgia of the American Diner.
"I chose the name "Chicken Dude" because it sounds very laid back. Which is exactly the vibe we wanted to portray at our stall. We really want to give a space for people to hangout all night while enjoying our chicken tenders. "Dude" sounds something straight from a Californian surfer and it just calls back to the US origin," he explained.
"Everything about our branding was inspired by the US. The blue checkered pattern was inspired by 50's fast food. The logo itself looks like a stencil that you can put on everywhere. I really want to make it look as if our brand can belong along Santa Monica beach in LA," he shared.
A new place to call home for Chicken Dude
As soon as Hijran discovered that his chicken tenders were gaining popularity the 22-year-old decided to open up a physical location.
After months of planning, in early January 2022, the growing home-based business now has its own physical location at Spg 247, Jalan Pasir Berakas.
A welcoming vibe is what the food joint is all about. The founder of Chicken Dude's goal was to create a space that would be a perfect spot to hang out with family and friends.
"Ever since I opened a physical venue, I have had a wider range of customers, most of the orders were done online and were collected right after the work shift ended. We see new customers and even better, returning customers. People are now starting to recognise the venue as a place to hangout with friends and it's looking great for us," he shared.
On an average day, Hijran shared that would receive a good amount of orders.
When asked about future plans for Chicken Dude, Hijran said that they want to focus on growing the business and are eyeing to add more items to their menu to provide customers with more options.
"We are planning to introduce new sets and special menu items to attract people to come and stay even more. We have been looking into food trends and we might implement something like a "mukbang" set to be shared among a larger group of friends," he shared.
"We are actually excited to show what we are planning, but as of now, we are doing our best to position ourselves for sustainable growth," he added.
I'm excited to share that my brother will open up a new The Spot Burger BN stalll alongside me in Lambak. I think it opens up a lot of possibilities for collaboration, just imagine: a mountain of fries, spicy juicy chicken tenders and a couple of double cheese burgers to last through those late-night hangouts.
Hijran also shared that he feels encouraged by the constant support he has received throughout his business journey,
"There was a lot of work between starting the home business and opening up a physical venue in Lambak. Not a lot of people saw that, but I'm just incredibly proud of myself that it has grown to this stage," he concluded.
"I started out with just one electric fryer, now we have three," he said, "and as the business is continuing to grow, we're going to need a bigger fryer".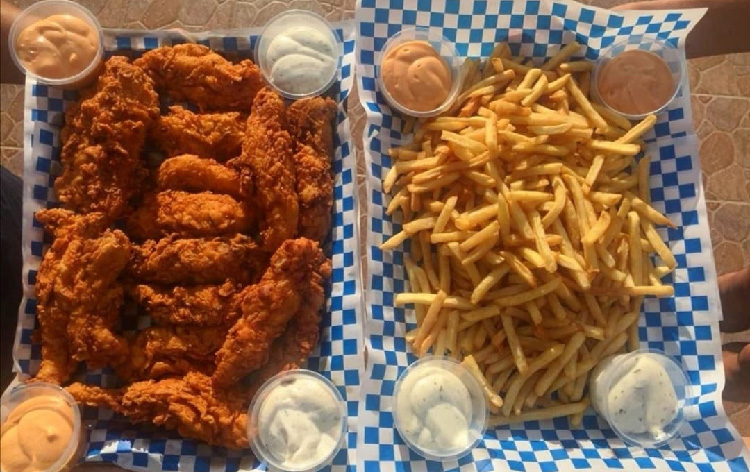 This article was first published on 12 February 2022 in our Weekly E-Paper issue 180 | More stories here
THE BRUNEIAN | BANDAR SERI BEGAWAN