From the rainbow-coloured water village to the adorable local celebrity, Delilah the Crocodile, illustrator Joanita brings her signature candy-hue dreamy illustrations to the latest homegrown card game, Beautiful Brunei.
Launched recently, it is a match-and-play card game created by the local creative, who also goes by the pseudonym JellybeanDreams.
The colourful and uniquely Brunei-themed card game comes with 16 sets of cards, each with wonderfully whimsical illustrations of iconic landmarks and characters.
The gameplay is super simple; lay all of the cards face down, and each player gets a chance to flip two cards over to match the landmarks, animals, food and more. The player with the most matching sets at the end of the game wins.
The family-fun card game is suitable for all ages and can be played by one to two players.
"Beautiful Brunei is meant for all generations, the pocket-sized tiles will help younger kids grow their vocabulary (both in English and Malay) whilst older kids and grandparents will battle for the sharpest memory," she shared.
It is also a fun way to teach young ones about the rich diversity of cultural heritage and Brunei's nature and wildlife, she shared.
The charmingly illustrated card game features historical landmarks like the SOAS Mosque, a majestic Oriental pied hornbill, Brunei's national flower, the Simpur and many more.
"The art style of JellybeanDreams has always been bright, colourful and dreamy but with Beautiful Brunei, I wanted to capture realistic details which I think helps children identify and appreciate the natural world around us more," she shared.
With the match-and-play game, Joanita hopes to cultivate a love for the country and inspire joy through its fun gamification learning while also bringing people together.
"In its own little way, I hope it helps to nurture in our children's hearts a connection, prompts conversations and celebrates our Beautiful Brunei. For anyone visiting or who has lived in Brunei but is moving on, I hope this is also something they can bring back with them to remember our country," she further said.
Moreover, the Beautiful Brunei card game is not only stunning to look at but all materials including packaging have been carefully resourced to reduce their environmental impact and were printed with eco-friendly vegetable ink.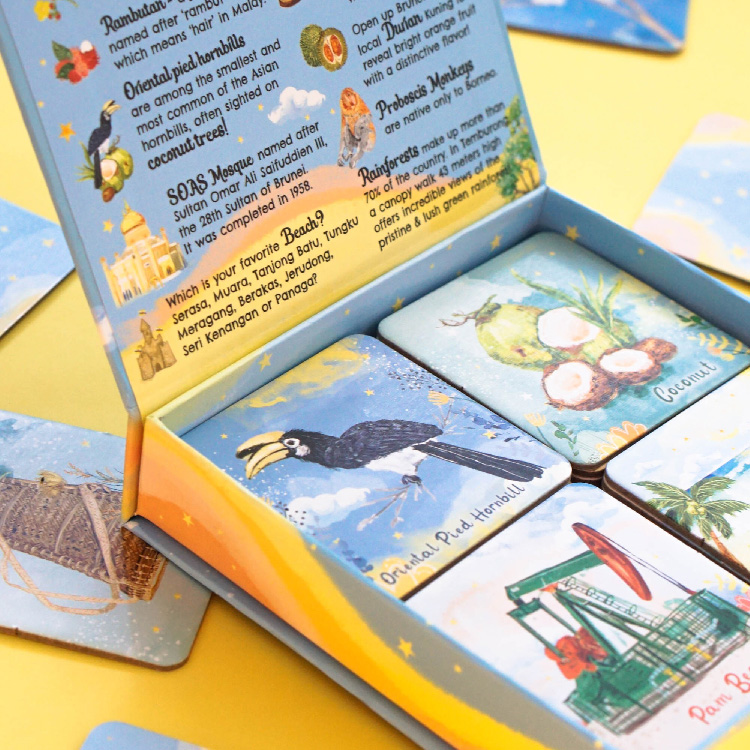 From an idea to a finished illustration
Joanita is a self-taught illustrator who enjoys illustrating the little details of everyday life and nature. Her signature illustration style is characterised by her use of delicate pastel colours and hand-drawn quirky characters.
"One of my biggest canvases has been the oceanic-themed walls of the Children's ward at RIPAS and last year, under the brand name JellybeanDreams, I launched my first debut product into the International market, titled 'Baby's Blessed Milestones', she shared.
Talking about the inspiration behind the card game, Joanita said that the idea for Beautiful Brunei came to her during the second pandemic when she and her children were playing card games at home.
"During the lockdown of the second wave last year, whilst my kids were playing an Australian themed matching game, my daughter asked what a Brunei theme would feature. We talked about the majestic mosques, the funny foods and fruits and traditional things like the Takiding and Congkak," she added.
The illustrator also shared that Beautiful Brunei was a love letter to her children and her home country.
"Struck on to the idea, at the heart of this game, is my wish to balance my children's curiosity for the world with an appreciation for our own culture, heritage and environment," she continued.
According to her, the matching card game in its entirety took four months to make from its illustration to production.
However, when asked about challenging aspects of designing the card game, Joanita recalled that during the phase she had to juggle both her time and passion.
"Timewise, definitely the juggle of a lockdown with three children and virtual school. I chose to prioritise the children's learning in the day so night time and weekends were spent ideating and designing," she said.
When asked about her future plans, Joanita plans to expand her portfolio of card games and launch them this year.
"This year I hope to finish two more match-and-play games with the next set for release in Ramadan 2022 as well as children's personal development resources," she said, adding that she also hopes to illustrate her own children's book in the near future.
The family-fun Beautiful Brunei match-and-play card game is priced at $40 and is available for purchase at Peekabootique and Sophea in Wonderland.
This article was first published on 26 February 2022 in our Weekly Epaper issue 182 | More stories here
THE BRUNEIAN | BANDAR SERI BEGAWAN