Brunei recorded 4,215 new positive cases of COVID-19 on Friday, announced Minister at the Prime Minister's Office and Second Minister of Finance and Economy on behalf of Minister of Health.
With this new development, the total number of COVID-19 cases in the country increased to 80,749.
Yang Berhormat Dato Seri Setia Dr Hj Mohd Amin Liew also revealed that out of the total number of new cases, 816 were detected through rapid RT-PCR testing and 3,399 were detected through ART testing.
The number of new cases is the result of 5,147 laboratory tests conducted in the past 24 hours.
Moreover, 2,395 individuals have recovered from the infection. To date, the country has recorded a total of 43,177 recoveries.
Currently, there are 37,437 active cases in the country.
It was also reported that the bed occupancy rate in isolation centres nationwide is 11.1 per cent.
Whereas, a total of 37,096 positive cases are currently undergoing home self-isolation
Ten cases under Category 4 have been admitted for close monitoring and requiring the aid of oxygen assistance.
Whereas, nine cases under Category 5 require the assistance of an artificial ventilator and are being treated at the Intensive Care Unit.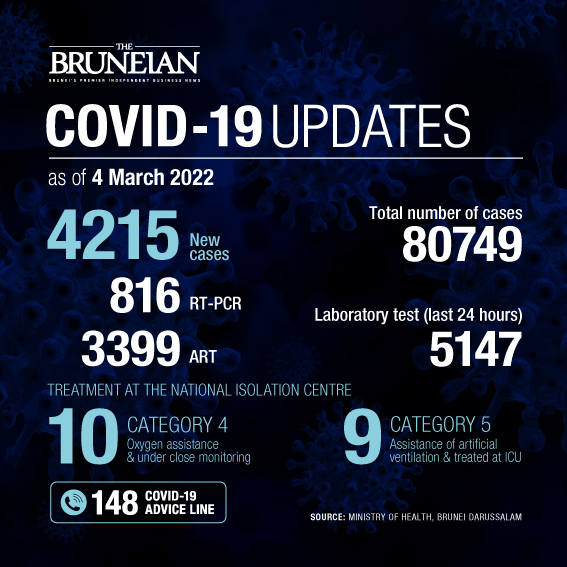 COVID-19 vaccination status
"In regards to the country's COVID-19 vaccination status, to date, 55.8 per cent of the nation's population has received three doses of the COVID-19 vaccine," said the minister.
Meanwhile, more than 94 per cent of the nation's population has received at least one dose and two doses of the COVID-19 vaccine respectively.
Operasi Pulih violations
Two violations have been detected nationwide and issued with compound fines during operations carried out by multi-enforcement agencies on Monday from 12 midnight until 4am, in which one of them was a violation of the directive to stay at home.
THE BRUNEIAN | BANDAR SERI BEGAWAN