Scents are a part of our daily lives. We are always surrounded by smells that let us tap into memory, emotions and set our mood – that is what Aromatic is about, to be a good presence in people's life.
Local candle brand Aromatic was founded in March 2021 by Adinah Abdullah, a full-time marketing student at Laksamana College of Business and her partner who is also in the midst of opening a new gym.
The brand is inspired by all things that people experience, guided by a passion for design and the art of travel transferred into a form of a candle.
"Each of our candle's scents can be directly traced to a specific destination, a bustling urban environment, a far-flung village in the countryside and a luxurious island resort, also each of our scents are inspired by different types of mood," said the 20-year-old.
Adinah shared that the presence of Aromatic in one's world acts as a scent portal transporting to other parts of the world. What they imagine the place would smell like and the magic of hand-poured candles, is a world of aroma.
The youth has always had a dream of building her own candle brand. As time changed, she realised that there is a demand for candles in Brunei.
She knew that it would be the perfect time to make this vision a reality.
Candles are something that everyone uses at least once in their life; either during birthdays, weddings or special occasions.
Some even use them as decorations for their homes, used for dinners to set up the romantic atmosphere and influence emotions.
"Perhaps candles evoke a nostalgic experience of the sweet smell of memories, and a longing for a time where life was peaceful and escapism from the daily grind of high tech demands was a reality," said the candle maker.
At the moment, Aromatic has seven types of scented candles, bearing their own meanings.
One of the scents is the Japanese Cherry Blossom, an oh-so-fresh blend of Japanese cherry blossoms, crisp pears, mimosa petals and sweet sandalwood.
Next is the Wood Sage & Sea Salt. It is an earthy green and herbs type of scent, perfect for the family room as the candle gives off a feel of daily escapes as well as the windswept shore. This scent is inspired by the popular Jo Malone perfume.
As for their customers' favourite 'Bowtie & Bourbon', it is a clean and fresh masculine scent with citrus and woody top notes boosted by floral and nuance middle notes and long-lasting earthy, musky bottom notes.
Due to its nature as a home-based business, the candles are currently sold online via Instagram @aromatic.co_with prices between the range $30 to $50.
Furthermore, Aromatic plans to offer more products such as soaps, bath bombs and their own line of skincare.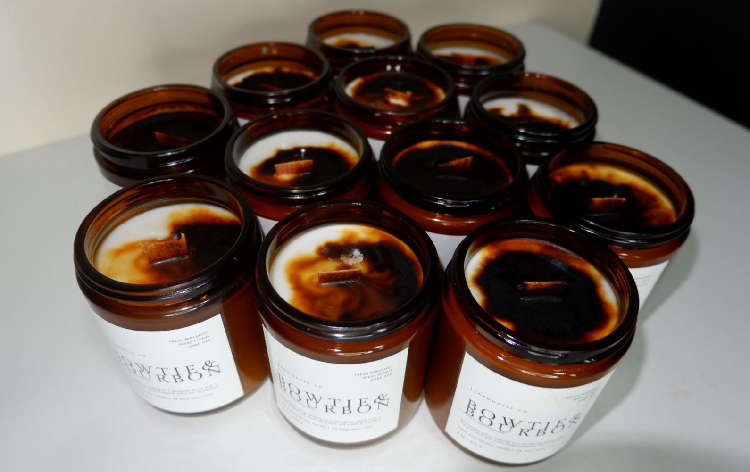 "I would like to plan out a big candle company where we conduct a candle-making class for those who are interested as well as a candle-making area for customers who like to customise their own jars and scent," said Adinah.
Aromatic aims to become one of Brunei's best scented and highly respected companies and they make sure to achieve this one day by putting in all their efforts into the making and quality of the candles.
The supplies for Aromatic candles such as wax, fragrances, jars and other materials needed are made from the USA and the UK.
Adinah also shared that the candles are hand-poured in small batches using 100% soy wax, phthalate-free fragrance with wooden wicks.
"All the idea is based on human daily lives we try our best to seek people daily lives also we inspired from holidays such as Christmas we released hot chocolate we try to relate on that specific day," said the founder.
Aromatic releases seasonal collections and they are usually limited and different from what they usually have in stock.
When they debuted, most of the time the items were selling fast such as their Christmas Collection in 2021 whereby the hot chocolate and pumpkin latte, sold out in just three days.
The youthpreneurs added that there are many challenges faced by the business and one of them is that most customers do not know about candle making and dealing with wax is not an easy job as it can get messy.
They need to start from scratch if something goes wrong.
Another difficulty that they encountered is suppliers or manufacturers. It took them a long time to find the right supplier who can get the right materials at the right time and price.
'We overcame this problem by sticking to two supplies in USA and the UK because when I started my business I tried five supplies in fragrance and only two companies met my expectations," said the youth.
Having an organised workspace is also important in this business as there are many materials needed in the process of making the candles.
When not in use, the ingredients need to be stored in a designated place and the candles too need their own safe space. That is they have decided to make their own workshop near Adinah's garage.
"My advice to those who want to become entrepreneurs needs to have a solid business plan because planning plays a crucial role in any business success. A business plan is a good place to start – defining your skills and weaknesses, what you offer, how it's unique and how you plan on growing your offering. And you need to prepare yourself mentally and physically for what's coming," she added.
Although Aromatic is not the first candle-making business in Brunei, the owner has claimed that they are the first to make candles that resembles beverages.
The brand's longtime vision is to see Aromatic grow to be the most respected and the best-scented candle-making in Borneo.
Being able to grow her own business from scratch is what the youth entrepreneur has always dreamt of.
Seeing the business thrive has made the owners grateful for what they have achieved and it motivates them to do better.
This article was first published on 05 March 2022 in our Weekly Epaper issue 183 | More stories here
THE BRUNEIAN | BANDAR SERI BEGAWAN