Being a self-taught crafter, Amimah Ramlee uses that skill to build her own business of custom-made crafts with Kraf Kitani.
Kraf Kitani was launched in July 2020 as a way for the 23-year-old entrepreneur to turn her ideas into a reality. She also shared that crafting has helped her relieve the stress from assignments and work.
The business sells custom made crafts like jewelleries, coasters, keychains and home decor as well as supplying polymer clay to others who would like to do their own crafts.
"Kraf Kitani is formerly known as Kraf Kita which means Our Craft. This change aims to connect back to our roots and identity, and Kraf Kitani suits more as Kitani is a Bruneian unique term," said the youthpreneur.
The self-taught crafter has always had an interest in making jewelleries. She shared that crafting polymer clay has helped her relax when she was studying as a student in University.
"I remember making and selling bead jewellery when I was 12. The interest sparked back when I discovered polymer clay in 2020," said the 23-year-old.
'Kitani' is inclusive of all types of craftwork. As an entrepreneur, Amimah had always wanted the platform to be a place for her and everyone else to explore different mediums of crafting..
Another reason the youth started the crafting business was simply to pursue her passion and connect with other creatives in the same line of work.
When Amimah first discovered crafting jewellery with polymer clay on Instagram, she thought that it would be difficult to find the materials in Brunei,even though the polymer clay is a popular product outside the country.
That is when the 23-year-old wanted to make the business for people to have easy access to polymer clay.
Some of the hand-crafted jewelries made from polymer clay that the entrepreneur is selling include earrings, rings, chains and bracelets and more. Other than that, they have the newly launched home decor section, tile block which is made out of tile, wooden block and quick-dry cement.
"Another new approach that I am trying to make is incorporating Bruneian identity, values and culture into my handcrafts. Our first step was our Simpur collection. Hand sculpting Bunga Simpur to our earrings in celebration of Brunei's 38th National Day," she said.
The best selling product that they have is the Suntastic collection which are crafts made in the shape of sunflowers.
Kraf Kitani also offers one-of-a-kind designs as polymer clay can be shaped into their client's vision, imagination, idea and taste.
The business also accommodates hijabis in Brunei as they offer hijab pins or 'pinrings' to make it easier and more comfortable for them to wear their earrings.
Moreover, the earrings they offer are also surgical stainless steel earrings, perfect for those with sensitive skin.
The youth has also shared that some of the collections tell the story of herself, such as The Birthday Collection, released in August during her birth month and she also created butterfly earrings, a favourite of hers.
"To me, butterflies symbolize being free. Free from myself, my own insecurities. I've been battling with acne for years now. I used to be so insecure and hated how I looked. Although I'm still growing and healing, I've never actually acknowledged that I went this far and that I've grown to love myself in my own skin," said the entrepreneur.
The products are sold ranging from $8 to $25, depending on the time it takes to make as well as the amount of material being used, but they do however try to make their products affordable as most of their customers are students.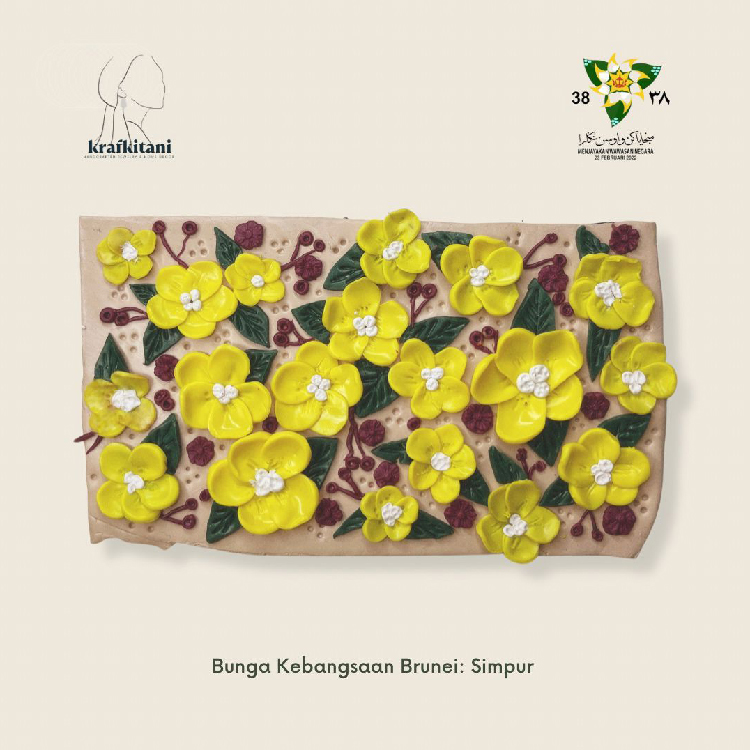 With a business based on crafts, there are times that Amimah encounters challenges and they come in the form of a creative block. It comes at a time when she is not able to create anything in the next few weeks or even months, but that is fine for her as she believes art takes time.
In the future, the 23-year-old would like to explore and create more designs as according to her, there are limitless possibilities in the world that she can create with polymer clay. She also plans on incorporating more Bruneian identity into her crafts, making it more attractive and relatable to people.
Amimah believes that the local creative community is very supportive and with others, she can grow her business to showcase her art and make others believe that they can also create something of their own.
See the wonderful crafts that the entrepreneur has created by heading over to their Instagram @krafkitani and support the local art community.
This article was first published on 05 March 2022 in our Weekly Epaper issue 183 | More stories here
THE BRUNEIAN | BANDAR SERI BEGAWAN