Producing drinks inspired by their daily lifestyle and travel stories, entrepreneurs Jane Ching and Steven Ng are serving up their favourite matcha drinks through their business venture IceTehTea.
The two matcha enthusiasts founded IceTehTea, pronounced as 'Aesthetic', for their love of matcha or green tea.
Thirty-one-year-old Jane started whisking away and experimenting on different matcha combinations daily during the pandemic to pass time with their favourite artisan matcha brand, Niko Neko.
The homegrown brand then became a business shared between the youthpreneurs, operating from two different locations; Steven manages the Kuala Belait branch whilst Jane runs the Bandar Seri Begawan branch.
Prior to the business and still experimenting for the right combinations, they came up with a different brand dubbed 'He Cha Bar' which was just for fun, but it later caught the attention of people who wanted to try and buy the drinks.
"I found joy in making Instagram reels of pouring and drink swirling in the glass. The ASMR from this was therapeutic. I post them on my Instagram accounts from time to time. A few friends reached out and encouraged me to make this into a business because they were drawn to the aesthetics of the matcha swirl too hence IceTehTea was born," said the entrepreneur.
They started off their drink menu with their personal favourites the original matcha latte Teaspiration, and the houjicha latte HoTown Cha Cha Cha.
IceTehTea drinks are known for the creaminess of the drinks and that keeps getting the customers to come back for more.
"The kao-ness (richness) of our lattes is what distinguishes us from other businesses so far. We served our latte in bottles too, so some customers can dilute their drinks with more ice or milk as they please," said Jane, adding that their packaging designs are adorned with catchy puns and wordplays, making the beverages aesthetically pleasing.
The products are priced from $6.50 to $12 and are available for purchase via their Instagram @icetehtea
For them, the pandemic helped to boost their sales as they garnered more customers along the way with hopes that the reception will grow over time.
"With the hype and sales, it helps us to tap more into our creativi-teas! One of the fun challenges we faced was getting the ratio in the recipe right. A lot of experiments were done to get the perfect and right balance of matcha and milk," said the matcha enthusiasts.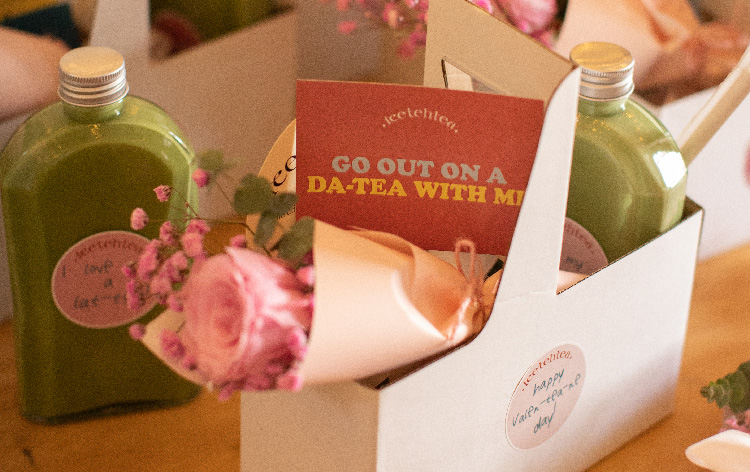 Furthermore, the entrepreneurs see IceTehTea not just as a business but also as a platform for creativity. They have more plans in store for their business as they like to experiment with different things such as trying new drink combinations and bakes.
Jane and Steven joined hands with their passion for matcha and are not afraid to take on the challenge of opening a business.
"My first advice would be don't be afraid to start, you will be surprised what your passion will lead you to. Secondly, failure is part of the business journey, allowing failures to redefine you, and most importantly it is crucial to have a partner or a team to run the show. Delegation is key because we can't do or run everything on our own," said the founders of IceTehTea.
This article was first published on 05 March 2022 in our Weekly Epaper issue 183 | More stories here
THE BRUNEIAN | BANDAR SERI BEGAWAN