Brunei recorded 2,914 new positive cases of COVID-19 on Friday announced the ministry of health in a press briefing.
With this new development, the total number of COVID-19 cases in the country increased to 106,936.
The ministry also revealed that out of the total number of new cases, 2,535 were detected through ART testing rapid and 379 were detected through RT-PCR testing from the 3,502 laboratory tests conducted in the past 24 hours.
Moreover, 4,683 individuals have recovered from the infection. To date, the country has recorded a total of 68,764 recoveries.
Currently, there are 38,014 active cases in the country.
It was also reported that the bed occupancy rate in isolation centres nationwide is 8.6 per cent where 272 active cases are placed.
Moreover, a total of 37,742 positive cases are currently undergoing home self-isolation
Fifteen cases under Category 4 have been admitted for close monitoring and requiring the aid of oxygen assistance.
Whereas, nine cases under Category 5 require the assistance of an artificial ventilator and are being treated at the Intensive Care Unit.
Meanwhile, three deaths associated with COVID-19 have been recorded in the past 24 hours.
Two cases are confirmed as death due to COVID-19, where one case wasn't fully vaccinated and one case hasn't received the third dose
Meanwhile, the other case is not categorised as death due to COVID-19.
COVID-19 vaccination status
In regards to the country's COVID-19 vaccination status, to date, 57.9 per cent of the nation's population has received three doses of the COVID-19 vaccine.
Meanwhile, more than 94 per cent of the nation's population has received at least one dose and two doses of the COVID-19 vaccine respectively.
*Operasi Pulih violations*
No violations have been detected nationwide during operations carried out by multi-enforcement agencies on Monday from 12 midnight until 4am.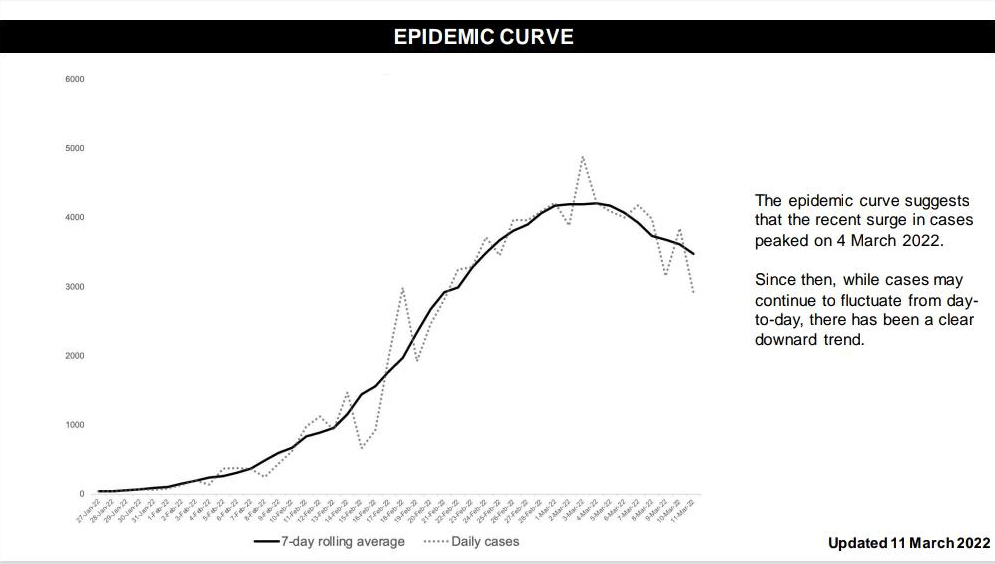 COVID-19 epidemiological curve
Moreover, MOH also shared the COVID-19 epidemic curve in Brunei Darussalam, showing the development of the number of cases detected so far.
According to the data, the total number of cases in the third wave has peaked around 4 March 2022 and at present, the number of daily cases has shown a decline.
Following this, the Effective Reproduction Number (Rt) has also shown a decrease and is currently at the level of 0.95. Rt below level 1 which indicates that the outbreak is declining.
For further information and latest updates, please visit the official website of the Ministry of Health at www.moh.gov.bn or by contacting the Health Advice Line 148 or email to askhal@moh.gov.bn through the BruHealth App.
THE BRUNEIAN | BANDAR SERI BEGAWAN