Japanese ambassador to Brunei Darussalam lauded excellent bilateral relationship between the sultanate and Japan with hopes to further deepen the countries' cooperation through contributing to Brunei's efforts in economic diversification.
In his speech at the recent soiree to celebrate the 62nd birthday of Emperor Naruhito, Maeda Toru said that as the major investor and trade partner of Brunei, Japan's interest is consistent with Brunei Darussalam National Climate Change Policy.
"For example, an association of Japanese companies AHEAD had been experimenting with a new way to transport hydrogen from Brunei to Japan since 2020 and is now producing good results," he said.
He also noted that trade and investment between both countries especially in the energy sector have greatly contributed to the prosperities of Brunei and Japan since 1960, successfully placing a solid foundation for the economic partnership.
"I am truly thankful to the Japanese business communities in Brunei for their continued commitments, the government and people of Brunei for accommodating and supporting their activities," he said.
The ambassador believed that knowledge sharing is a promising area of cooperation, noting that Japan's experience and knowledge in areas of disaster reduction, environmental protection and healthcare for the elderly, industrial standard, and safety, among others, if shared will give mutual benefits.
He further acknowledged that the Japan-Brunei partnership on regional and global issues has become increasingly important.
As countries in Asia and in the Indo-Pacific region, he added, Japan and Brunei share common interests in many areas.
"We both believe that principles of openness, transparency, inclusivity and a rule-based framework should prevail in this region. We do believe that international laws such as UN Charter and UNCLOS should be respected. We do not accept territorial acquisition resulting from the threat or use of force," said Maeda.
The ambassador further said that the Japan-Brunei partnership was elevated to a new height last year, through cooperation in combatting the COVID-19 pandemic, Japan-ASEAN partnership under Brunei's ASEAN 2021 chairmanship and enhanced defence cooperation.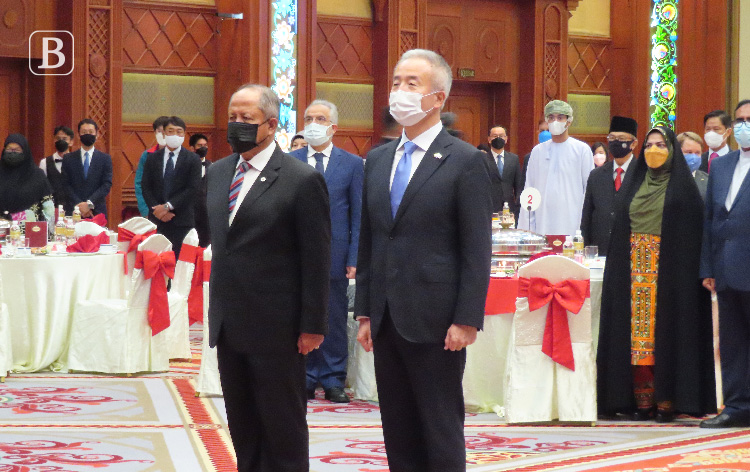 "Japan and Brunei have been enjoying an excellent bilateral relationship since Brunei's independence in 1984. Cordial ties between the Imperial Family of Japan and the Royal Family of Brunei have developed over many years across generations," said Maeda, adding that His Majesty the Sultan's attendance at Japan's emperor's enthronement ceremony in 2019 is still fresh in their memory.
He further said that the countless exchanges of people at all levels have forged deeper understanding and trust for each other.
Touching on official and commercial visits between the two nations, the ambassador said that more than 2,500 Bruneians have visited Japan in various programmes since 1985.
"Universiti of Brunei Darussalam has strong partnerships with more than a dozen of Japanese universities. Professors, researchers and students on both sides visit and meet each other every year," added the ambassador.
Guests at the evening reception had the opportunity to visit booths from some of the Japanese businesses based in Brunei and enjoyed some Japanese cuisine prepared by the ambassador's chef.
In attendance at the event as the guest of honour was Second Minister of Defence Yang Berhormat Pehin Datu Lailaraja Major General (Rtd) Dato Paduka Seri Haji Halbi Haji Mohd Yussof.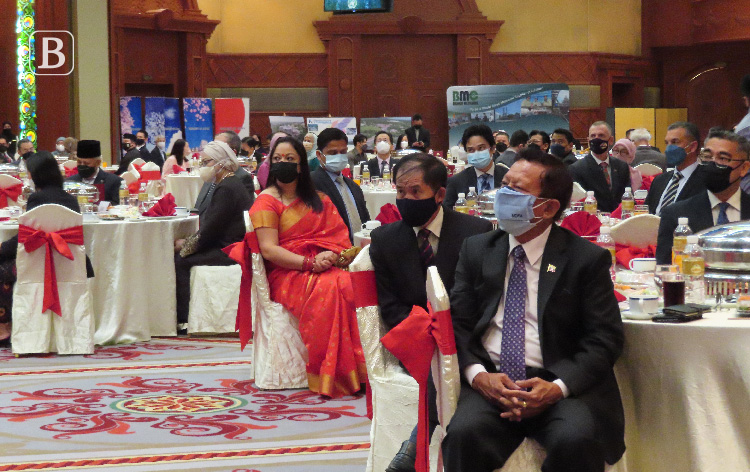 This article was first published on 12 March 2022 in our Weekly Epaper issue 184 | More stories here
THE BRUNEIAN | BANDAR SERI BEGAWAN