Amidst a pile of colourful yarn, Nisa Ansrawi sits at her workstation, holding a punch needle like a paint brush, pushing and pulling loops of yarn into a funky-fresh rug-making business.
Whether they are weaved into groovy-shapes or cute cosy characters, each rug pieces is a labour of love for the budding entrepreneur.
Tufttimes By Nisa began in November 2021. An Instagram-based business born out of the pandemic that creates nostalgia-inducing fuzzy rugs of all shapes and colours.
During the start of the pandemic, people started picking up new hobbies to pass the time. For Nisa, she found solace in the technique of weaving.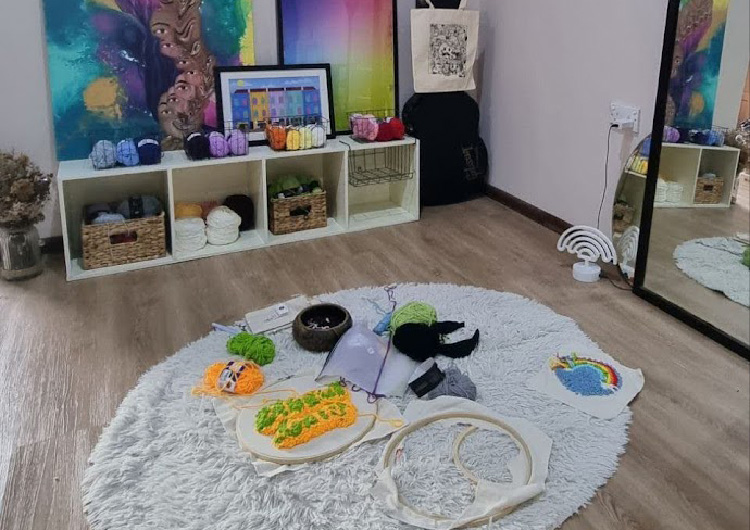 "I took the pandemic as an opportunity to try out different types of activities which also helped relieve a number of challenges that arose from the outbreak. One of the first activities, I took up was punch needling," she said.
"During then, I was also on quarantine order to self-isolate for 14 days. So I had the time to practice my punch needling skills. The outcome: I made four rug pieces for my family and friends," she continued.
"I wanted to create even bigger pieces so I ordered a tufting kit and when that arrived, a whole other door opened up for me to create more interesting rugs. Since then, I invested most of my time in tufting and punch needling and it has helped facilitate a healthy environment during the pandemic," she shared.
According to Nisa, the online-based business was inspired by the ups-and-down and her personal journey during the pandemic. Hence, the name "Tufttimes", a clever wordplay on the word tough times.
Nisa, who is also an architectural graduate and currently working in the construction industry shared that she enjoys the process of tufting and punching needles from start to finish.
"I spent a lot of my years creating and designing from graphics to physical models that I believe has influenced me to do what I do now with Tufttimes," she shared, adding that her favourite part of rug-making is seeing the finished product.
With a strong design background, the self-taught maker has always had an interest in textiles and weaving but had never thought of turning her hobby into a business until she sold her first piece.
The young entrepreneur started off with a punch needle and learned the basics from YouTube tutorial videos.
"Initially I was interested in the tufting process but it was quite difficult to find the tools for tufting in Brunei. So, I decided to try out punch needling to see if I would enjoy it or not," she said.
Putting the power of the punch needle to the test, she started off by creating rugs for her family and friends.
"The first punch needle rug I made was a gift for my nephew. It was a green 'Henry the hoover' vacuum. My first completed tufting piece was a multicolored abstract rug that became a rug for my sister's bunny," she said.
From loops to knots, after experimenting with her punch-needling hand techniques, the self-taught entrepreneur wanted to learn more about other techniques of rug-making, so she invested in a tufting gun.
Although punch needles and tufting share similar techniques, according to Nisa, a tufting gun however can speed up the process of rug-making and has a quicker rate than by hand.
Before delving into her rug-making business, the creativemaker made an Instagram page just to document her creative journey and share photos of her finished products with her family and friends.
However, what started as a productive way to pass time slowly gained a sustainable following. Her groovy and neon-coloured rugs were getting attention.
"I ended up getting a number of requests to create personal rug designs," she shared.
Tufttime began by making rugs for commission in 2022 as a progression of her rug-making success.
Nisa still considers herself a beginner, the youthpreneur has created over 40 rugs since starting her hobby in tufting and punch needles.
"But since opening Tufttimes as a business, I have created about 20-25 pieces and I hope to create more in the future," she added.
From a Sunny Side Up Egg to the iconic smiley face rugs, most of Nisa's inspirations come from everyday life,
"I usually get my inspiration from everyday items or through social interactions with other people. The beauty of it is that you can literally create any rug design from what you observe and see day today. I also take precedence from many other international tufters that I follow on social media." she shared.
For the young entrepreneur, the weaving process is like colouring. She would create a design, trace it onto a canvas and then with a tufting gun and punch needles she would fill in the blanks with colourful yarn.
When asked about her favourite rug piece, she said it was the Mr. Meeseeks rug.
"It's one of the first and biggest pieces I made. It is a collage of different Mr. Meeseeks from Rick and Morty on a 30cm dia circle rug," she said.
Mastering the art of punch needle rug hooking and tufting can be challenging, for the youthpreneur and creating the Mr. Meeseeks rug was a learning curve.
"The rug piece has taught me a lot and I am most proud of it. I consider this piece as the guinea pig to experiment with my tufting tools and materials," she continued.
"By the end of it, I became familiar with how much pressure I needed to put on my tufting gun, the tautness of the canvas cloth, the materials I use, and many more," she added.
According to Nisa, the process of tufting and punch needling is not as easy as social media makes it seem. She shared that during her journey there have been some trials and errors, but she pushes through them.
"When it comes to challenges, I would say it's the time and cost. The process of creating a finished rug is lengthy and it's more than just tufting. I would spend a number of hours shearing, trimming, and applying adhesive, but it's all worth it as the quality of the work is seen in the final product and I wouldn't skip these steps regardless," she explained.
The budding tufter artist also shared that the equipment and tools used for tufting are costly but worth the investment.
As for future plans, with Tufttimes, she hopes to master her skills in tufting and punch needling techniques.
"I hope to continue to learn different methods and ways of creating rugs so Tufttimes can become bigger and better. I would also like to explore beyond floor rugs/wall art and start creating furniture pieces or even handbags," she concluded.
This article was first published on 12 March 2022 in our Weekly Epaper issue 184 | More stories here
THE BRUNEIAN | BANDAR SERI BEGAWAN