Baiduri Bank recently hosted a virtual event titled "Glow Up Friday: Women Empowerment Event 2022", in conjunction with International Women's Day to not only promote financial education amongst women, but also to empower them to help other women break the bias through offering support and letting other women "lean in".
On top of a financial planning segment conducted by Siti Aminah Hj Abd Rahman, Manager, Wealth Management, Baiduri Bank, the event also had a segment on women and strength training, delivered by Liyana Sidek, a fitness coach and co-owner of 673 Jerudong, followed by a segment on supporting new mothers at work, delivered by a trained facilitator and community and youth worker, Rasyidah Samah.
The virtual event was attended by more than 90 participants. The event also featured live performances by local artists Fatin Muzini and Azzniel Yunus.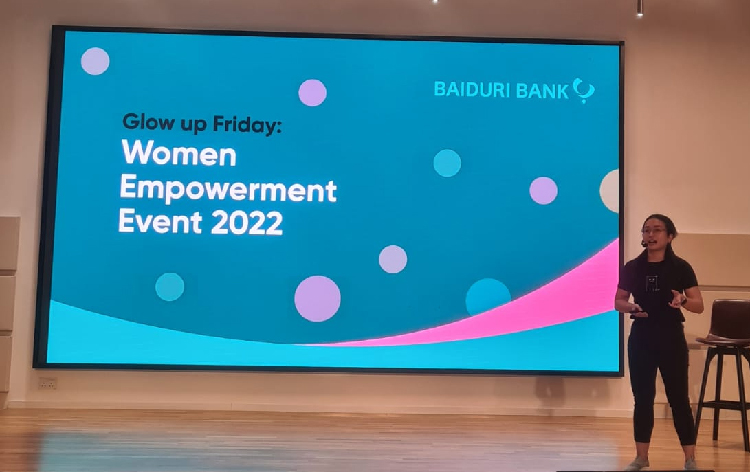 "As a financial institution committed to fostering diversity and inclusion, it is one of our objectives to help individuals break the barriers that prevent them from succeeding financially. Platforms such as these not only raise awareness on the importance of financial literacy for women, but also provide opportunities and drive conversations around how women can thrive, grow and contribute positively to their respective communities," said Head of Group Strategic Marketing and Communications at Baiduri Bank Ng Yick Wei.
Furthermore, booklets containing templates for budgeting, saving and spending tips as well as ideas for side hustles to help women on their journey to be more financially confident, are also available for download from the Baiduri website via this link: www.bit.ly/empowerbaiduri
For more information on Baiduri Bank's latest initiatives and events, the public can visit www.baiduri.com, or follow Baiduri Bank Group on social media platforms.
This article was first published on 26 March 2022 in our Weekly Epaper issue 186 | More stories here
THE BRUNEIAN | BANDAR SERI BEGAWAN