Fathan Yusra and his wife Nudiya Juni have held a long-time dream to open their own coffee shop close to their hearts, for many years.
The married couple has traveled around the world and has always enjoyed hopping from one cafe to another to try out different types of coffee beans and making connections with everyone from the business owners to the baristas.
"We've had the opportunity to explore cafes in Singapore, Kuala Lumpur, Vietnam, Thailand, Dubai and Switzerland in search of good and nice coffee," Fathan shared
Thanks to their passion and love for brewed drinks their longtime dream came true when they opened their very first home-based coffee shop, Peaks Coffee in December 2021.
The duo also came up with the inspiration of Peaks Coffee after being impressed by the vibrant coffee scene and culture in Brunei.
The coffee business is continuing to have its moment in the sultanate. The duo saw the increasing demand for locally-brewed coffee that lead to the mushrooming of many coffee shops in the Brunei market.
"Ever since the Covid-19 pandemic, we can see the growing interest for coffee in Brunei compared to before. We have also noticed that a lot of Bruneians are supporting the coffee community which makes us eager to share and create our coffee," he shared.
Fathan and Nudiya both noticed a lack of coffee shops in Tutong and wanted to start their own.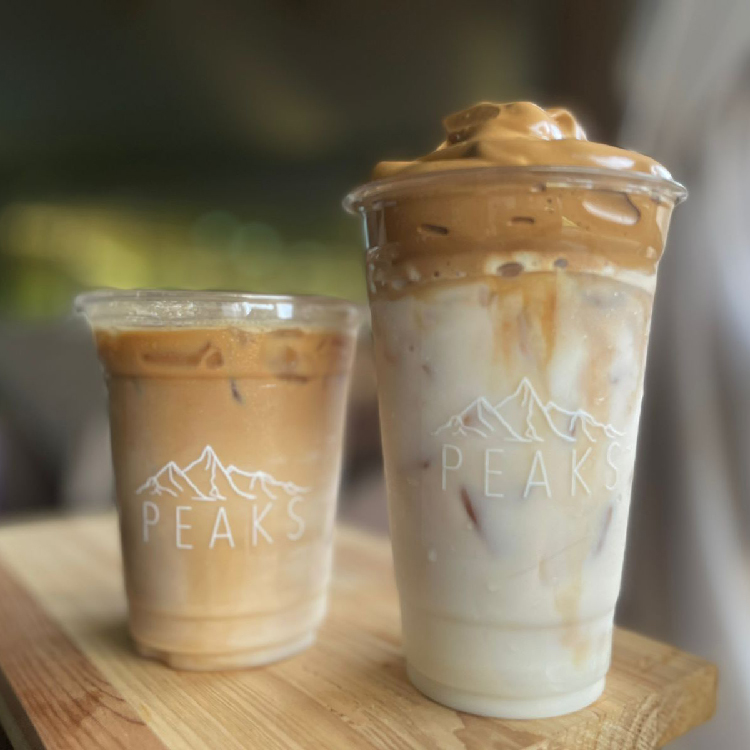 For them, opening up their own coffee place at their family's home-based eatery, JNY Foodie at Kg Penanjong, Tutong was the natural business step for them to take.
Since the opening, the home-based coffee business has been getting positive responses and amazing support.
On regular days, the couple shared that Peaks Coffee would receive around an average of 15-20 cups of orders per day.
"Alhamdulillah, ever since the business was established, we have customers coming from Bandar and Kuala Belait just to try out our coffees, however the majority of our customers are from Tutong," he shared.
He also shared that the couple feels encouraged by the constant support from their family and friends they have received throughout their business journey,
In addition to working full-time in the private sector, both Fathan and Nudiya have taken the time to learn about all things coffee.
Although new to the coffee business, they have grown with the business over the months, learning and trying out new things along the way.
According to the couple, the name "Peaks Coffee" is an ode to their love and journey together.
"My wife and I love to go hiking. We also love to explore mountains when we are outside Brunei. Not only that, we have had the opportunity to enjoy several cafes overseas situated near mountainous areas. This inspired us to name our cafe, Peaks Coffee" he shared
The husband-and-wife team is keeping Peaks Coffee's menu simple yet creative. On the menu is an array of traditional favorites like latte, cappuccino, flat white, Americano and Espresso.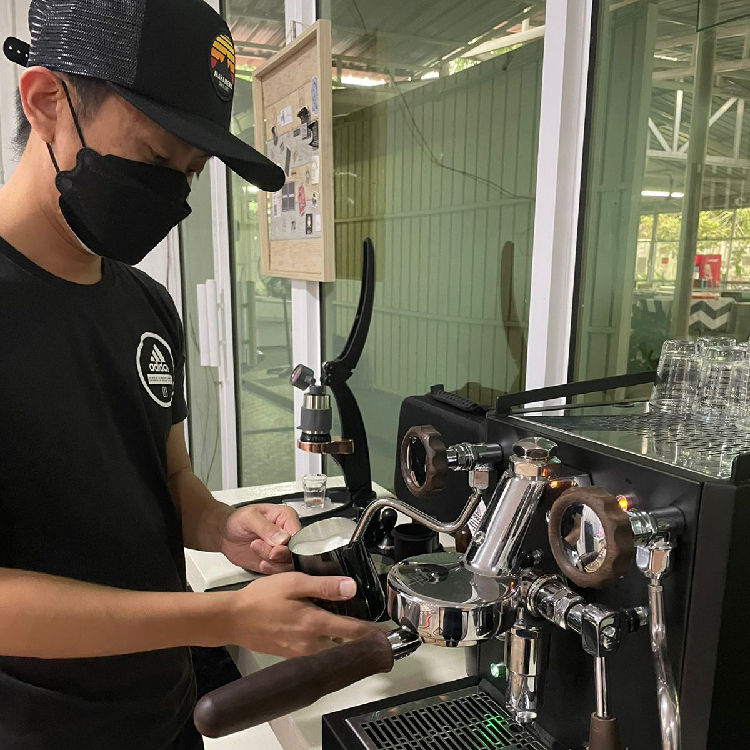 The coffee at Peaks Coffee is made with an ever-changing roaster of beans from around the world. For March's special, they are introducing the best-selling Hasbean and Brunei's own specialty coffee roastery, 4th Day.
The local business introduced a variety of crowd-pleasing drinks including their signature Peaks Signature Chocolate drink and the Korean-inspired, Dalgona drink.
When it comes to how they like their coffee, the married couple both have different preferences.
For Fathan, his personal favourite would be the Hot Mocha Latte because he loves balance in flavours between the espresso and mocha. Whereas, Nudiya enjoys drinking an Iced Vanilla Latte.
Fueled by this commitment and creativity, the couple continues to get better as its customer base expands.
Moreover, for the couple, operating the business in the early stages had its challenges, but it has also helped them learn more about the business and the market,
"One of our biggest challenges was to market our coffee business," he shared. As we both of them had no background in business, the founders admit that they had a lot to learn
"As we are both also working full-time, we lack the marketing experience. In time, we managed to overcome those challenges by asking help and also advise from our family and friends to promote our business," he added.
Moreover, another challenge that the couple face is the location of their business.
"Our business is also located deep inside the village and it's sometimes difficult for customers to find us. So we also decided to provide our own delivery services during weekends so people could have a chance to try our coffee," he shared.
When asked about future plans for the Peaks Coffee, the two coffeepreneurs envision opening a proper cafe and expanding regionally.
This article was first published on 26 March 2022 in our Weekly Epaper issue 186 | More stories here
THE BRUNEIAN | BANDAR SERI BEGAWAN