Universiti Teknologi Brunei (UTB) recently feted more than 70 of its students and staff during the Excellence Award Ceremony that was in conjunction with the recent UTB Convocation 2021.
The awards were given in recognition and appreciation of the students' and staffs' achievements and excellence in their respective fields.
This year the UTB Excellence Award Ceremony celebrates the Staff Excellence Award (SEA); the Graduate Excellence Award; the Dean's List and Student Co-curricular Activities Award; and the People's Choice Award.
UTB Vice-Chancellor Professor Dr. Hjh Zohrah Hj Sulaiman in her welcoming speech said that the awards ceremony was set against the backdrop of the university's significant success, where UTB improved in QS Global ranking to 344th place, QS Asia to 126th place and was given a five-plus Star rating comparable to the world's prestigious universities.
"This would not have been possible without the commitment, dedication and hard work of UTB staff and students. I hope we will continue to make significant changes to UTB," she said.
Moreover, UTB awarded a total of seven academics and staff for excellent work throughout their service with the University this year.
Each recipient was awarded a plaque, certificate of recognition and cash prize of $1,000.00.
The Staff Excellence Award was introduced in 2015, celebrated annually to reward the outstanding and meritorious contribution of both academic and non-academic staff to the success of the University in achieving its strategic goals.
Professor Dr Hjh Zohrah said that the Staff Excellence Award aims to provide recognition for the outstanding and valuable contribution of staff to the university's success in achieving its strategic goals.
"Even more so in the new norm where the COVID-19 outbreak requires university staff to be patient, ready to transition to digital teaching and bring learning to a positive, creative and innovative level. In other words, this award aims to celebrate and promote a culture of excellence at UTB," she added.
Moreover, the university feted more than 70 of its best students in various categories who have successfully completed their studies and excelled in their respective academic programmes.
The Chancellor's Medal Award went to Rohadatul' Aisy Nabilah Irwan, a graduate of the Bachelor of Business (Hons) in Technology Management for her astounding accomplishments. This award is the first of its kind to ever be awarded to graduates from Higher Education Institutions in the sultanate.
Moreover, the Vice-Chancellor's Medal Award was also presented to Ak Muhammad Wafiy Pg Hj Amir Isa, a graduate of Bachelor of Science (Hons) in Computing with Data Analytics.
Meanwhile, Mizatul Munawwarah Mayasin who studied Bachelor's degree in Finance and Risk Management received the University Excellence Award in the ceremony.
In an interview with The Bruneian, Mizatul said that she felt honoured to receive the achievement.
"It is truly an exciting experience to know that you are one of the top students of your cohort," she said.
"It is honestly something that I did not expect to achieve as throughout my journey. All I knew was, I wanted to give all my effort and to ensure that I graduated with pride that I worked hard and did my best. So winning this award is a cherry on top where it shows my effort's worth," she added.
When asked about her future plans, after graduation she hopes to pursue a career in finance and risk management.
She thanked the institution, her lecturers and mentors for giving her the opportunities and support.
She also gave a special shout-out to one of those mentors, Mahzuz Abdullah who has helped and guided her throughout her academic journey.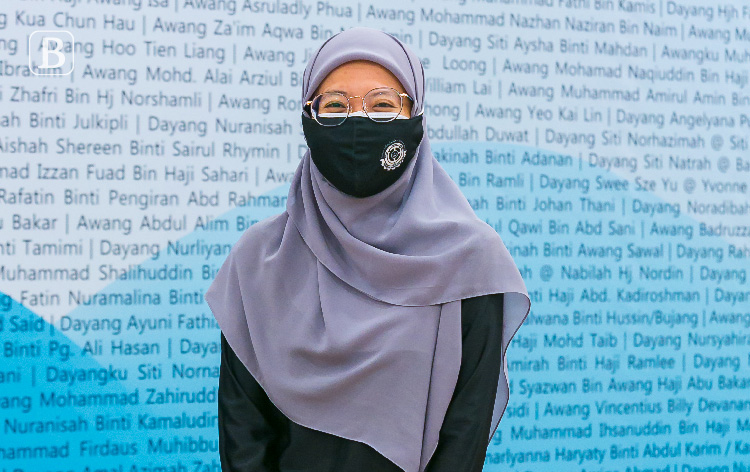 Nurfarizah @ Didi Abdullah, a Master of Science in Water Resources and Environmental Engineering graduate also received the University Excellence Award.
"First of all, it was unexpected as I only found out about it from our graduation book. But alhamdulillah, I am very grateful to be receiving this award," she said,
According to Nurfarizah, her journey to academic success came with its own set of challenges, whether it be pandemic or the sleepless nights of doing assignments, the graduate managed to overcome them and gave it 100 percent effort.
Her advice to students is to never give up. "With the right intentions, strong determination, clear aims and goals, Inshaa Allah, success will come our way," she shared.
"This award is also a gift from me to my parents, for they have been my greatest supporters of all time. And with this, I hope I have made them proud," she continued.
Adding to that, she sees her academic success as a stepping stone toward choosing a career in the field of water resources and environmental engineering.
This year, twenty nine recipients from various faculty and schools who have demonstrated commendable academic achievement in their studies received the Dean's List Awards.
For Md Danish Hasnawi Hj Abdul Ghani, a graduate with a Bachelor's degree in Applied Mathematics and Economic receiving the 'Dean's List Award' was a surprising experience for him.
He further shared that the award is an accomplishment for him and also a reflection of his hard work and effort.
Meanwhile, Teo Wei Fong, who graduated with a Bachelor of Science in Architecture received the People's Choice Award.
"It was unexpected and surprising. It's all thanks to my family, friends and others who were supporting and voting for my final year project. I am so glad and honored to receive the People's Choice Award," he said.
"Basically, for the past three years, I did not regret or waste my effort to get this award. It is so important that people get to recognize my project although some do not know me at all," he continued.
Teo thanked his lecturers, friends and family for their help and support which motivated him to achieve his academic goals and dreams for the past three years.
"I feel very proud and glad to be UTB-ian, as the university has given us the opportunity to step forward and lead us to a better future and reach our own goal," he said.
He added that he hopes to apply what he has learned in university to his career.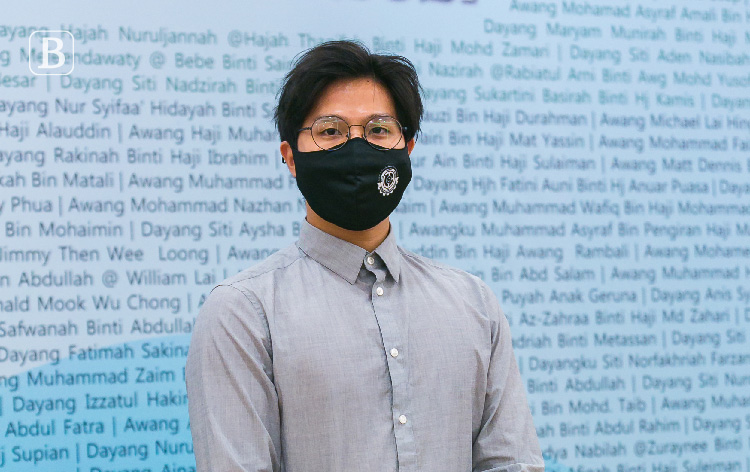 Three other recipients were also awarded the People's Choice Award for the UTB Project Showcase 2021.
Whereas, six recipients were also awarded for 'Student Co-curricular Activities' which include 'Outstanding Life Skill Achiever', 'Religious Awards', 'Sports Man of UTB', 'Sports Woman of UTB' and 'Top Cultural Achiever' award.
Other awards presented include the University Excellence Awards; The Institution of Mechanical Engineers Brunei Darussalam (IMechE-Brunei) Award for Best Mechanical Engineering Graduate; The IMechE-Brunei Award for Best Mechanical Engineering (Final Year Project); Pertubuhan Ukur Jurutera dan Arkitek (PUJA) Prestige 2021 Student Awards; Petrokon Utama Sendirian Berhad (PUSB) Best Final Year Project Award; British Computer Society (BSC) Award 2021; Brunei Insurance and Takaful Association (BITA) Award; Bank Islam Brunei Darussalam (BIBD) Award; Authority for Info-Communications Technology Industry (AITI) Award; Datastream Digital (DST); Best Final Year Project Award; Best Design Studio Project Award; and Best Capstone Project Award.
The ceremony took place at the An-Naura Hall, Yayasan Sultan Haji Hassanal Bolkiah Complex.
Present as the Guest of Honor at the event was the Minister of Education and Chairman of the UTB Council Yang Berhormat Dato Seri Setia Haji Hamzah Haji Sulaiman.
Also present were Minister of Energy and Deputy Chairman of the UTB Council Dato Seri Setia Dr Haji Mat Suny Haji Mohd Hussein and other members of the UTB Council.
This article was first published on 02 April 2022 in our Weekly Epaper issue 187 | More stories here
THE BRUNEIAN | BANDAR SERI BEGAWAN