Nine of the top local startups from DARe's flagship entrepreneurship bootcamp, Accelerate, recently participated in a Demo Day in Singapore where they had the opportunity to immerse themselves in the regional entrepreneurship ecosystem.
Singapore's Golden Equator (GE) – DARe's appointed facilitator for prior cycles of Accelerate – organised the Demo Day programme from March 13 to 17, which culminated in the nine startups pitching before a panel of seven leading venture capitalists and consultants at GE's tech and innovation workspace SPECTRUM.
The Demo Day is a staple of entrepreneurship programmes; gathering startups together to present their ideas and network with an audience of potential business partners.
Prior to the Demo Day held in Singapore, each Accelerate cycle had their own Demo Day in Brunei, where all participants had the opportunity to pitch and high potential startups were identified.
The nine participating startups in the Demo Day were: Xpress Enterprise, Ameenfarm Agrotech & Trading, Bruhaha Comedy, Rumine Corporation, Fatih Aquaculture, Thryffy, Alora Collection, Yuwal Technologies, and Al-Huffaz Management.
DARe Executive Officer Md Saiful Azzam Hj Sarpudin said a key feature of the 100-day Accelerate bootcamp, which targets startups looking to scale locally and abroad, is to provide international exposure and connections.
"The majority of the Accelerate programme is focused on helping startups build up their capabilities: improving their business models, developing their products, learning how to leverage technology, while also creating their pitches," said Azzam.
"Towards the end of the programme is the opportune time for the participants to be exposed to networking and market access opportunities to help them validate and find partners that can allow them to grow further."
In addition to the pitching event on Demo Day, GE also curated a list of tours and workshops for the nine participants. These included a session focusing on how to enter the Singapore market; a fireside chat on how to be investible with founder of Sugar Venture Capital Dr Mark Hon, one of Singapore's pioneering venture builders; and a visit to awardwinning social enterprise and agritech startup Edible Garden City.
Having facilitated several business bootcamps with DARe, GE – who have since incorporated in Brunei – hope to continue to mentor the pool of over 200 participants who have joined the bootcamps, while also building up the entrepreneurship eco-system in Brunei through local collaboration and integration with the regional eco-system.
"The GE team is very proud to have witnessed the progress made in the Brunei entrepreneurship ecosystem and to have contributed to that growth," said Managing Partner of International Markets at GE Group Adam Flinter.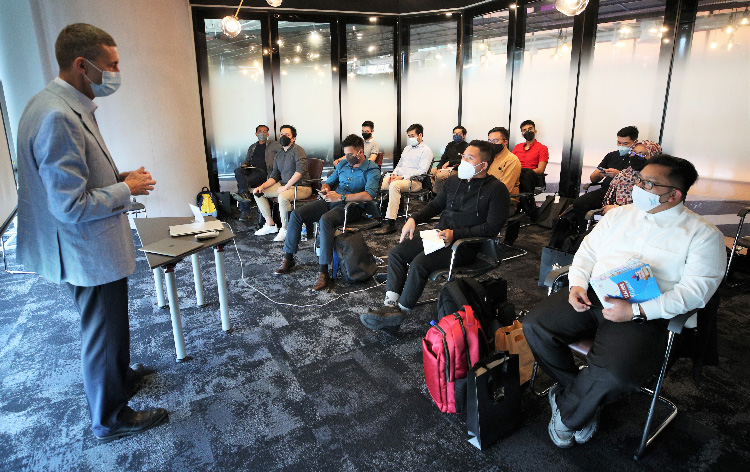 "Right now, the startups are still in the early stages, so to further grow the ecosystem, the next stage would require more speed-growth, later-stage companies, capital, exits, and inspirational stories to drive more interest in the sector – to complete the startup ecosystem loop."
More than 150 startups have joined Accelerate since 2017, collectively raising more than $2 million in investment and creating more than 500 jobs.
Accelerate is one of two business bootcamps that are run throughout the year by DARe.
The Accelerate bootcamp focuses on innovative startups with ambitions of scaling rapidly; while the Micro bootcamp targets the growth of smaller, self-employing businesses that can sustainably operate through more traditional, but nevertheless profitable avenues.
Before participating in either bootcamp, applicants are first invited by DARe to an ideation workshop, where they flesh out the viability of their existing or proposed business concept.
Businesses interested to register or learn more can visit dare.gov.bn/bootcamp or contact dare.bootcamp@dare.gov.bn.
This article was first published on 02 April 2022 in our Weekly Epaper issue 187 | More stories here
THE BRUNEIAN | BANDAR SERI BEGAWAN