Progresif with partners Takaful Brunei and GHK Motors recently donated a bus to the Brunei Darussalam Red Crescent Society as part of their initiative to exhibit national unity and support to the Ministry of Health during this early endemic phase.
In a statement, the company said that during the height of cases in Brunei, there was a great need for transporting patients, volunteers and other logistics. Hence, Progresif felt that the bus would be a great contribution to the cause.
Takaful Brunei provided insurance coverage while GHK Motors covered all maintenance and service for the unutilised bus.
The bus will serve as non-medical emergency transportation services provided for senior citizens, underprivileged families, different-able people, migrant workers and members of the public affected by COVID-19.
Chief Executive Officer of Progresif Hajah Nurul Haniah said that the company has aided the nation by donating a bus to the Brunei Red Crescent Society as part of its CSR program.
"The collaboration is making a concerted effort to support frontline workers and the Ministry of Health who have played a crucial role during this time," she said.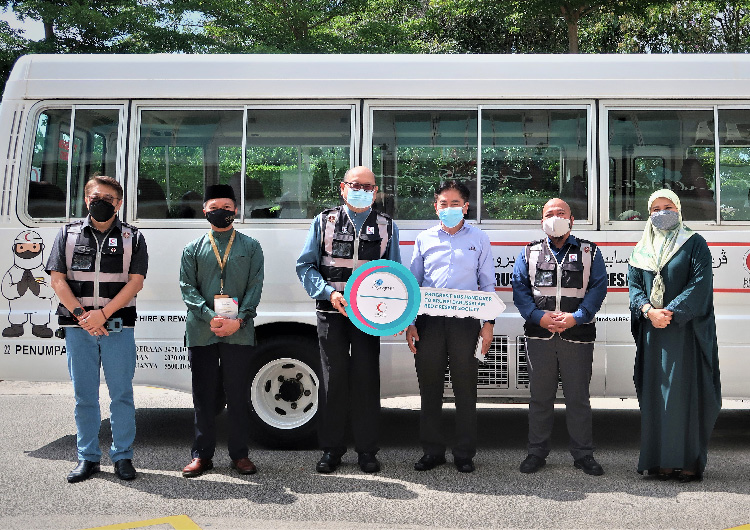 On his part, President of Brunei Darussalam Red Crescent Society Haji Mohd Suhaimi Haji Ibrahim thanked Progresif for their contribution and support to the BRC in assisting the Ministry of Health in curbing the spread of covid-19 in the country.
"With this contribution, it will be able to further facilitate the operation of BRC, especially in providing services to the general public," he said.
During the event, Haji Mohd Suhaimi presented Hjh Nurul Haniah with the BRC Award – Friends of BDRC in recognition of Progresif's contributions.
The Brunei Darussalam Red Crescent Society honour the Friend of BRC Award to selected Donors and Contributors to their National Society's Humanitarian Effort in Brunei Darussalam.
The award was also recognised by the International Federation of Red Cross and Red Crescent. BDRC and the Ministry of Health have been working closely together to assist Covid-19 cases in Brunei.
Among their efforts include the transfer of COVID-19 positive patients to isolation centres, the provision of Bruhealth and Health Advice Line 148 support via the BRC helpline, four of which are supported by Progresif, and the swabbing of positive COVID-19 patients and close contacts.
The handover ceremony was held at Progresif Headquarters and on hand to receive the bus was President of Brunei Darussalam Red Crescent Society, Deputy President Policy Pg Dato Paduka Haji Mohd Yussof Pg Hj Bahar and Secretary-General of Brunei Darussalam Red Crescent Society Sheikh Kadir Abdullah.
In attendance to witness the ceremony were Corporate Marketing Professional Executive from Takaful Brunei and General Manager from GHK Motors Au Thien Kiong.
THE BRUNEIAN | BANDAR SERI BEGAWAN