Turning the love for nature into something physical and healthy, Charmé Candle Co is all about creating safe and clean candles for families while being conscious of the environment.
The brand was founded by Ani Ruzana Awang Matkasim with the help of her husband Pg Muhd Khairulannam Pg Kamsani, growing the small home-grown candle-making business with three core ideas; passion, health and nature.
The idea of candle-making for this family started in 2020 when Ani Ruzana realised that store-bought candles were mostly made of paraffin wax and contain synthetic fragrances that are not clean or safe to burn, especially around her family and friends.
"Moving forward to my third baby in 2021, which was also during the partial lockdown of COVID-19 in the country, I started making my own scented candles. I created candles from natural wax and my collection of essential oils and it became my new hobby. It is an exciting and fun mix of science and handcraft," said the entrepreneur.
Currently, the 36-year-old realised her newly found passion and started setting up goals of creating her own brand of good quality, clean and safe candles which are affordable. With her background in architecture and design, she was able to tie these elements together and built her own online store.
Charmé Candle Co. only began its journey in early 2022 and the entrepreneurs share the workload together.
Her husband is in charge of logistics such as organising, ordering bulk ingredients and arranging dispatch of parcels while Ani does the product development, making sure the quality and consistency of the scents during production, as well as the branding schemes such as colours, graphics, prints and candle scents, are at their best portfolio.
The brand's inspiration is mostly from American and British candle artisans like The Botanical Candle Co., Forest & Brooks Candle Co and Kundalini Candle, among others.
For their first collection, they produced aromatherapy candles that are hand-poured with pure essential oils.
"First, we focus our efforts on making the scent of the candles. It all starts with an idea and a certain mood that we want to capture," said the candle maker.
Ani shared that they create the scent samples by mixing and testing different combinations of essential oils and after months of test rounds and finding the perfect scent combination, they will then begin to put the components together.
"I gravitate towards what I like for the first few scents which are floral scents such as rose petal and jasmine, as well as woody scents such as agarwood and patchouli. This is the fun part of candle making," said Ani Ruzana.
According to them, the raw materials for these candles are obtained mostly from abroad such as the soy wax that is made in the USA and fragrances are from the UK and some other countries around the world whilst their wooden wicks are Forest Stewardship Council (FSC) certified wood made in America.
Charmé Candle Co keeps their scented candles to be as natural and organic as possible and they try to make their scents that are safe, simple and not overpowering so that people can benefit from their aromatherapy candles.
"We really believe that small changes make a big impact. Minimising the environmental impact of the business is at the forefront of our decisions. We are dedicated to planting one tree for every purchase of our cotton pouch," said the 36-year-old.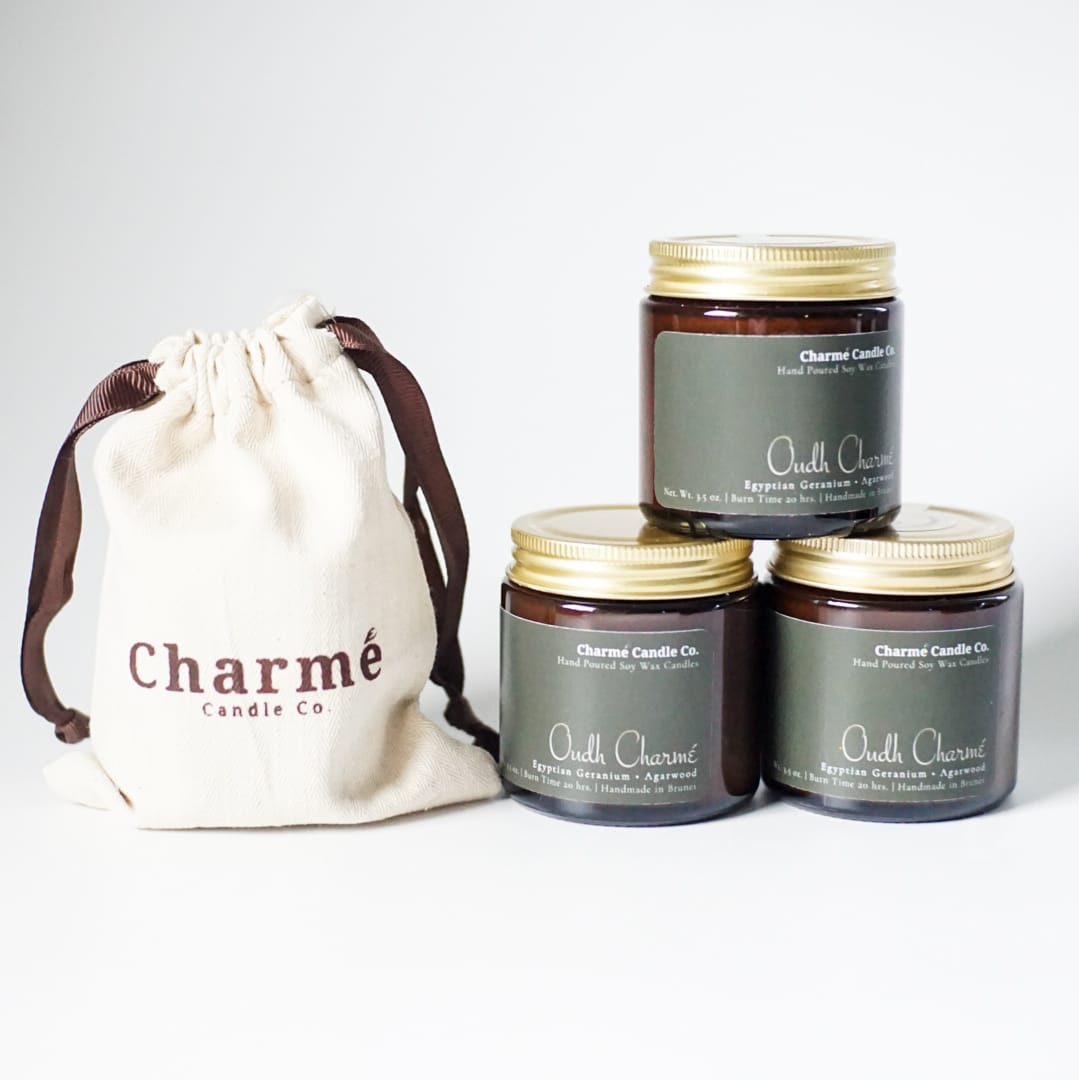 The brand currently only sells 3.5 oz amber candles priced at $20 with plans to do hand-pour candles and sell them in larger candle jars or vessels.
As for the scents, they have their introductory Botanical Collection focusing on using pure essential oils which consist of four scents; Oudh Charmé, Silky Vanilla, Midnight Rose and Sweet Summer.
This collection mainly focuses on using essential oils as they wanted to create a feeling of calmness and relaxation from their candles so their scents are inspired by botanical gardens and everyday experiences like spending time with friends and family, spa time and romantic moments, evoking feel-good moments.
Since the business is in its infancy stage, they are ambitious and have more to come for the brand as they plan to have more product variations and gift sets, especially for Hari Raya, Mother's Day and Father's Day coming up soon.
"We also would like to offer discounts for returning jars in support of our sustainable approach to reduce, reuse and recycle packaging. We want to plant more trees, so we may broaden our scope of Plant One Tree vision and mission," said the brand owner.
Even though the couple is still new to the entrepreneurship lifestyle, they are gradually learning and one of their biggest challenges in the start-up was setting up the website to their standards, so it took them a while before finally figuring it out.
Another challenge was making sure that there were enough ingredients. Most of the resources are very limited in the country so they had to order the ingredients from abroad on small budgets within their budget.
"We learned a lot from selling the candle the first time around, so we tried to improve during the second and third batch. For the next few batches, we have planned as early as possible like stocking the ingredients, especially for the coming Hari Raya celebration, knowing the shipment will be delayed during the month of Ramadan," said the entrepreneur.
At first, the couple did not intend to have their own business, let alone a candle-making business but as the job market and economy are changing, they thought that it is nice to have a fun side hustle that can also bring in some extra income for the family.
The entrepreneurs are encouraging youths to make use of their hobbies and make a business out of it as they never know that it might be something that they would enjoy, just like Ani and her husband.
Start small and grow along with the business, failures will only lead to victories when people learn from their experiences and mistakes, they concluded.
Support this local candle-making business by heading over to their Instagram @charmecandleco or their website www.charmecandleco.com and get some home therapy with their aromatherapy candles.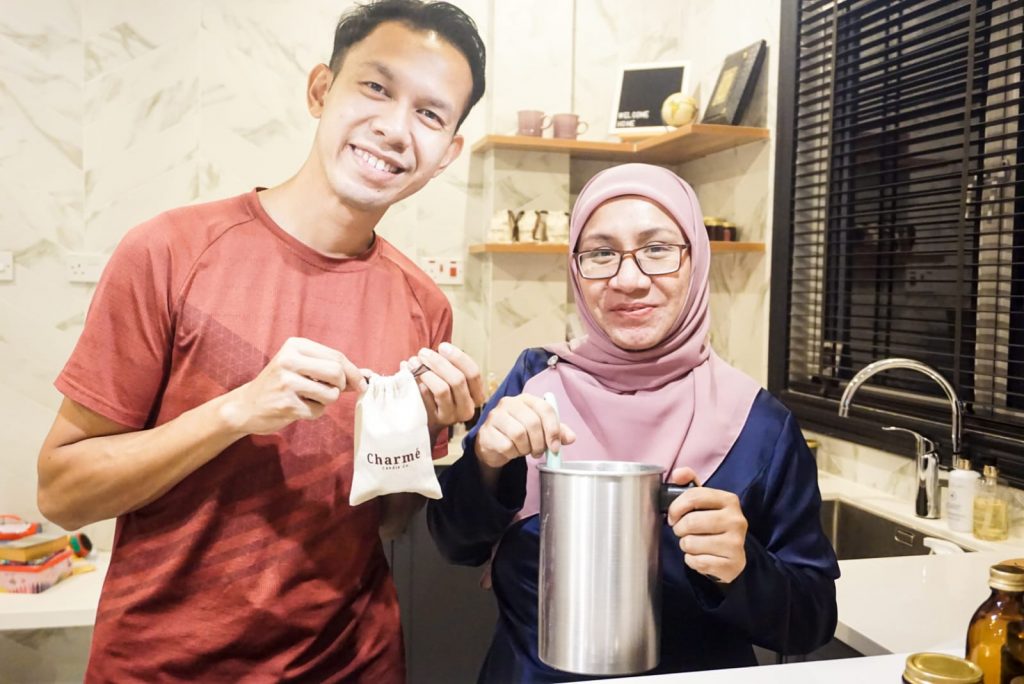 This article was first published on 16 April 2022 in our Weekly Epaper issue 189 | More stories here
THE BRUNEIAN | BANDAR SERI BEGAWAN