A fun store for knicks and knacks, local brand InstockBN is the place to shop for some souvenirs, gifts, novelty items and stationeries.
The brainchild of Hanani Missli started from her travels back in 2015 where she would shop for items out of people's requests. Those items are usually the ones that are not sold in Brunei.
What was treated as a hobby before is now a side income for the self-made entrepreneur after realising the potential of the business.
Seeing the good response, especially from family and friends, the 27-year-old decided to become a personal shopper and set up her business via the social media platform Instagram where people can just shop from the comfort of their homes.
"From that day on, my followers started growing day by day. When I am not travelling, I accept orders from a list of websites in Malaysia, Singapore, Australia, USA and China, and use a courier to ship them to Brunei directly," said Hanani.
The shop began in 2015 as a home business that then turned to rent cubes all over the Brunei-Muara district and now has opened its doors located in the hustle-bustle of Kiulap, on the first floor of Block A, Shakirin Complex.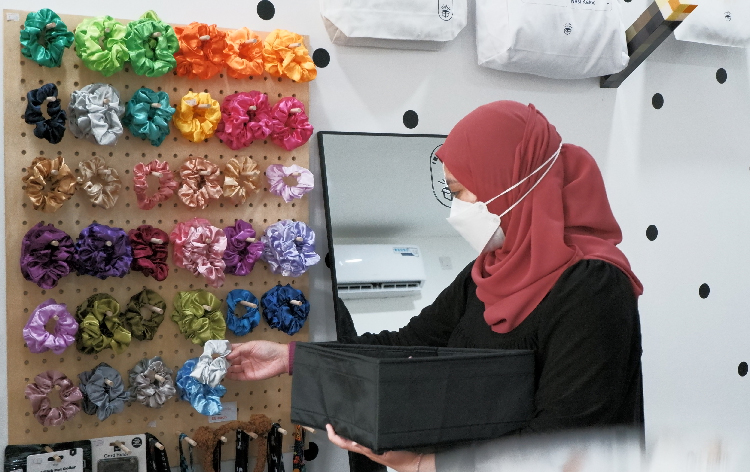 Now operating full-time, InstockBN is a one-woman business with occasional help from family members to run the shop.
InstockBN offers various novelty items suitable for gifts for others or even oneself such as mugs, tumblers, diaries and planners, socks, tote bags and even hobby kits and so on.
"I started doing this when I noticed the people of Brunei love giving gifts, but not sure where else to look for them. InstockBN makes it easier for them," said the entrepreneur.
The 27-year-old tries to find the most unique and quirky items that are not widely available in the country and offers them at a reasonable price.
Not only that, but she also tries to carry locally loved international brands as most people prefer readily available products rather than a pre-order basis.
Additionally, the store also sells Bruneian-themed items such as tote bags and coin pouches that the entrepreneur designs herself.
"I try to make everything affordable – the cheapest items in the shop are as low as 50 cents for bookmarks, a dollar for bead rings & waterproof stickers. Nothing is above $100 in the shop," said the 27-year-old.
In the long run, the shop plans to expand its line of products by publishing its very own 2023 Planners by end of the year along with a few more Bruneian-themed products.
Hanani is also considering opening another spacious branch for creative people to work in and have their ideas come to life and work on more products that they can produce.
Being a small business owner is no easy task for anyone and it requires a lot of patience, determination and strong will to make it work.
There have been several times when the 27-year-old felt like giving up on her business and focusing on her full-time job back then, but she kept coming back as she enjoyed doing it every time.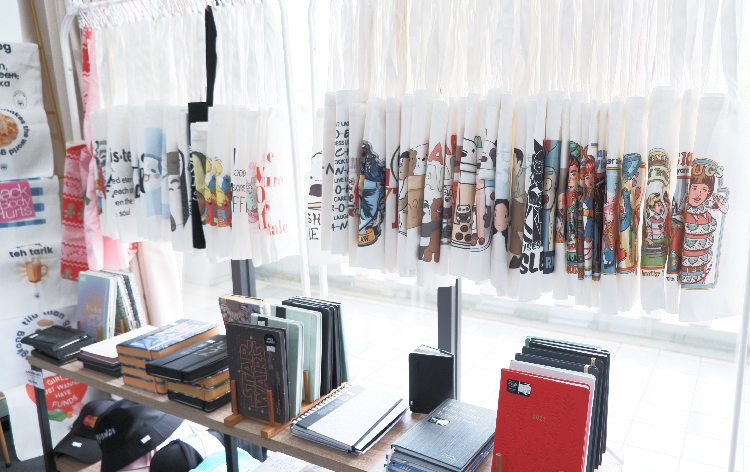 "I was never taught that some days, your losses will be bigger than your profits. I needed a strong support system from my loved ones constantly. Alhamdulillah, with the motivation and support from my loved ones as well as loyal customers, InstockBN is thriving," said the business founder.
Going into business requires a lot of market research and she has shared that if anyone wants to go into a business, they need to thoroughly look into the target market, product development and quality check, as well as accounting.
Entrepreneurs should also prepare themselves mentally, physically and financially as dealing with business can come as quite a challenge especially if one is doing it full-time.
As a small business owner, Hanani is very appreciative of all the customers for their all these years. She has grown from an online store via Instagram to now a physical shop, thanks to the undying support of customers, family and friends.
Show love for Hanani's dreams by visiting her shop or InstockBN's Instagram @instockbn
This article was first published on 30 April 2022 in our Weekly Epaper issue 191 | More stories here
THE BRUNEIAN | BANDAR SERI BEGAWAN