Creating miniature products out of clay, Teatimecrafts is the home for everyday experiences turned into all things mini custom products from keychains to accessories to charms in any shape imagined.
Cheng Hui Hsin is also known as Vicky is a full-time crafter and the person behind Teatimecrafts which was created over ten years ago under the name minicraftie.
The entrepreneur studied Forensic Science in Thailand a few years ago and after she decided to pursue her business full-time.
The initiative, in the beginning, was to share her crafting journey with miniature clay craft but then a business opportunity came and she took it.
The 29-year-old has always had a keen for crafts since a young age, especially cross-stitching, which was something that she saw her grandmother making all the time.
"Around 10 years ago, I saw miniatures on tv and instantly fell it love with it and was curious about how to make it so I kept searching the tutorial online and tried to find the supplies in Brunei which was hard to source back then," said the entrepreneur.
Along the way, she encountered different types of crafts and kept adding new craft ideas to her account, hence, the beginning of Teatimecrafts and which includes miniature clay crafts, crochet, embroidery, stamp carving and fabric crafts such as sewing.
At first, crafting was not something that was affordable for the entrepreneur and as a student back then, she did not have much allowance to spend on craft supplies, so she saved up little amounts to buy some supplies.
"One day a friend of mine saw the miniatures I made and asked if I'm selling it. I saw this as an opportunity and started this business. I could do something that I really love whilst also earning some income to keep doing it," said Vicky.
Naming the business after Alice in Wonderland's tea time party, the business offers up a variety of products that people can use in their daily lives such as keychains, accessories, clay dishes, figurines and more.
As for the accessories, there are many options to choose from such as clay necklaces, bracelets, rings, earrings, charms and more.
On special occasions, she also receives many custom orders from time to time, especially for birthdays and weddings where they have requested her to do clay figurines.
Vicky also offers services like miniature clay workshops for people who are interested and beginners and also supplies clay and other necessities occasionally.
Depending on the complexity of the designs, the price for Teatimecraft's products may range from $10 to more than $100 as she puts all of her efforts into making the perfect quality miniatures.
"I would say that my business is different because definitely the skills and experiences that I have gone through over the past 10 years could not be compared. A lot of similar business may have come up over the years but skills are definitely what can differentiate us from others," said the 29-year-old.
In the future, the entrepreneur does plan on expanding her line of products but creativity takes time and it will be a while until she starts working on new ideas.
Teatimecrafts currently only sells through their Instagram and occasionally Facebook @teatimecrafts which also acts as their gallery for all their miniature products that they created in the past.
However, with crafting, ideas may sometimes come and go and the crafter has a hard time creating new products.
Dealing with creativity is definitely not as easy it seems as sourcing ingredients, materials, coming up with new ideas and experimenting on how to make certain custom orders work may sometimes come as a challenge.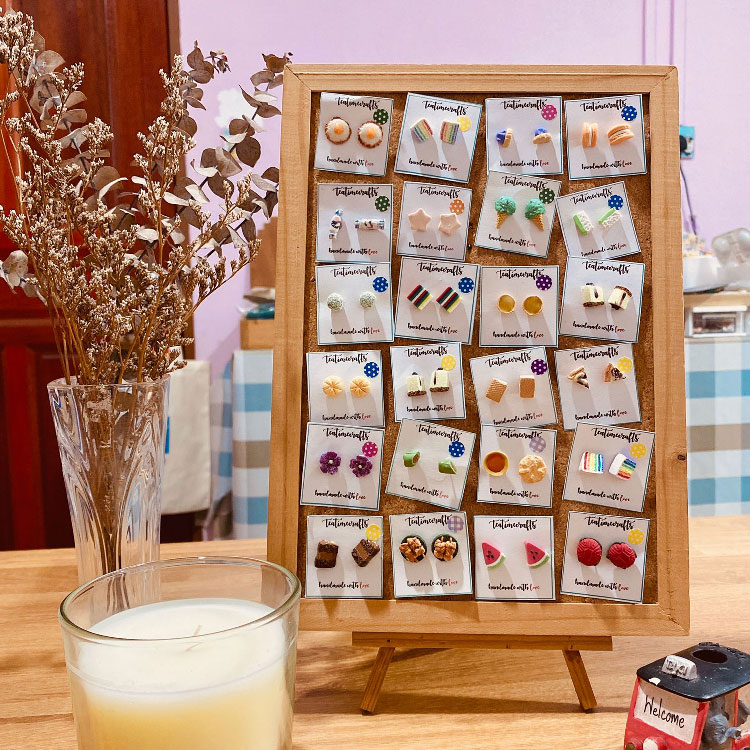 "But it is interesting at the same time when the work is created and more and more people get to see my work and gain recognition from the public," said the crafter.
Going into this business of miniatures, the 29-year-old did not have much knowledge or skills in business but over the 10 years, she has learned so much and finds her passion for business growth with each day.
The key to her success in her journey is to be passionate as passion is what drives people to achieve what they want, even if it is little by little, but each step counts.
Teatimecrafts appreciates all the support that they have received in the past years and how much support the community loves to support local businesses, especially when the business offers handmade products and it shows how handmade products are special and loved.
Show some support to this miniature crafts business by visiting their Instagram @teatimecrafts and seeing the products that they have created over the 10 years.
This article was first published on 30 April 2022 in our Weekly Epaper issue 191 | More stories here
THE BRUNEIAN | BANDAR SERI BEGAWAN