Nestled within the residential areas of Jangsak is Another Coffee Shop by Tampd, serving more than just a simple menu of coffee.
Muhammad Hazwan Haji Hassan, the proud owner of the minimalist roastery cafe can be spotted working behind the counter while striking up conversations with his customers.
Founded in 2019, Tampd was born out of Hazwan's genuine love for coffee and connecting with people.
Coffee has always been the passion and profession for the 25-year-old. He came up with the inspiration of opening Tampd after enjoying his days as a barista roasting, grinding and mastering the art of making the perfect cup of joe.
Hazwan, who graduated with an HND in Computing and Systems Development from Laksamana College of Business, had worked in the coffee industry since 2017.
According to the 25-year-old, his favourite part of the job was meeting and interacting with people from all walks of life over a single cup of coffee.
"It makes me feel like I have done my part as a barista in sharing the experience and at the same time helping others to appreciate the coffee," he shared.
The youthpreneur thinks of coffee as a storytelling experience. For him, each cup represents a shared moment or an idea with another person.
"A good cup of coffee for me is not just from using freshly roasted beans, good equipment, and a good recipe. A good cup of coffee also comes from the process of making it and the story that the coffee has to tell," Hazwan explained.
The young entrepreneur had always wanted to open up a cafe that he could call his own. The idea of transforming that vision into reality only started when his family and friends encouraged him to follow his dreams.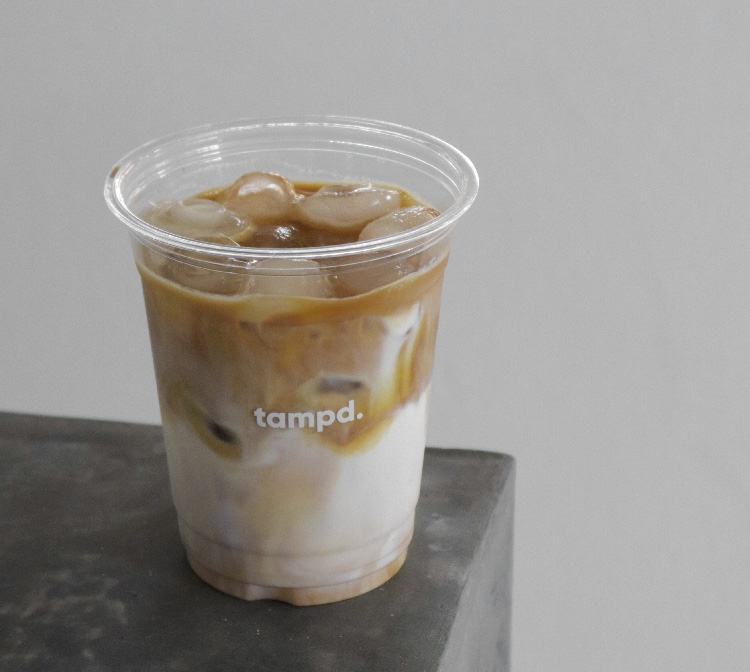 According to the founder, the name "Tampd" comes from the wordplay on "Tamper", a prepping tool or method used to make espresso.
"'Tamper' is the last method used to prepare your espresso puck before you brew it. The reason why we chose the name is that the word also symbolises quality and consistency," he shared,
For budding entrepreneurs, consistency and quality are the key ingredients to preparing a good espresso and how to operate a coffee business.
Tampd's menu features traditional coffee shop favorites like long black, cappuccino, flat white and espresso. The cafe focuses on quality, freshly brewed coffee from roasters around the globe.
In addition to classic coffee drinks, the shop also offers flavoured espresso such as hazelnut latte and dirty matcha.
For Hazwan, his personal favourite would be filter coffee because he appreciates the complex and flavorful notes of the coffee.
Since its opening, the home-based coffee business has been getting positive responses and amazing support.
"Since day one till now we've been growing and creating communities around us that appreciate not only what we do but believe in what we are trying to achieve in the ever-growing specialty coffee industry in Brunei," he said.
On regular days, Hazwan shared that Tampd would receive around an average of 15-20 cups of orders per day during the weekday and 30-40 cups of orders on the weekends.
"On the occasion where we do events at the shop or pop-ups it goes up to 100-200 cups per day," he shared.
Tampd originally started off as a small home-based cafe and occasionally joined pop-up events throughout the years.
Despite the windfall, Hazwan recounted the challenges he had to face to reach this point in his life, especially for someone with no background in business or how to run a cafe.
At the beginning of the business journey, it was not as smooth as the business had to endure several setbacks.
"In 2020, we had the opportunity to open up a physical store named "Jerudong Coffee Space " which was a shared space with Unorthodox Barbershop in Jerudong. However, as most businesses had to go through the struggles and the hardships of the second wave, we decided to close down the store," he shared.
From managing finances to logistics, starting a business during a pandemic has not been easy for the young coffeepreneur.
"It was only in August 2021 that we decided that it would be better to go back to our roots on where we started, as a home base cafe but this time with a proper space and area called "another coffee spot"," he added.
In the same year when they returned to the home-based location, the company also launched its first online ordering system via www.tampd.coffee , to make it easier for their customers to browse and order their drinks.
It takes teamwork and passion to overcome the challenges, he shared.
"Currently Tampd is run by a small team of 7 people whom I am really thankful towards as they are the backbone of the business," he said.
Hazwan also shared that the business would not be where it is now if it weren't for the support they received from his family, friends and also his team who not only believed in the business but supported him throughout the 3-year journey,
He also added that their loyal customers became key importance to their growing success, emphasising good customer service and building relationships with them.
When asked about future plans for the cafe, Hazwan said that they want to focus on growing the business, adding more items to their menu to give customers more options and also collaborating with more local businesses.
"Other than coffee we are also expanding what we are offering, for example, seasonal merchandise releases that are designed by the team," he shared,
Tampd also aims to be more than just a cafe, he added that the main objective of the business is to build a strong community and a platform to support local businesses.
This article was first published on 04 June 2022 in our Weekly Epaper issue 196 | More stories here
THE BRUNEIAN | BANDAR SERI BEGAWAN