A BICTA Alumni Connect 2022 was recently held by the alumni of Brunei ICT Awards (BICTA) to foster networking and collaboration amongst the members, businesses and relevant stakeholders.
The event was held during the Digital Technology Week at the Mid-Year Conference and Exhibition, MYCE 2022 and jointly organised by the Ministry of Transport and Infocommunications (MTIC), The Authority for Info-communications Technology Industry of Brunei Darussalam (AITI) and InfoCom Federation Brunei (IFB).
More than 80 invited guests attended the event including the esteemed IFB EXCO and members of BICTA Alumni.
In her welcoming remarks, Chairwoman of IFB as the second co-chair of BICTA Steering Committee Pengiran Sarimah Pengiran Haji Abdul Latiff shared that the event aimed to connect everyone for the growth and innovation of the digital sector in Brunei Darussalam.
"I would also encourage past and present BICTA participants as well as BICTA Alumni members to leverage this networking platform to engage with industry, businesses, technical leaders and potential investors to progress further to support the vision of Brunei Darussalam's Digital Economy Masterplan 2025 of a Smart Nation Through Digital Transformation," said the chairwoman.
Present as guest of honour was Permanent Secretary of MTIC and Co-Chairman of BICTA Steering Committee Haji Mohammad Nazri Haji Mohammad Yusof.
Also in attendance were Deputy Permanent Secretary (Infocommunications) of MTIC Haji Hairul Mohd Daud Haji Abdul Karim and Chief Executive of AITI Haji Jailani Haji Buntar.
A Letter of Appointment of the President of BICTA Alumni was also presented to Vice Chairman for Industry, IFB Dr Yong Chee Tuan.
The event ended with a tour of the BICTA Alumni Connect 2022 Showcase and the Tech Communities' activities.
The BICTA Alumni Connect 2022 Showcase included nine past and current BICTA participants' products and services, namely; 3ple-T, BASS, Midori Sawi System, The A.I. Fourturistics, Al-Huffaz Management, Mindtrex Academy Sdn Bhd, Roiquant, Rumine Corporation and SynapseBN Enterprise, together with Tech Communities' activities.
BICTA Alumni Connect 2022 event was held in collaboration with Google Developer Group (GDG) Brunei, WomenTechMakers Brunei, Brunei Raspberry Pi Community, Brunei Game Dev Community, Anak IT Brunei, Imagine Sdn Bhd, The Bruneian and ASDS Sdn Bhd.
Throughout the two-day event, roundtable discussions and fireside chats with BICTA Alumni members will be held.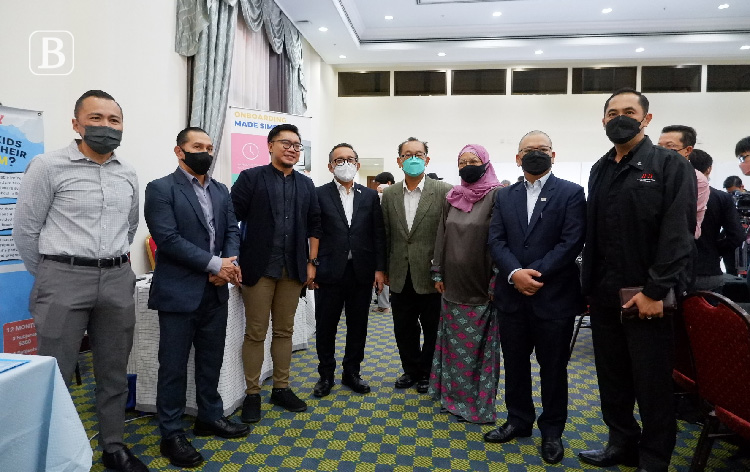 This article was first published on 11 June 2022 in our Weekly Epaper issue 197 | More stories here
THE BRUNEIAN | BANDAR SERI BEGAWAN