Some 248 intending Haj pilgrims left for Saudi Arabia recently after a two-year hiatus of travel restrictions due to the pandemic, marking the first batch of delegates from Brunei.
Three travel agencies – Darussalam Holdings, Straits Central Agencies and Al-Hijrah Travel and Tours sent off the delegates comprising 168, 67 and 13 individuals, respectively.
They are among 453 Bruneian pilgrims who left for the holy city to perform their religious obligation.
The group was accompanied by seven medical officers from the Department of Hajj Management as well as officers from the travel agencies.
Families of the Haj delegates bid their farewells to their loved ones, wishing them good health during their journey of performing their duties and praying for their safe return.
Prior departure, a doa selamat was recited by Begawan Pehin Khatib Dato Paduka Haji Emran Haji Kunchang to bless the ceremony as well as a recitation of Azan by Begawan Awang Haji Abd Latif Haji Saman.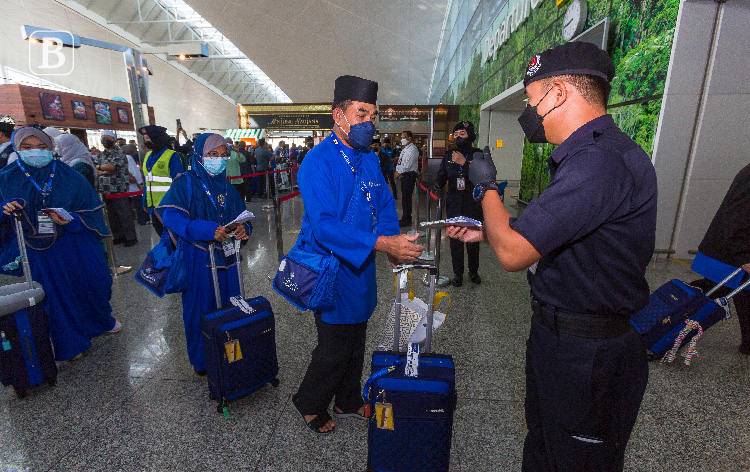 Present at the Brunei International Airport to send their farewells were Minister of Religious Affairs YB Pehin Udana Khatib Dato Seri Setia Ustaz Haji Awang Badaruddin Pangarah Dato Paduka Haji Awang Othman and his wife, Minister at the Prime Minister's Office YB Pehin Datu Lailaraja Major General (B) Dato Paduka Seri Haji Awang Halbi Haji Mohd Yussof and Minister of Health YB Dato Seri Setia Dr Haji Mohammad Isham Haji Jaafar and his wife.
Also in attendance were Deputy Minister of Finance and Economy and Chairman of Board of Directors Darussalam Holdings Haji Khariuddin Haji Abd Hamid, Deputy Minister of Religious Affairs Pengiran Dato Seri Setia Haji Mohd Tashim Pengiran Haji Hassan and his wife, Police Commisioner Dato Seri Paduka Haji Mohammad Irwan Haji Hambali, Ambassador of Saudi Arabia to Brunei Darussalam Emad Abdul Aziz Al-Muhanna, Permanent Secretary of Ministry of Religious Affairs Haji Mohammad Rosli Haji Ibrahim, and his wife and Permanent Secretary of Ministry of Health Haji Maswadi Haji Mohsin.
This article was first published on 18 June 2022 in our Weekly Epaper issue 198 | More stories here
THE BRUNEIAN | BANDAR SERI BEGAWAN