A day full of live musical performances and ecstatic crowd filled the atmosphere of Taman Haji Sir Muda Omar 'Ali Saifuddien in the capital recently as people gathered for His Majesty the Sultan's 76th birthday celebration.
This year, Brunei-Muara was the third district to host the annual royal meet and greet carrying the concept of "Kepimpinan Raja Bijaksana Membina Peradaban Bangsa".
The sultan was accompanied by His Royal Highness Prince Haji Al-Muhtadee Billah, the Crown Prince and Senior Minister at the Prime Minister's Office, His Royal Highness Prince 'Abdul Malik, His Royal Highness Prince 'Abdul Mateen, His Royal Highness Prince Mohamed Bolkiah, His Royal Highness Prince Haji Sufri Bolkiah and His Royal Highness Prince Haji Jefri Bolkiah.
Hundreds of students from primary and secondary schools and colleges greeted the arrival of the monarch by lining up and waving their miniature national flags leading up to the field.
The arrival of His Majesty and members of the royal family were greeted by the sounds of hadrah played by over 500 students from various schools.
The field performances were divided into three segments; a skit done by local actors, songs being sung by local singers accompanied by dancers, Gentara Begawan, and ended with a finale of a 60s-inspired performance.
The main theme for the special performance was "Raja Untuk Rakyat dan Rakyat Untuk Raja" with the song "Kepimpinan Bijaksana".
Over 300 performers comprising youths and students took part in the colourful musical performance which concluded with three shouts of "Daulat Kebawah Duli Tuan Patik".
After the performance, members of the public had the opportunity to interact and take photos with His Majesty the Sultan and members of the royal family throughout the meet and greet.
Excitement filled the field as the monarch visited the special tents occupied by various communities and agencies.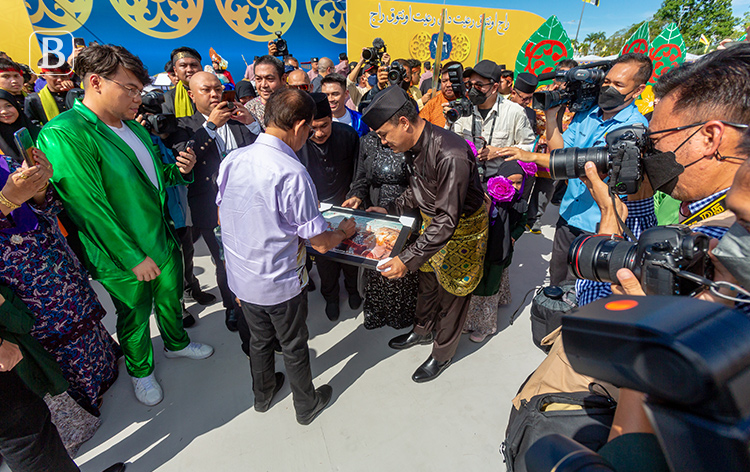 Some of the participating organisations at the meet and greet were imagine, Progesif, Bank Islam Brunei Darussalam, Baiduri Bank, Tiong Hwa community and Dynamik Technologies, among others.
The public was grateful and overjoyed to have the chance to interact and greet His Majesty as well as take memorable photos with the benevolent ruler.

THE BRUNEIAN | BANDAR SERI BEGAWAN