From modern athleisure to nostalgic streetwear staples, the brainchild of Denny, Desmond and Brandon, Kyoshinja Co was born from a desire to, in their own words, "create timeless products that communicate meaningful ideas."
The homegrown lifestyle brand was started in 2019 by the trio who wanted to produce a wardrobe of essential urban pieces that are easy to wear and timeless to trend.
"Fashion has always been evolving constantly and we wanted to create a unique brand that is true to our style," Danny said.
The trio of friends explained that the name "Kyoshinja" is defined as "Fanatic", or in another word, "Mad Believer".
"We wanted a name that shows a versatile character and at the same time also resembles our true spirits," they added.
Kyoshinja Co originally started off selling its products via its website www.kyoshinja.com.
"It took us over a year to really build everything from scratch before officially launching the brand. There are many key components to running an effective clothing brand; ranging from marketing, online store, models/talents, design/creativity, content creation, production, business development to customer support," Danny shared.
Another strategy the three friends used to boost their market was to promote their products on social media. Its visual storytelling and well-curated feed manage to attract a growing number of followers onto its social media page @kyoshinja.co.
"Through these implementations and executions, we received a lot of positive feedback and successfully built our Kyoshinja Community. This is what ultimately gives us the motivational force to keep moving forward," he added.
Since its official launch in 2019, although the lifestyle brand was fairly new to the fashion scene, it did not hinder the homegrown brand from making its mark beyond its regional market.
"Starting from day one, our vision has always been to establish Kyoshinja as an international brand that is grown from Brunei and we believe we are on the right track," he shared.
To meet the increasing demand from within and outside of the country, Kyoshinja not only sells its clothing collections online but also ships them worldwide.
"Over the past 1 year and 7 months, we were able to broaden our reach to some international crowds and at present, our online orders mainly come from Brunei, Malaysia, Singapore and Taiwan," he added.
Following its success, in 2021, Kyoshinja expanded its presence in the Sultanate with its first brick-and-mortar studio located in Kiulap, marking a major step in the growth of the homegrown business.
In late July this year, Kyoshinja also gained international recognition through its first-ever pop-up event at the Ipoh Parade Mall and the Klang Parade Mall in Malaysia.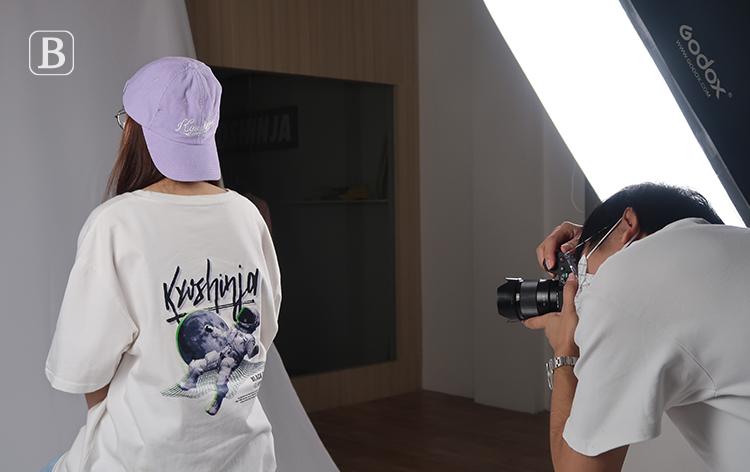 During the events, the lifestyle brand had the opportunity to showcase its products to a wider set of target audiences. They also unveiled their latest "Trinity Beneath The Madness" and "The Mad Believer" T-shirt collection that employs the brand's signature logo harmonised with timeless vintage design.
Since the homegrown brand was established, it has released a total of nine collections and 68 items altogether.
From the classic striped sweatpants to the vintage baseball jersey, according to Danny, Kyoshinja Co is an extension of the personal style of its founders.
With clothing inspired by everyday life, music and pop culture references, the brand offers a curated capsule collection that features various modern designs of sweatpants, t-shirts, headwear and accessories.
"Kyoshinja's products mostly come in collections where a series of designs will be made into apparel and accessories. Each of the collections will portray a specific theme, movement, mood or upcoming season," he added.
Taking comfort urbanwear to another level, the basis behind the brand's vision is timelessness and self-expression with a touch of edge.
With that goal in mind, the brand signature design incorporates minimalist aesthetics with an amalgamation of the future and retro graphics.
"One of the collections that we released back in early 2021, Black Galaxy, actually came from watching a Netflix series called Another Life. The mesmerizing scenes from the space inspired us to create the Black Galaxy collection," Danny shared.
"Another collection that we released last year was Botanic Flora and this was a way of showing our love for all things in nature," he added.
Keeping up with the Kyoshinja brand, their logo appears in most of their streetwear staples like t-shirts, beanies, bucket hats, hoodies, slides and many more.
The brand has also previously collaborated with the local eatery, Yi's Nation on graphic t-shirt designs inspired by its signature menu, The New York Sunrise.
What sets the brand apart, is their designs and messages that aim to highlight and celebrate the uniqueness in every individual, and to inspire and empower people to express themselves through what they wear.
"We believe in originality and customer support. These two key components are probably what sets our brand apart from others," Danny emphasized.
Like many businesses, there are always challenges and Kyoshinja has been a great learning experience for the trio of young entrepreneurs.
What the three friends lacked in experience, they made up for with their determination and passion which got them through many of the business's early challenges.
"Most of the time, it is definitely challenging to start off as a new brand in the industry as there is no credibility or data that relates to a new brand," Danny shared.
He also highlighted that when owning a business, there is a lot of work that needs to be done on the marketing side, especially putting your brand out there and networking.
Looking back on Kyoshinja Co's journey, the moment that helped the business move forward involved a lot of support from its loyal customers.
Moving forward, the future looks bright for the Kyoshinja Co brand and its founders have their sights on expanding the lifestyle brand presence both regionally and internationally.
"For future plans, we are aiming to have our own international flagship store and a bigger team force," the founders shared.
THE BRUNEIAN | BANDAR SERI BEGAWAN