Standard Chartered Securities, a subsidiary of Standard Chartered Bank recently introduced four new unit trust fund offerings in collaboration with their newest fund partner, Principal Islamic.
These four new unit trust funds offer a broad range of balanced and syariah-compliant funds and they are the 'Global Sukuk Fund', 'Islamic ASEAN Equity Fund', 'Islamic ASEAN Equity Fund', 'Islamic Asia Pacific Dynamic Income and Growth Fund' and 'Islamic Global Multi-Asset Fund'.
The new offers were introduced during the launching event held at Tarindak D'Seni with representatives from Principal Islamic.
In her speech, Chief Executive Officer of Standard Chartered Securities Brenda Low said that the institution now have the widest range of Conventional and Syariah compliant funds available in the market since launching the Islamic Investment offers.
Standard Chartered Securities now has more than 70 fund offerings offered through 11 fund partners and they are confident that there is something for everyone.
"From ESG focused to Syariah compliant, or from geographical to sector specific, be it in asset classes or in foreign currency, we have options for all. No matter if you are a new investor or a seasoned one, Standard Chartered Securities, aims to help you identify opportunities to grow and maintain your wealth," said the ceo.
With their in-house Fund Select approach, they are also aiming to help clients take the guesswork out of choosing a fund that matches their objectives and risk appetite.
Syariah-compliant funds have also grown in popularity over the years and have gained interest from Muslims and non-Muslim customers alike due to their relatively consistent and stable returns as shared by the CEO of Principal Islamic, Dato' Paduka Syed Mashafuddin.
He added that this is one of the many reasons why Principal strives to enhance their product offerings and services as part of ensuring that customers can continue to build their investment portfolios with confidence.
"With the challenging and uncertain economic outlook, we hope that Standard Chartered customers who are seeking opportunities for diversification and capital growth through investment globally will reap the benefits from the variety of Syariah compliant funds we have to offer," said Dato' Paduka Syed Mashafuddin.
The event was followed by a panel discussion by representatives from Principal Islamic, Elyzza Syazreen Zailan, Head Fixed Income of Principal Islamic, James Gan Seng Chen, Portfolio Manager Equity, Principal Asset Management (s) Pte Ltd and Lim Kee Yap, Managing Director/Product Specialist of Principal Global Investors, (Singapore) Limited sharing further insights on the current market environment and asset classes.
Principal Islamic offers holistic Syariah-compliant asset management solutions with end-to-end processes in accordance with Islamic principles and brings the best of capabilities from both the East and West to provide bespoke investment solutions to help individual and business investors achieve their financial goals.
It is the dedicated Islamic asset management boutique for Principal Financial Group that promotes Syariah-compliant strategies and solutions everyone across the globe.
Whereas Standard Chartered is the market leader in Wealth Management having established offerings in Brunei for over 20 years with the widest range of products and services paired with the best advisory team to help clients grow and protect their wealth in line with their values and aspirations.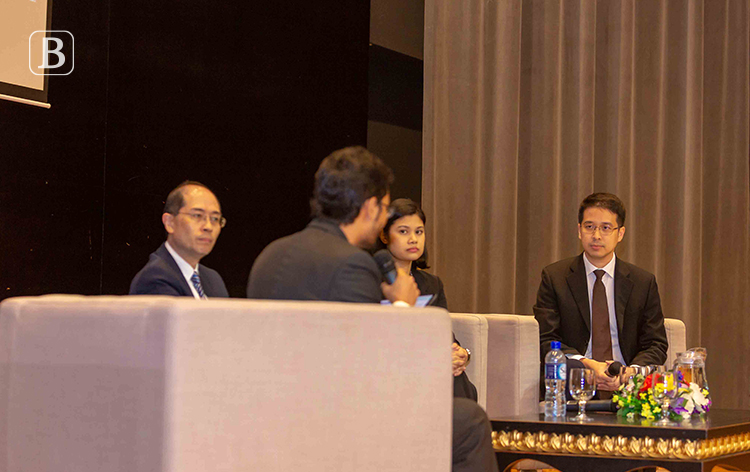 "No matter if you are a new investor or a seasoned one, Standard Chartered Securities, aims to help you identify opportunities to grow and maintain your wealth," said Low.
Potential investors are required to complete a client risk profiling assessment to ensure that clients understand their risk appetite before taking up any wealth products.
Interested investors can visit Standard Chartered at their Gadong and Kuala Belait branches to speak to any licensed Relationship Manager or Wealth Consultant or visit the bank's website www.sc.com/bn or follow the bank's Facebook and Instagram at Standard Chartered Brunei and @stanchartbn.
THE BRUNEIAN | BANDAR SERI BEGAWAN