RHB Bank Brunei has moved to its new location at The Arches in Kiarong with a refreshing ambience and bigger space.
RHB Bank Brunei, a member of RHB Banking Group and one of Malaysia's largest financial services groups, is now equipped with specific floors to cater to the specific needs of its customers.
The new location designed with a vibrant and customer-friendly environment also promotes a more conducive banking environment for their customers to perform transactions which underlines the bank's determination in delivering excellent service through differentiated customer experience.
In her welcoming remarks, the Managing Director of Group International Business, RHB Banking said that RHB Bank's operations in Brunei have been driven by the strong support and guidance received from the Brunei Darussalam Central Bank (BDCB) as well as the trust that they gained from locals and businesses.
"This has given us the opportunity to build our reputation as a trusted financial institution to serve the people of Brunei," said Wendy Ting.
She added that the bank is creating greater financial accessibility for its target customer segments in Brunei and are looking forward to catering to their growing and diverse needs as the country continues to prosper.
"I would like to express our honour and pride to have been given the opportunity to be part of Brunei's economic journey thus far. We look forward to continuing growing our affiliations with new and existing customers, driven by our strong local team in this branch," she said.
On his part, Chief Executive Officer of RHB Bank Brunei Operations Hj Ishak Othman shared that the relocation of the new premise is timely as they efforts in providing greater banking accessibility and convenience to entice a wider reach of customers.
He added that despite the challenging business environment, their loans and advances as well as deposits have contributed to positioning the bank as a trusted financial institution within the country's financial industry.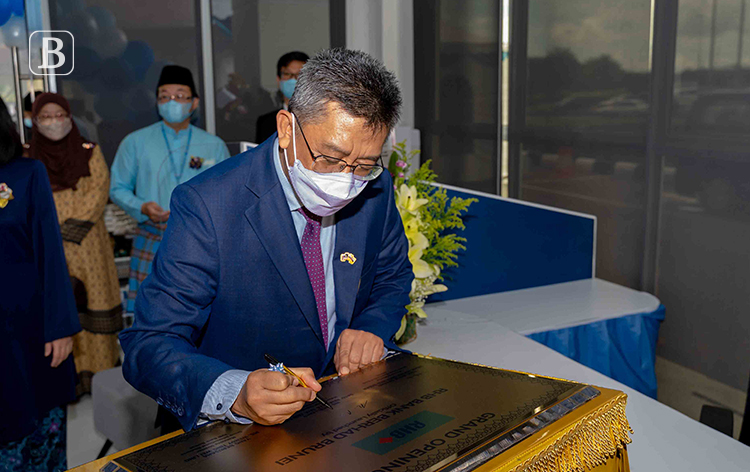 The newly relocated RHB Bank Brunei is located at The Arches, Jalan Pasar Baharu in Kiarong.
RHB Bank Brunei offers a comprehensive range of financial products and services for retail, corporate, and commercial customers, including savings accounts, current accounts, fixed deposits, loans, trade facilities and remittance services.
To provide greater convenience, the bank is equipped with an Automated Teller Machine (ATM), Cheque Deposit Machine (CQM) and two Cash Deposit Machines (CDMs).
The opening ceremony was attended by Managing Director of BDCB Hajah Rokiah Haji Badar and Malaysian High Commissioner to Brunei Darussalam His Excellency Dato' Raja Reza Raja Zaib Shah.
Also at the event were officials and guests from BDCB, the High Commission of Malaysia in Brunei, the Brunei Association of Banks (BAB) and Malaysian Associations in Brunei as well as the bank's clients and business partners.
To know more about RHB, visit their website at www.rhbgroup.com.
THE BRUNEIAN | BANDAR SERI BEGAWAN