Bureau Veritas Brunei (BVB) recently celebrated its corporate social responsibility (CSR) with a mission of Shaping a Better World Day by collaborating with PawsUp, a local animal rescue organisation.
The collaboration aims to raise awareness towards stray animal issues in the Sultanate for BVB employees and the public.
BVB made a donation to the PawsUp foodbank worth $500 and also sent a team of volunteers to the PawsUp Rehabilitation and Adoption Centre to undertake tasks which include cleaning centre and its' compound, as well as the individual enclosures for cats and dogs, and feeding and playing with the rescues.
On the other hand, PawsUp representatives also visited the BVB office in Muara to give a talk to the staff.
"Our organisation launched the 'Shaping a Better World Day' initiative in 2021 whereby all our colleagues around the world are encouraged to give back to society inline with of our organisation's mission," said Operations Manager of Marine and Offshore Operations for BVB Farid Salleh
"We decided to collaborate with PawsUp for their works in rescuing the strays and raising awareness of animal welfare and educating the public. Hopefully, we will inspire our colleagues and the public to support PawsUp," he further added.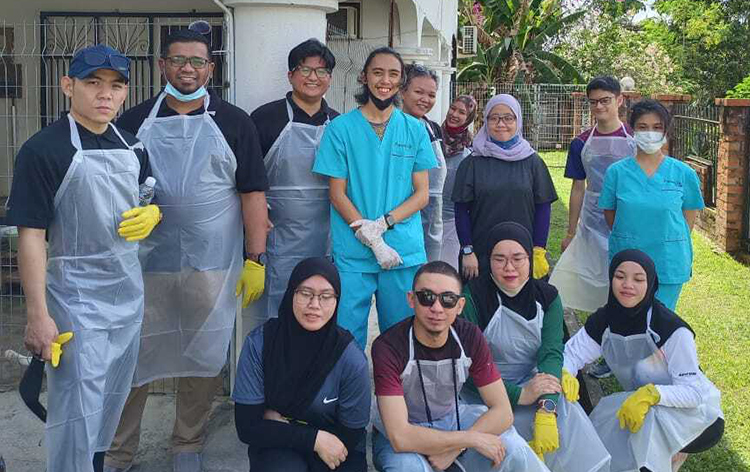 On his part, PawsUp founder Jay Lau said, "We are tremendously humbled and grateful to exercise corporate social responsibility with BVB to shape a world of trust for the homeless street animals,"
"It is such a pleasure to see the BVB team spending their time at our centre giving the rescues so much love and care. We are hoping more organisations follow suit to raise the bar for animal welfare," he added.
According to Jay, there are over 42,000 stray cats and dogs in Brunei Darussalam and the numbers will keep on growing due to unchecked reproduction.
PawsUp's Trap Neuter Release Monitor (TNRM) programme aims to curb the growth rate of the stray cats and dogs through spaying and neutering to ensure the stray animals are no longer able to repopulate.
Members of the public and corporations around Brunei are encouraged to donate, volunteer, and adopt rescues, and learn more about PawsUp's initiatives at www.pawsupbn.com or @pawsuptv on Instagram.
THE BRUNEIAN | BANDAR SERI BEGAWAN