McDonald's lovers in the country are in for a treat as their fourth branch in the country has opened its doors recently.
The newest addition features a 76-seater dine-in outlet located at Airport Mall, where it is accessible to not only residents and shoppers at the building but also students and employees at government and private offices in the nearby areas.
Featuring Experience of The Future (EOTF) technologies, the new branch is equipped with Self Ordering Kiosks and table service.
To make it more convenient for their customers, the newly added technology enables the team to locate their customers' seating via GPS and allows customers to be comfortable and spend more time at the table, fostering togetherness, and reconnecting people around feel-good moments and delicious meals.
Not only that but a mural was also created by the students of Pusat Ehsan Al-Ameerah Al-Hajjah Maryam in the vicinity of the restaurant, as part of the community outreach programme by McDonald's Brunei.
A donation box has also been set up to support one of the non-government organisations, Brunei Darussalam Red Crescent Society.
In his welcoming remarks, the acting general manager of Makan Ceria Haji Muhammad Munir Syafiq Dato Paduka Awang Haji Metassan said that McDonald's Brunei is always looking for ways to better serve their guests, not only through their delicious meals but ensuring customers have a great dining experience at any of their branches.
"With a mission to make delicious feel-good moments easy for everyone, through Experience of the Future technologies, such as the self-ordering kiosks and table service, we aim to provide great hospitality and convenience to our customers," said the acting general manager.
He added that Makan Ceria is on an accelerated growth journey, with plans to open up more branches over the next few years.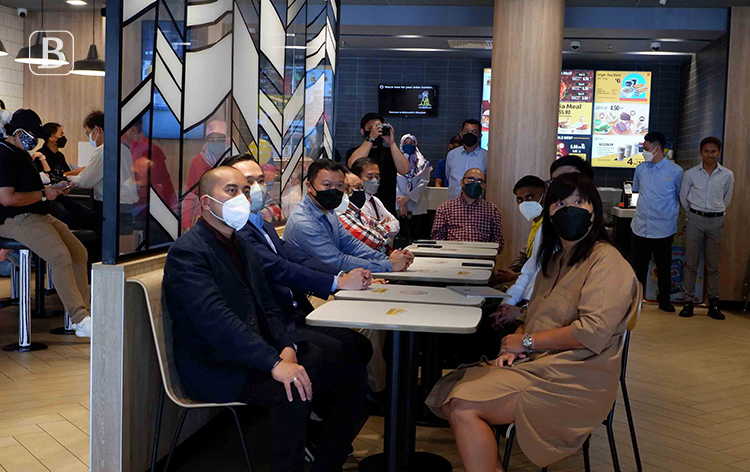 "We strive to be a pillar in the communities we operate in, and at the same time provide job opportunities for our locals and youth, making a positive impact on the communities, and reconnecting everyone through Feel-Good Moments to all our patrons," said Haji Muhammad Munir Syafiq.
The Airport Mall McDonald's branch is open from 6.00 am to 10.00 pm from Sunday to Wednesday and 6.00 am to 11.00 pm from Thursday to Saturday as well during the Eve of Public Holidays.
In attendance at the ceremony were Chairman of Makan Ceria Edzwan Zukri Pehin Orang Kaya Johan Pahlawan Dato Seri Setia Haji Adanan, member of the Board of Directors Haji Ahmad Fahruddeen Haji Mohd Azrae and a representative from McDonald's Asia Business Unit Sharon Ng as well as partners and stakeholders of Makan Ceria.
THE BRUNEIAN | BANDAR SERI BEGAWAN