Nestled between the trendy alleys of Jalan Pretty in Kuala Belait is a new kid on the block Sophie's Gelato, displaying an array of mouth-watering and colourful artisanal gelato inside its cosy nook.
The homegrown gelato parlour is owned and operated by sister duo, Tini and Yati with a rotating ice cream menu that is all inspired by their travel memories.
Founded in 2022, Sophie's Gelato was born out of the sisters' genuine affection for cold confection and connecting with the tight-knit community in Kuala Belait.
The idea of opening their own gelato shop only started during the second wave pandemic when they saw a gap in the ice cream scene in Belait.
The ice cream lovers turned business partners have explored and tried out different ice cream shops and flavours during their traveling days before opening their own.
Drawing inspiration from the growing confectionery and dessert shops in the Brunei-Muara district, the sisters also noticed the lack of availability of homegrown gelato places in their hometown.
"We see that there is a lack of dessert and confectionery places in Kuala Belait for the young ones and families to enjoy. So, we wanted to bring that familiar joy and open up our own gelato shop," said Tini.
Being part of the Kuala Belait community their whole life, further pushed them to open the town's very first homegrown artisanal gelato parlour.
According to her, the shop's name is a love letter to her eldest daughter.
"My first born's name is Sofea and she is a big fan of cool confectioneries and she loves to eat gelato," she said.
Sophie's Gelato opened its doors to the public in July this year, welcoming all ice cream lovers to try its delicious frozen treats.
Although the sisters initially wanted to get things up and running early this year, the COVID-19 outbreak has put those plans on hold.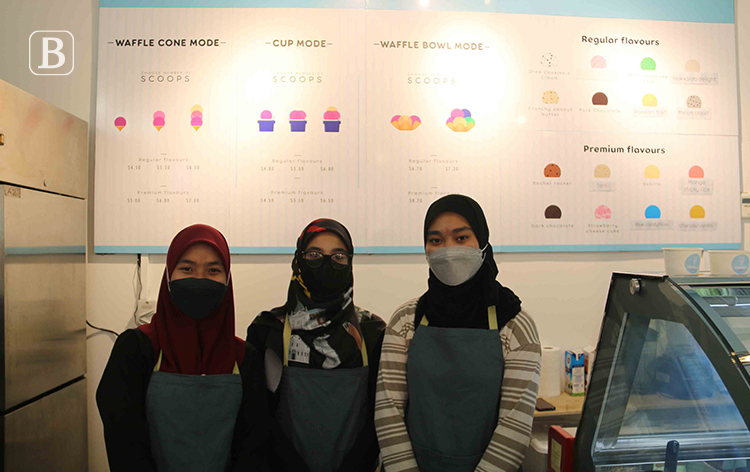 Located alongside other independent cafés and shops at Jalan Pretty, it is easy to spot Sophie's Gelato by its pastel blue exterior.
The sisters shared that Kuala Belait town is a prime location which is a popular place for budding businesses, making it an ideal site for the newly opened ice cream shop.
"We decided together, why not open up a dessert place that compliments all the restaurants and cafes in the area? That was when we introduced Sophie's Gelato," added Tini.
Upon entering the store, customers are greeted with a vibrant pop of colour and a space flooded with natural light, accentuating its signature pastel blue decor that creates a relaxing atmosphere for guests to enjoy.
Behind the inspiration of the interior design, co-founder Yati said she wanted the store to be a lively and welcoming environment for the community to gather and enjoy their sweet treats.
"We like to have a cool feeling when we look at the colour combination. Something fun and Instagram-worthy," she shared.
The shop seats up to 3-4 groups of families but the sisters expect many of their customers will grab and go with their favourite ice cream or milkshake.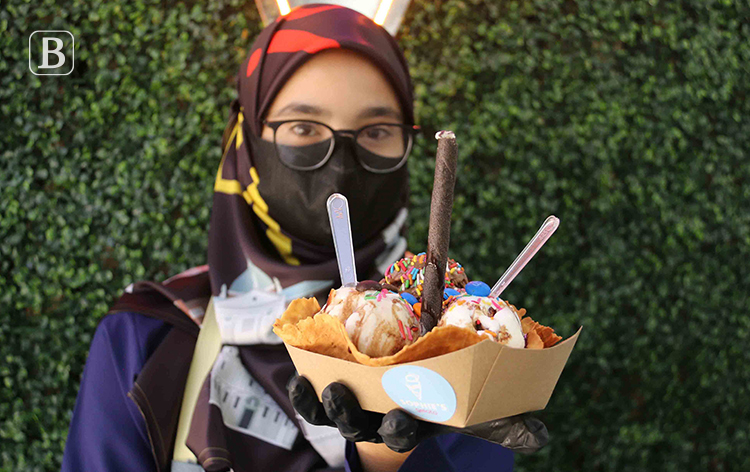 Sophie's Gelato offers up to 16 rotating selections of artisan gelato daily.
Over time, the ice cream shop has graduated from its traditional flavours into more experimental ones.
Customers can count on classic favorites like the chocolate indulgence, or try something seasonal like their signature mango cheesecake or the melon cloud ice cream.
The bright blue shop serves their scoops in the option of cups, cones and waffle bowls smothered in syrup and toppings of choice.
The menu also includes their signature Gelato shakes, a concoction of not two but three scoops of sweet and creamy Gelato goodness, blended to perfection.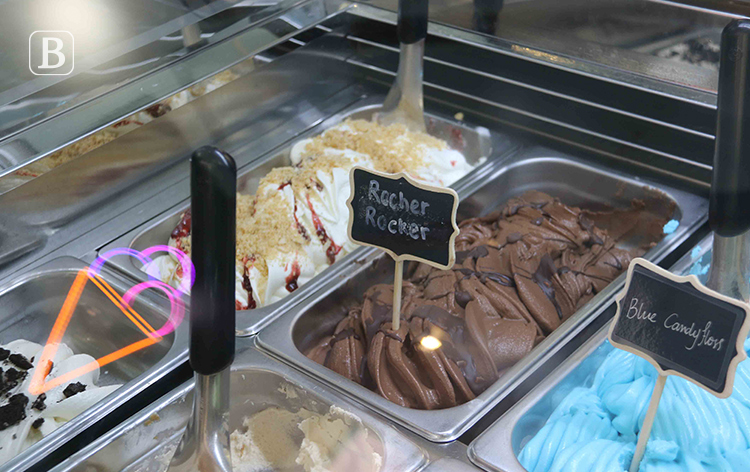 According to the duo, inventing and experimenting with new flavours is one of the best parts of opening their own ice cream shop.
The sisters are constantly brainstorming, coming up with some unique flavours every week.
For Tini, her personal favourite would be passion fruit ice cream because she loves the fruity flavours. Whereas, Yati enjoys a combination of dark chocolate and mint ice cream.
As with many businesses, social media plays a big part in the gelato business. The entrepreneurs would start posting their new flavours through their Instagram @sophiesgelato.
"Our social media has been very helpful at attracting customers. Especially customers from across the district," added Tini.
The sisters also shared that the brick-and-mortar store is also a key part of their business as their customer's feedback is a part of their flavour research and development process.
"Whatever feedback we receive, we improve from there on," she said.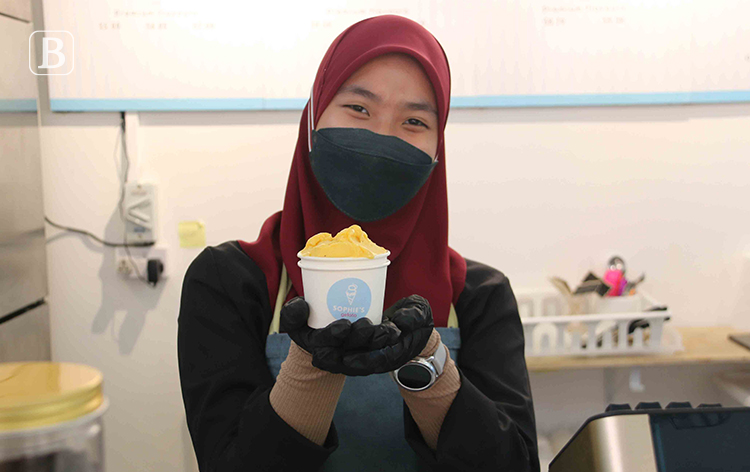 However, opening a business had its challenges, especially for budding entrepreneurs, from its operations to ingredients.
Tini said that at the beginning of their journey, it was not as smooth as they had to endure challenges and setbacks in their quest in opening Sophie's Gelato.
With no background in business, the sisters admitted they had a lot to learn in managing their first physical store.
"We try to improve day by day, by understanding the operations and system, how we can provide better service for the customers and care for our products," said the 37-year-old.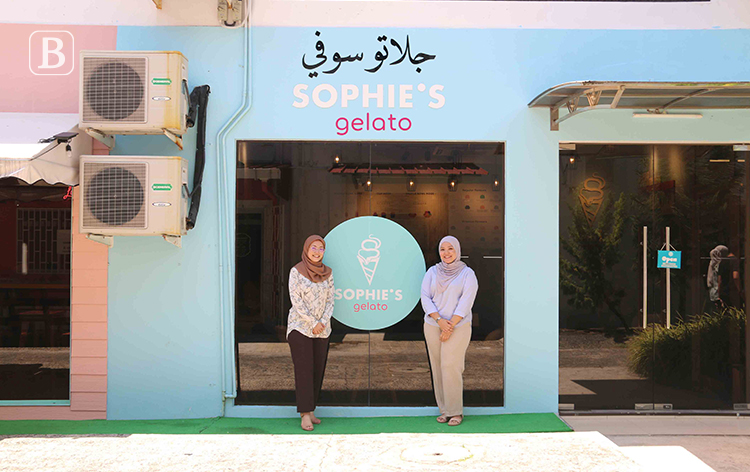 It takes teamwork and communication to overcome the challenges, she said, lauding their staff as the backbone of the business.
"We try to make it (Sophie's Gelato) a community, especially in Kuala Belait, where it is tight-knit. We want to maintain the relationship with our customers," she further said.
The budding business duo is always thinking of what to do next. When asked about the business' future plans, the founders are eyeing to expand their menu and seating capacity.
"Insya Allah, blessed with rezeki, we would like to grow bigger and collaborate with other local businesses," she concluded.
THE BRUNEIAN | BANDAR SERI BEGAWAN