Some 115 students and staff of Universiti Teknologi Brunei (UTB) were feted in an award ceremony for their achievements and excellence in their respective fields.
The UTB Excellence Award comprised of Staff Excellence Award (SEA); University Excellence Award; Dean's List Award; Co-Curricular Activities or Student Achievement Passport (SAP) Award; and People's Choice Award.
For this year, two new categories were introduced for postgraduate students – Publication Award and Outstanding Research Paper Award.
In her welcoming remarks, Vice-Chancellor of UTB Datin Paduka Professor Dr Hajah Zohrah Haji Sulaiman said the event aimed to celebrate and promote the culture of excellence at UTB.
The university's Outstanding Staff Award is in its seventh installment, recognising employees who contributed a positive impact on the university's success to achieve its strategic goals.
The vice chancellor added that for the Staff Excellence Award, a score of 90 per cent and above is for the level of excellence while 80-89 per cent for 'Special Mention'.
"UTB has received 34 nominations for this category and only 10 staff will be receiving their respective awards. I hope the recognition from UTB will motivate them further and will inspire others to follow suit," she said, adding that award recipients are ambassadors of the university.
Datin Dr Hajah Zohrah also expressed her appreciation to sponsors including industry partners, embassies, professional organisations, companies and private individuals for their continuous support of the students.
The ceremony presented 105 awards to students; 54 Graduate Excellence Awards; 43 Dean's List Awards; five Co-Curricular Activities Awards; and three People's Choice Awards.
Meanwhile, ten staff recipients each received a plaque, certificate of recognition and cash prize of $1,000. While recipients for Special Mention received a certificate.
Recipients
Nooramalina Ramlee completed her three-year programme in Computing with Data Analytics with a first class and received three awards – University Excellence Award, Best (Undergraduate) Student Award and Best (Undergraduate) Final Year Project Award.
Her final year project was coursework on road accident data enhancement and development using GIS platform, a different approach from previous projects.
"The idea has been ongoing since 2019 which prototype was done by my seniors and I was interested in the project. So, I decided to take on it as well using GIS making it for the first time ever," said the 22-year-old.
For the project, she collaborated with satellite communications service provider NiAT who provided her access to satellite data, allowing a fruitful completion of her research.
She further said that reason for her choice was to provide a solution to mitigate road accidents in Brunei with hopes that the initiative can benefit various agencies and stakeholders.
"I am very thankful to study at UTB… it has provided me with so much knowledge and experience, more than I ever asked," said Nooramalina.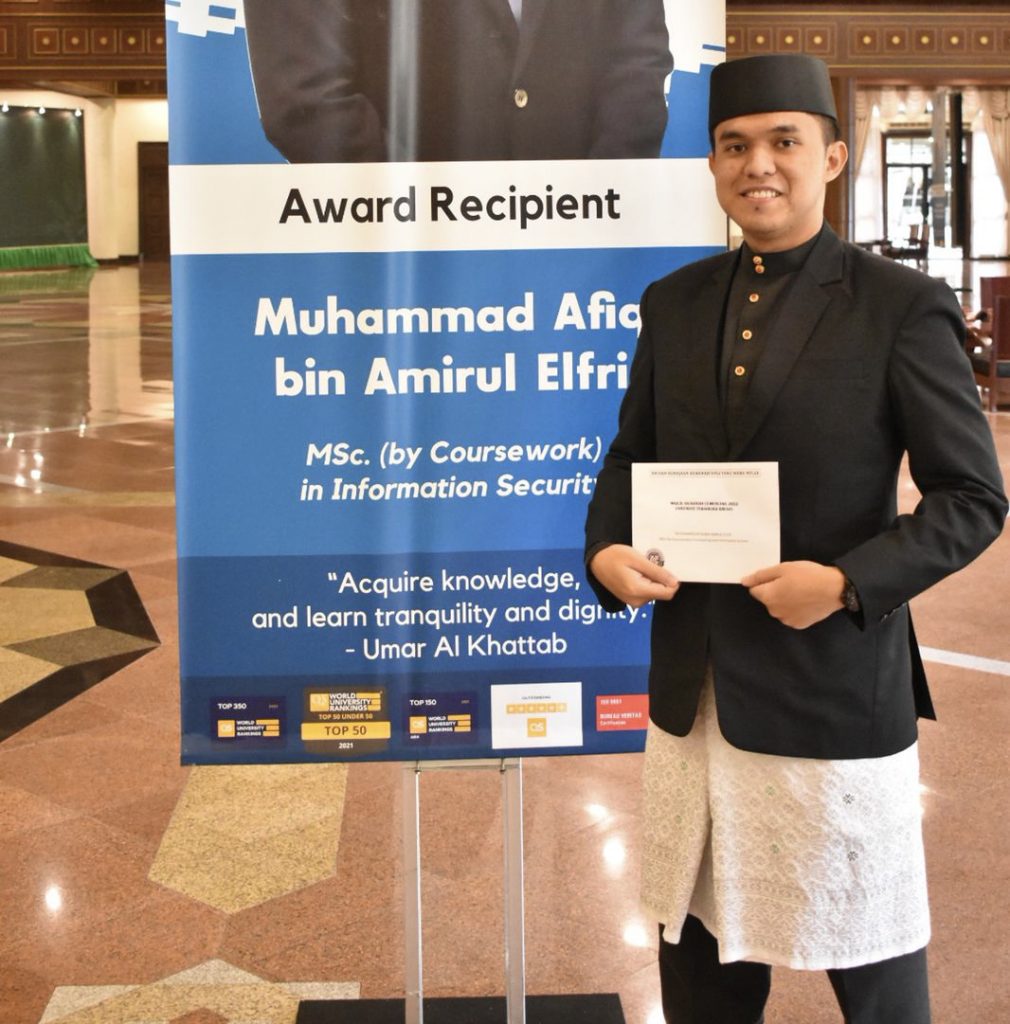 Meanwhile, postgraduate student Muhammad Afiq Amirul Elfri was awarded Best (Masters) Project in Image Steganography with AES Encryption.
He decided to do the topic for his thesis due to his interest and passion for cybersecurity.
"I see the need not just in Brunei but also globally. Information security is very useful in all fields that are involved with data and that we are gearing towards Industrial Revolution 4.0," said the 24-year-old.
Expressing his happiness in receiving an award from BIBD for his final year project, Muhammad Afiq is hopeful that the initiative is beneficial in his future endeavours.
For staff Dk Siti Ariana Pg Hj Yusof, working at the vice-chancellor's office has enabled her to further improve her communications skills better.
Noting that her tasks can be quite demanding at times, the assistant registrar to the vice-chancellor is very grateful to be able to work closely with the university's head.
"We have to be up-to-date and fast and the most important thing as being AR for VC is good communication because instructions need to be clear," said Dk Siti Ariana, adding that she has been working at VC office for six months.
She is a recipient of Administrative Excellence Award for Management and Professional and first received the recognition in 2015.
Meanwhile, laboratory technician Rozaidi Haji Abdul Lamit was indeed very thankful for his first-ever Administrative Excellence Award for Technician.
"Alhamdullilah for the nomination from everyone who believes in me and forever grateful to be working with lecturers, students as well as my laboratory colleagues," said Rozaidi.
The 48-year-old further said that as a professional, what is important for him when performing tasks is to always listen to instructions, have teamwork and have good communication with colleagues.
Present at the awarding ceremony was Minister of Education Yang Berhormat Datin Seri Setia Dr Hajah Romaizah Haji Mohd Salleh, who is also the chairperson of UTB Council members.
THE BRUNEIAN