Dart Logistics and The Impian Project recently signed a Memorandum of Understanding (MOU) symbolising a collaboration to provide special needs awareness training to Dart Drivers.
This would be the first collaboration between the organisations with the goal to educate Dart Drivers on the best practices to interact with persons with disabilities.
This is a part of Dart's mission to build a strong foundation for the Dart Driver community and to encourage them to engage themselves with various communities, especially with individuals with disabilities, the company said in a statement.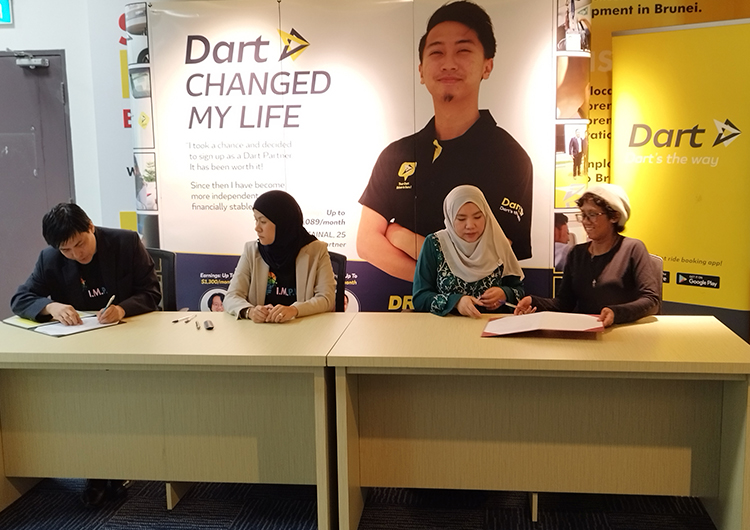 One of the goals for this collaboration is to also encourage and motivate individuals with disabilities to be independent, and to give the support and opportunity for them to thrive and achieve their dreams and goals.
Dart Logistics has almost 300 Dart drivers who are medically certified, professionally licensed and commercially insured with extensive background checks by Jabatan Keselamatan Dalam Negeri and Royal Brunei Police Force.
"Dart Logistics has always been opening doors for employment opportunities and believes in the importance of learning and upskilling for career development," it said.
By empowering the Driver community, the Dart Drivers can serve as role models to individuals who are looking to make a change in their lives.
The signing ceremony was held at LiveWIRE, Progresif Headquarters.
The MoU was signed by Acting General Manager of Dart Logistics Siti Nor Syaahidah Haji Sahron and Founder of The Impian Project
Lailatul Zubaidah Hussain.
In attendance to witness the ceremony were Dart's Communications and Community Officer Yang Amat Mulia Pengiran Anak Ajeerah Firdausul Bolqiah and Manager of The Impian Project Shariff Yusof.
THE BRUNEIAN | BANDAR SERI BEGAWAN