ASEAN Business Advisory Council (ASEAN-BAC) Brunei's council members recently attended the ABA, ABIS and Leaders Interface on 9-10 November 2022 in Phnom Penh, Cambodia. Delegations from the private sector in the ten ASEAN countries and ASEAN partners joined in-person.
Cambodia Chamber of Commerce in cooperation with ASEAN BAC and other related parties hosted the ASEAN Business Awards and ASEAN Business and Investment Summit (ABIS) with the participation of nearly 1000 delegates attended offline and online.
The theme for Cambodia ASEAN Chairmanship year is 'Addressing Challenges Together'. Southeast Asia is indeed going through a challenging time.
Increasing geopolitical tension, coupled with the impact of the war in Ukraine, at a time when Southeast Asia's economies are still struggling to get back on their feet and recover from the pandemic requires a united ASEAN response.
The Summit touched on how imperative that we come together to not only address these challenges but to also prepare for a shared integrated future that is increasingly digital and in a way that achieves both our economic growth needs and our climate change commitments.
On 9 November, ASEAN Business Awards (ABA), the region's premier business awards, was hosted during the annual ASEAN Business Investment Summit (ABIS) by the ASEAN Business Advisory Council (ASEAN BAC) since 2007.
With 14 years of implementation, the ABA event has brought opportunities for businesses to reaffirm their position and prestige among industry peers, advance their competitiveness and integration, and enhance the brand throughout the ASEAN region and on a global level.
At the prestigious award ceremony this year, Brunei SME, Aisha Automation was honoured with the SME Excellence Employment Award for their outstanding commercial success and sustainable growth.
Dynamik Technologies was also recognized at ASEAN Business Awards (ABA) 2022 for the outstanding performance of leveraging new alternative technologies which are more secure and resilient to improve financial inclusion, interoperability, efficiency, and safety, promote the use of local currency as well as cross border transaction, winning the Cambodia Special Award.
On 10 November, the ASEAN Business & Investment Summit was held to contribute through discussions to further developing multilateral relations, solving existing problems in the region. The Summit is honored to welcome Samdech Akka Moha Sena Padei Techo Hun Sen, Prime Minister, Kingdom of Cambodia and ASEAN Chair 2022 who attended and delivered the opening keynote address at the Summit.
Among Leaders who are Heads of State and Heads of Government of ASEAN countries and ASEAN dialogue partner countries who delivered keynote addresses to the business community include H.E. Charles Michel, President of the European Council; H.E. Fumio Kishida, Prime Minister of Japan; H.E. Pham Minh Chinh, Prime Minister of Vietnam; Philippine President Ferdinand Marcos Jr; H.E. Prayut Chan-o-cha Prime Minister Thailand; Rt Hon Rishi Sunak MP, Prime Minister of the United Kingdom; and H.E. Joko Widodo, President of the Republic of Indonesia.
The keynote addresses delivered highlighted the importance of trade and investment, removal of non-tariff barriers, climate change strategies for ASEAN, supply chain, pandemic recovery, and economic growth.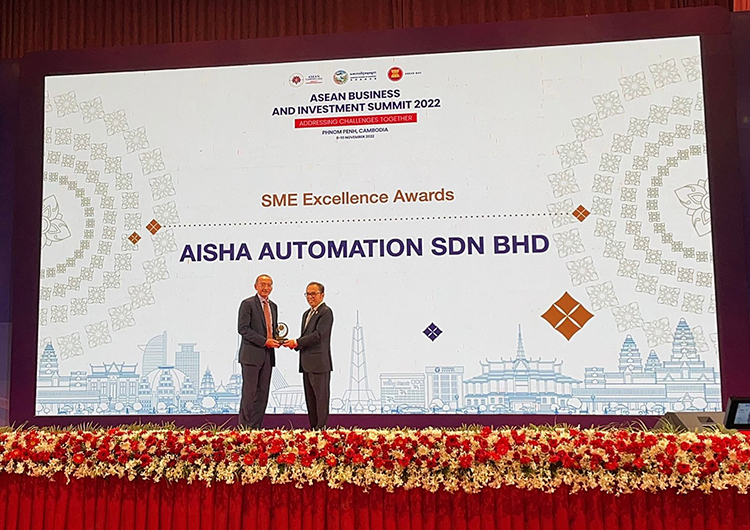 The summit discussed many important issues for ASEAN's economic development in the current global trade context including geopolitics issues affecting the region, free trade agreements, and investment, digital transformation, and sustainable growth in ASEAN.
The ASEAN BAC Brunei members together with members from other ASEAN member states also had the opportunity to interface with the Leaders as part of the ASEAN 40th and 41st Summit. Areas highlighted by members include Digital Transformation; Laos Land Link; ASEAN job creation; Green and Just Energy Transition for True Zero; Establishing Supply Chain Resiliency, Smart Connectivity & Trusted Hubs within ASEAN through SGConnectTM; Digital Trade Connect; Concrete Pathway to Circular Economy; Myanmar Business Update; and 2023 Chairmanship of ASEAN BAC.
ASEAN BAC Brunei member and Chair of Digital Transformation Working Group Haslina Taib presented the Digital Transformation, as the priority pathway for digital transformation in ASEAN to the leaders at the interface.
During her presentation, Haslina mentioned that ASEAN BAC is positioning AKREDI, the ASEAN Digital Credentials Platform to support the realisation of these goals, with specific collaboration areas ranging from business identification (IDs), talent mobility, green credentials and cross-border payments, to align with the Bandar Seri Begawan Roadmap 2021 which highlighted priorities of ASEAN digital trade. Regional public-private partnership is crucial to driving AKREDI.
"The vision for ASEAN Digital Economy Integration by year 2025, can only be realized by connecting the silo dots of our economies and creating a seamless digital trade flow across the region," added Haslina.
"ASEAN must continue to remain united to address the challenges that we face. We must prepare for the digital future, protect our environment and improve the quality of lives of ASEAN's rural population" said East Asia Business Council Brunei Chair and Managing Director of The Adinin Group of Companies Musa Adinin.
On his part, General Manager of PDS Abattoir said ASEAN leaders expressed their continuous support for the various initiatives undertaken by the ASEAN Business Advisory Council during the interface.
"These initiatives are intended to create a more sustainable and dynamic business environment as the region paves its way towards recovery from the pandemic. Together with their counterparts in other ASEAN countries, our local MSMEs can take the opportunity from some of these initiatives to profile as well as grow their businesses regionally," said Sabirin Othman.
THE BRUNEIAN | BANDAR SERI BEGAWAN