His Majesty Sultan Haji Hassanal Bolkiah Mu'izzaddin Waddaulah ibni Al-
Marhum Sultan Haji Omar 'Ali Saifuddien Sa'adul Khairi Waddien, Sultan and Yang Di-Pertuan of Brunei Darussalam recently held a courtesy visit to the newly appointed Malaysian Prime Minister Yang Amat Berhormat Dato' Seri Anwar Ibrahim.
Accompanying His Majesty the Sultan and Yang Di-Pertuan of Brunei Darussalam was His Royal Highness Prince 'Abdul Mateen.
The arrival of His Majesty the Sultan and Yang Di-Pertuan of Brunei Darussalam at Subang Air Base was welcomed by Yang Amat Berhormat the Prime Minister of Malaysia.
Also present to greet His Majesty were Yang Berbahagia Tan Sri Dato' Seri
Mohd Zuki Ali, the Chief Secretary of the Government of Malaysia; and His
Excellency Brigadier General (R) Dato Paduka Haji Mahmud Haji Saidin, High Commissioner of Brunei Darussalam to Malaysia.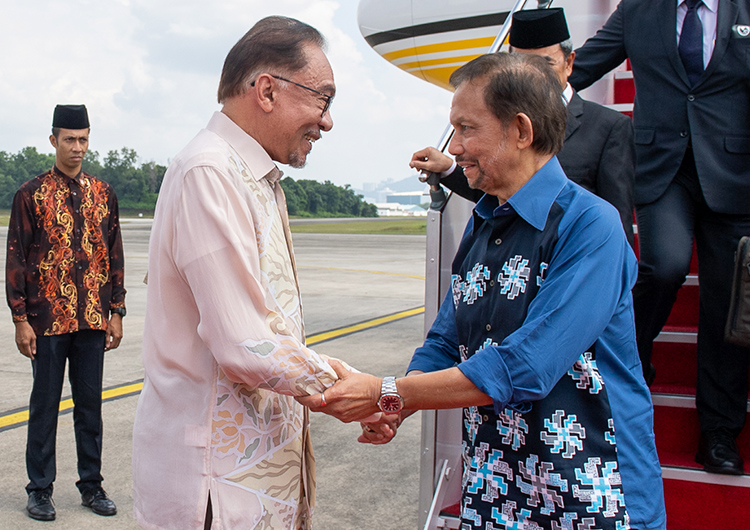 His Majesty, together with Yang Amat Berhormat then walked past the Static
Guard of Honour mounted by members of the Malaysian Armed Forces.
His Majesty then proceeded to the official residence of the Prime Minister for
the courtesy visit to Seri Perdana Complex.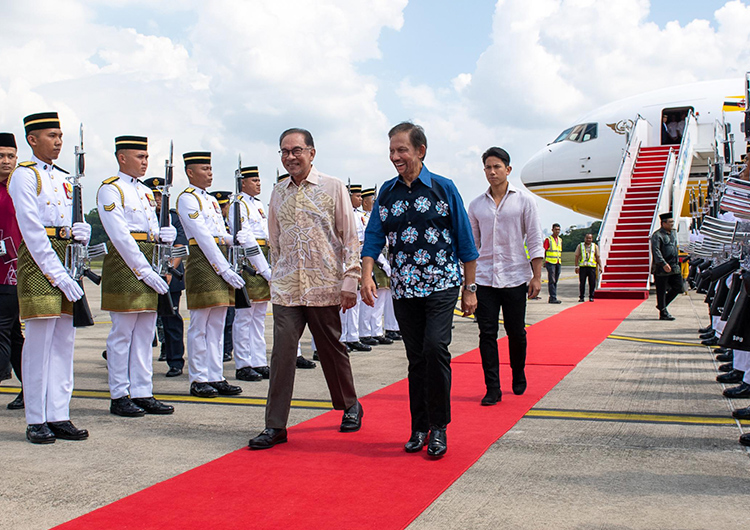 Prior to the event, a doa on the occasion of the special visit was recited by
Yang Berhormat Pehin Datu Seri Maharaja Dato Paduka Seri Setia (Dr.) Ustaz Haji Abdul Aziz Juned, the State Mufti, among other things, sought the blessing of the well-being of His Majesty and Yang Amat Berhormat.
During the visit, His Majesty congratulated Dato' Seri Anwar on his recent appointment as the 10th Prime Minister of Malaysia.
With the appointment, His Majesty looked forward to the further enhancement of existing bilateral cooperation between Brunei and Malaysia.
In addition, His Majesty expressed hope for Yang Amat Berhormat's leadership to steer Malaysia towards achieving welfare for all including in the ASEAN region and globally.
The visit reflects the warm, close and long-standing relations between the sultanate and Malaysia.
It also gave the opportunity for both leaders to reaffirm and strengthen bilateral cooperation as well as to discuss matters of mutual interest and exploration of new areas of cooperation in pursuit of peace, welfare and prosperity for the citizens and residents of both countries.
Following the Courtesy Visit, His Majesty the Sultan and Yang Di-Pertuan of
Brunei Darussalam also attended a luncheon hosted by the prime minister.
The prime minister then bid farewell to the monarch prior to departure from Malaysia.
Yang Amat Berhormat was sworn in as the 10th Prime Minister of Malaysia on 24 November 2022 at the Istana Negara, upon consent by His Majesty the 16th Yang di-Pertuan Agong of Malaysia, Al-Sultan Abdullah Ri'ayatuddin Al-Mustafa Billah Shah ibni Al-Marhum Sultan Haji Ahmad Shah Al-Musta'in Billah.
Brunei Darussalam and Malaysia established diplomatic relations in January
1984 where both countries cooperate extensively in various areas including trade and investment, defence, education, tourism and connectivity as well as health.
THE BRUNEIAN | BANDAR SERI BEGAWAN